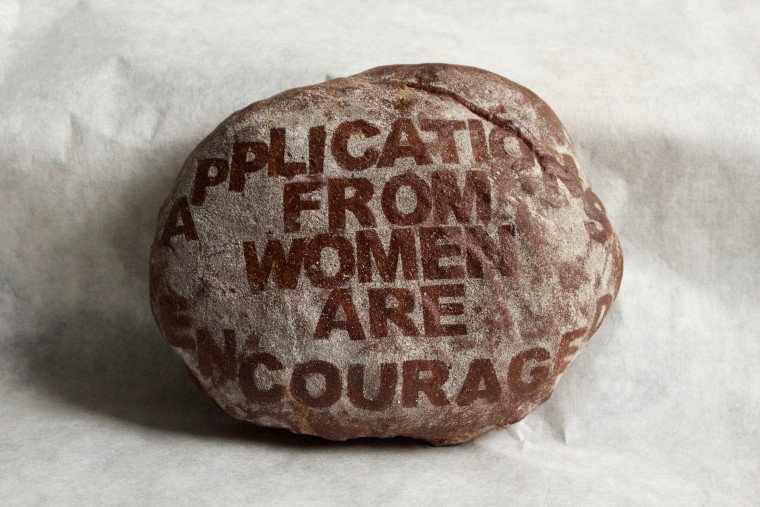 From Thursday, January 12 to Sunday, January 15, sculptor Roxanne Jackson and writer/curator Jessamyn Fiore are hosting a massive exhibition at the Knockdown Center in Queens. It's called "Nasty Women" (the name, of course, is derived from that infuriating moment during the final presidential debate, when Donald Trump interrupted Hillary Clinton to call her "such a nasty woman"). What started with a modest post-election rallying cry from Jackson has become a coalition of almost 700 artists from across the U.S. In fact, the idea of such an exhibit is so infectious that there are sister events popping up all over the world.
At the Knockdown Center this weekend, hundreds of pieces of art made by women will literally adorn giant letters that spell out "NASTY WOMEN." In an email to The FADER, Jackson explained that the project is both "a visual art protest" and a fundraiser for Planned Parenthood, which Jackson called "a fundamental organization that will be needing a whole lot more support in the coming four years." All the artwork will be on sale for between $10 and $100, and the event is cash-and-carry, which means if you buy a piece you can take it home with you right then and there. "Hopefully by the end we will be left with naked letters," Jackson wrote.
A series of workshops called Stay Nasty will also accompany the N.Y.C. exhibition, with performances by FLUCT, Eartheater, Bearcat, Jubilee, and more brilliant electronic artists. There's also information sessions and panels, a comedy set, and music presented by AdHoc, and more.
Below, check out some of the wild and varied works from the Nasty Women exhibit to get you hyped. Find out more about everything here.