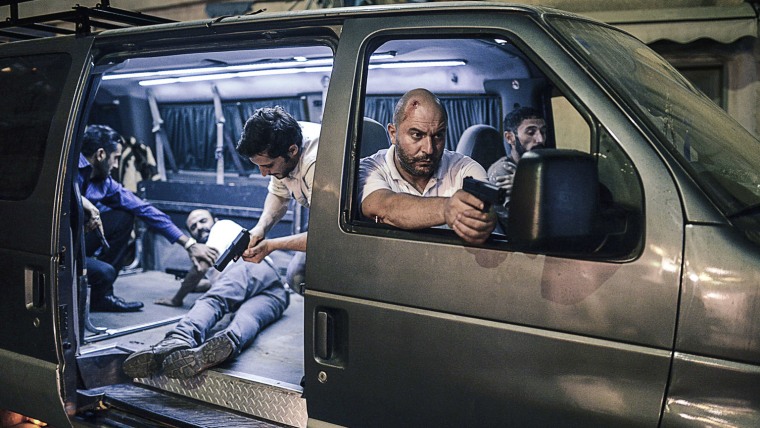 About a month ago, my parents — who'd just gotten back from visiting family in Israel — put me on to a show called Fauda. It was an Israeli production, they said, about IDF soldiers who go undercover in the occoupied territories disguised as Arabs. It's based on a real-life military unit: they're called the mista'arvim, and they carry out covert actions. It turns out Fauda had just been added to Netflix. It was subtitled in English but otherwise unchanged. I started watching, and blitzed through the 12 episodes in about a week and a half.
The production quality is often low-rent, the actors sometimes hammy, the plot twists wild and unceasing. In a show full of names like Boaz and Walid and Nurit, one character — largely inexplicably — is named Steve. The main character, Doron, is a mista'arvim operative that's supposed to be a real badass, some kind of Be'er Sheva Jason Bourne. It's hard to ignore, however, that Doron possess the soft, doughy physique more traditionally associated in Israel with, say, the night-manager of a hummus dispensary outside Rosh Pina.
But for all of its goofiness and flaws, there is an inherent quality on hand, and a rare viewpoint being offered.
In the very first episode of the show, the mista'arvim unit — undercover as dessert caterers — infiltrates a wedding in the West Bank, then unintentionally murders an innocent, defenseless young man. From there, the show never stops aiming to portray the conflict in full. Causes have effects; each death reverberates out into its respective community. That means that, to the viewers, the actions of either side are never fully justified under their respective moral codes. Because it's not soldier vs. soldier, spy vs. spy. It's sisters and brothers, husbands and wives. It's grieving widows, shellshocked kids.
It's in its portrayal of Palestinians that Fauda is particularly unique. We don't get a token "good Arab" to sympathize with. We get actual Palestinian men and women: some of them lonely, some of them horny, some of them homicidal, some of them confused. On another, lesser version of this show, we would not get to see Abu Ahmad — a dreaded Hamas operative nicknamed "The Panther," and the ostensible villain of the show — at home with his doting wife. On another, lesser version of this show, we would not get to see Walid, Abu Ahmad's top lieutenant, stricken with unrequited love.
One of the show's co-creators is Avi Issacharoff, a longtime reporter for Israel's famously liberal newspaper Ha'aretz. 75% of the show's dialogue is in Arabic, as is its title. (In Arabic, Fauda means chaos.) But for all of its good intentions, there's no getting around the fact that it's an Israeli production, and therefore can't avoid a certain inherent bias in point of view. Still, it seems to have struck a chord throughout the wide spectrum of the conflict. According to Forward, "Hamas, which has argued that its image was damaged by the show, has also put up a link to the first episode on its website."