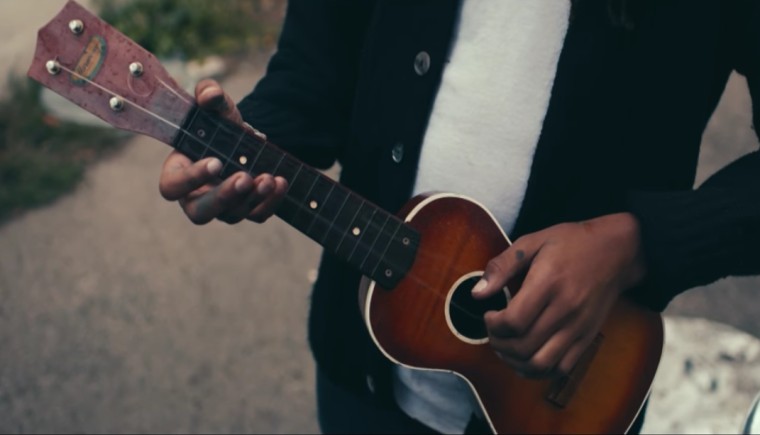 Jimi Hendrix was an anomaly: a supernatural guitarist who, on respective runs, toured with soul titans The Isley Brothers and Little Richard, he had a uncanny gift for tapping into rock music's irrepressibly electric pulse while staying true to the plummeting arcs of the blues. "He was always the sort of performer who preferred to push boundaries and do the unexpected," The Believer noted in 2015. Hendrix's star rose with swift determination, then seemed to suddenly burn out. He was at the height of his fame — he'd headlined Woodstock the year before his death — when, in the fall of 1970, he passed away at 27.
A new Terence Nance-directed short film, which premiered this week at Sundance, investigates the guitarist's earliest days with a surrealist eye. Titled "Jimi Could Have Fallen from the Sky," the synopsis describes the short as an "unauthorized, heavily abridged, biographical, visual and supersonic moment about the fact that Johnny Allen Hendrix (aka Jimi Hendrix) knew how to skydive. Set in Seattle where Jimi was born and raised, the film wonders aloud about what this skill meant for the life he went on to lead. Why did he retreat to the sky so quickly before all of us were ready for him to go?"
But the real genius of Nance's short is that, instead of further opening the vault into Hendrix's life, it only complicates our understanding of the enigmatic artist and his outsized legend.
"I wanted to make something that had a slippery and childlike relationship to Jimi, a kind of thing that re-mystified him as opposed to de-mystifying him," Nance told me. "He seems like he's from the ether more than a place." Watch the short below.