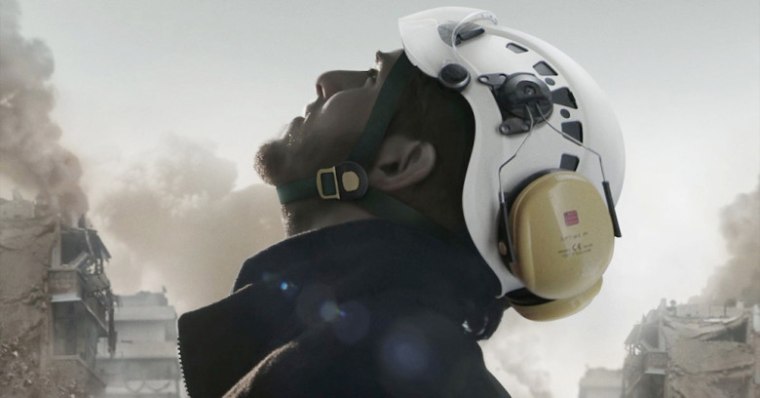 The head of a group of rescue workers based in Syria is barred from entering the U.S. and attending this year's Oscars, where a film about his team is nominated for a prize. The filmmakers behind Netflix's The White Helmets have confirmed that Donald Trump's ban on immigration from Syria means that White Helmets leader Raed Saleh cannot enter the U.S.A.
A film about the group, who provide aid to civilian casualties in Syria, is nominated for Documentary, Short Subject at the 2017 awards.
In a statement, via Variety, the film's producer Joanna Natasegara said, "We have always said that if we were to be nominated, we would bring Raed Saleh, the head of the White Helmets, who has spoken many times in D.C., and Khaled Khateeb, the young cinematographer who risked his life over and over again, as our guests. They've been nominated for a Nobel Peace Prize — these people are the bravest humanitarians on the planet, and the idea that they could not be able to come with us and enjoy that success is just abhorrent."
Along with the White Helmets, Iranian filmmaker Asghar Farhadi has also been affected by Trump's executive order. Farhadi's film, The Salesman, is nominated for Best Foreign Language at for the 2017 Academy Awards but the director will be unable to attend. Taraneh Alidoosti, the star of The Salesman, has said she will boycott the award ceremony in protest of Trump's "racist ban."
Over the weekend protests against Trump's executive order took place across America, including demonstrations at John F. Kennedy International Airport and LAX.