How This Dutch Producer Became One Of Wiley's Most Trusted New Collaborators
JLSXND7RS explains what the grime scene in Holland is really like.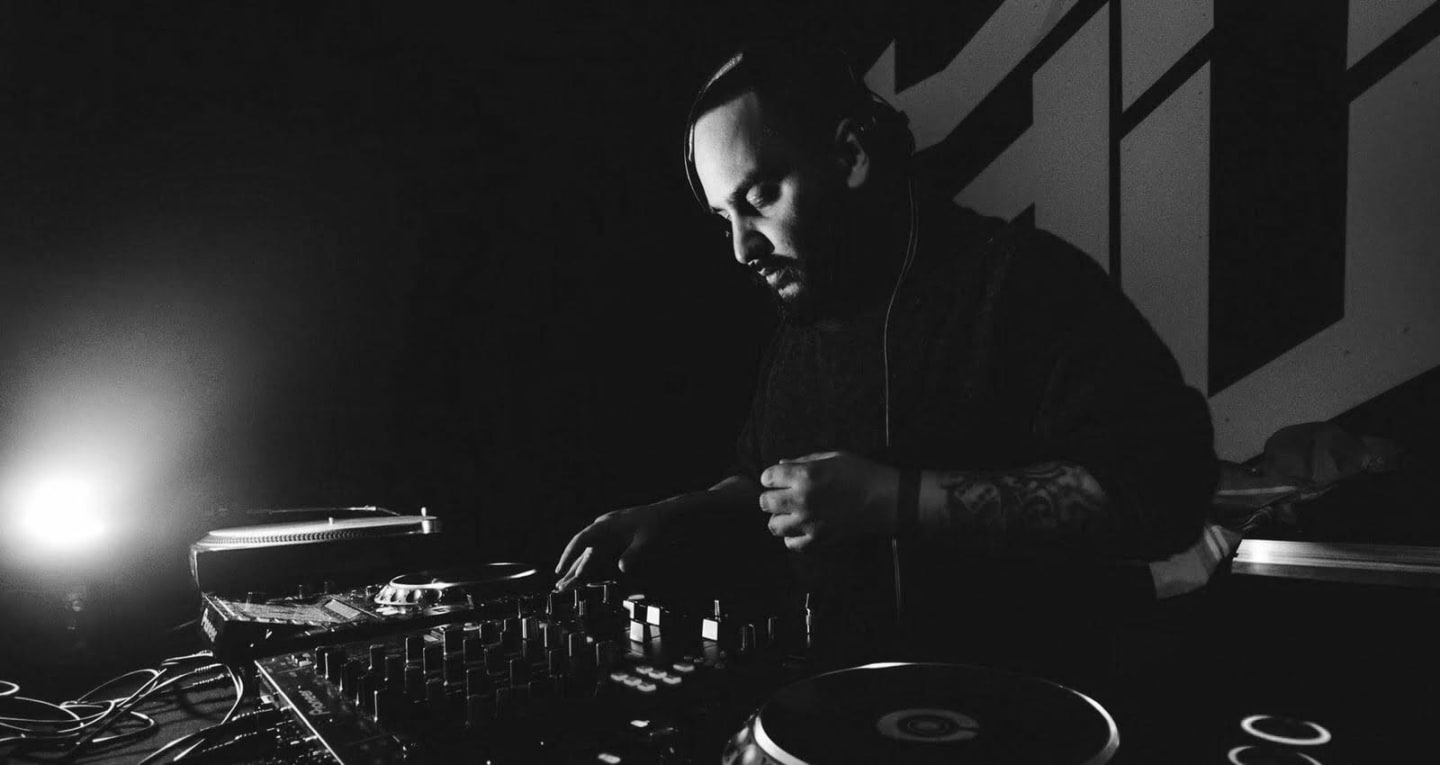 Grime in Holland is more of a subterranean murmur than a "scene." Even though it has a small following scattered about the country, every so often a party erupts that draws the whole community out en masse. The most established of these is Oi! in Amsterdam, a ravey club night (and label) started by DJ Gomes, godfather of bass and grime in Holland, back in 2004. Oi! was amongst the first to bring dubstep and grime over from the U.K., and today it is one of several events in the country giving British grime a platform. In the past few years we've also started to see native talents rise to prominence, such as Amsterdam-based crew GRIMEYARD and NoizBoiz from Rotterdam.
But the most battle-hungry, dread-filled instrumentals in Holland are coming from a bedroom in the east of the country, near the German border. Since the mid-'00s, DJ and producer JLSXND7RS has been working there to whittle nightmarish cuts from a classic grime template, bringing the sound back to its raw and bloodied roots. London's grime lynchpin DJ Slimzee has supported his tracks on radio for the past few years — notably when his guests Skepta and Jammer jumped on "The Undertaker" in June 2014 — and JLSXND7RS's ominous track "S.N.M." got regular rotation on BBC Radio 1Xtra and NTS.
But after meeting Wiley at an Amsterdam fast-food restaurant last summer, JLSXND7RS has levelled up — he produced December's virulent "6 In Da Bloodclart Morning" for the Eski don, and the deranged sax track for Godfather highlight "My Direction." In an email to The FADER, a rep for Wiley confirmed that the pair had more collabs in the works for this year (despite his recent comments that Godfather was his final record). Reached via Skype, JLSXND7RS opened up about his musical origins, plans for 2017, and the struggles of getting a grime scene up and running in Holland.
---
How did you feel about being included in Wiley's Godfather album?

Honored! It's what grime needed, a real grime album, and it's a pleasure to work with someone who started it all. When his first album dropped, Treddin' On Thin Ice, you wouldn't expect Dutch producers to be on it. But now in 2016-7 he's working with other people, including myself.
How did the Wiley connection come about?

It started with Slimzee. He's a friend of mine, and a godfather [of grime] as well. I made a tune in 2014 with Flirta D and Trends called "The Undertaker." From there Slimzee started asking for more tunes, so I made him an exclusive dubplate. Wiley liked it, and when he announced the producers on his album, my name was in there as well. I didn't expect it, so I DM'ed him asking what song it was. He said it was the one from Slimzee, so I rearranged the song a bit and sent it to him again.

That was "My Direction"; where did "6 In Da Bloodclart Morning" come from?

That was a tune I made for Slimzee as well, quite quick. The instrumental is called "QT" — Quick Thing. It's on my SoundCloud with Wiley already spitting on it. [London MC] Scratchy was supposed to vocal it, [but] then Wiley sent me a message asking for it.

How did you come across grime?
That's going back to 2000-1 and 2-step, garage, but I wasn't really a fan of the happy stuff. Later on there came darker beats like DJ Zinc's breakbeat stuff and [U.K. garage artist] Wookie. I was into the more aggressive, more bass, not really the vocal-orientated stuff. I was listening to a lot of techno and jungle, [drum & bass producer] Dillinja, the urban side of music. I was raised on hip-hop; so grime with MCs was a perfect combination for me.
What was the grime scene like in Holland back when you were starting out?
In Holland there was nothing for grime. I heard some Dutch grime songs but I wasn't really feeling it, I was focused on the U.K.
Who were some of the main people pushing U.K. grime through Holland?

Gomes, he's the founder of Oi!, which is the biggest thing in Holland when it comes to dubstep, and grime. It's also a label. He used to be the DJ that I went to when I was going to raves when I was younger. He brought everyone [artists] over here and introduced grime to a Dutch audience.
Outside of Oi! in Amsterdam, Hefty! and SKANK in Rotterdam, are there any other labels or promoters dedicated to grime in Holland?

There's Give it Dub [in east Holland city Nijmegen.] They're more dubstep-orientated but they do grime editions. They are always sold out, I've played twice over there. Personally, I think Nijmegen is one of the better cities to have raves like this. People stay till the end, it's incredible.
I've discovered promoters in Nijmegen are very open to working together. Even if they're involved in different sounds — house, reggae, dubstep — they're all supporting each other for the benefit of cultivating the city's overall scene. I don't feel like this is the case in other parts of Holland.
I'm noticing that as well. In the west of Holland there doesn't seem to be much unity. It's a little frustrating, because we [could] make a scene over here, but no, people want to book one big U.K. artist, put themselves on the lineup and that's it.
What have been some of your key moments so far?
There's quite a few. One of the highlights was when Skepta and Jammer jumped on one of my songs on the Slimzee [radio] show. Everyone was tweeting me, DM'ing me, WhatsApping me, everything! I wasn't locked in, I was outside — I don't even know what I was doing. Another one was Slackk mentioning my name in The Guardian.
How would you describe your production style?
A lot of people say that I make really dark tunes. But if I make a song for Wiley, I go into a completely different direction than if I'm making something for Slimzee. If it's for Wiley or other MCs I make it more vocal-friendly.
What do you have coming up this year?
I've got a new song with [London MC] Mic Ty — he's one to watch. I'm working with [London MC] Kwam again, he was on my EP [Red State on Spooky's Ghost House Records] last year. And I'm working on an album. When Wiley put out "6 In Da Bloodclart Morning" I asked him if we should put out the instrumental as well and he was like, 'We can do that, or I'll take you in and you can make an album.' So, that's what I'm doing.
Are you looking forward to working with anyone else — MCs, labels or otherwise?
It might sound weird, but if you make grime and you're working with Wiley, there's nothing more you can achieve.