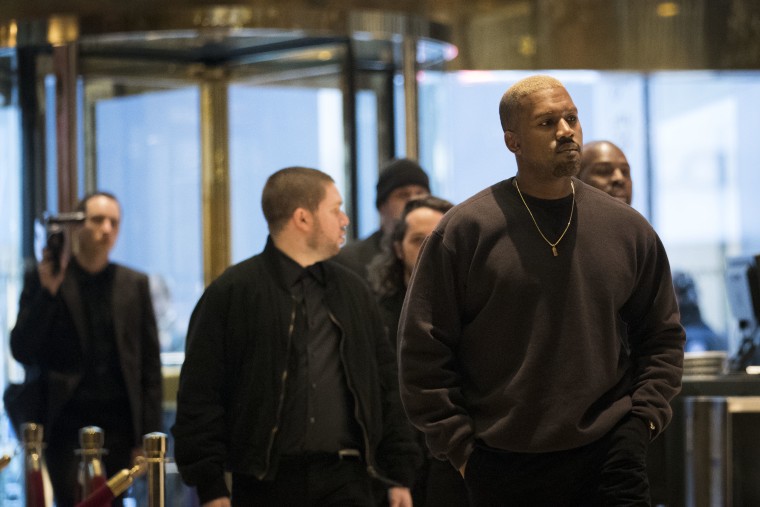 Kanye West has deleted a handful of tweets mentioning President Donald Trump from his Twitter account. According to TMZ, West — who was one of the president's few celebrity defenders — disapproves of Trump's first two weeks in office.
West surprised and disappointed many fans last year after he repeatedly voiced his support for Trump. "I told y'all I didn't vote, right?" he said during a Saint Pablo tour stop in November after Trump's surprise victory. "But if I would've voted, I would've voted on Trump." West subsequently met with Trump in December at New York's Trump Tower "to discuss multicultural issues," according to a since-deleted tweet. After the meeting, Trump gave West a copy of his TIME "Person of the Year" issue and signed, "You are a great friend."
Since then, Trump hasn't reciprocated West's overtures for collaboration. Last week, The Daily Mail reported that the private plane of Kim Kardashian, West's wife, was searched by customs and immigrations officials after returning from a four-day trip to Costa Rica. Just days earlier, Kardashian had tweeted a picture of statistics showing the comparatively small number of Americans killed by terrorists, in response to Trump's executive order banning travel and immigration into the United States from seven Muslim-majority countries.
Tom Barrack, chairman of the Presidential Inauguration Committee, said in January that Kanye was never considered to play Trump's "typically and traditionally American" inaugural celebrations.
The FADER has reached out for comment.