Spotify Is Recommending You Music Based On The Weather Now
The streaming service has got you covered, whatever the weather.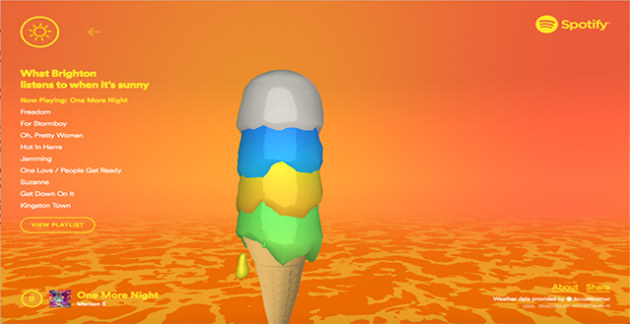 Spotify, who may or may not be about to welcome Prince's back catalog to their platform, has announced a new service that provides real time playlists based on the weather in your local area. Together with AccuWeather, Spotify launched a new site called Climatune today, February 8.
Spotify users can access playlists based on varying weather conditions through Climatune. These playlists have been put together after Spotify processed 12 months of weather data and correlated it to 85 billion music streams for that same period.
Perhaps unsurprisingly they discovered that when it is sunny people prefer to listen to "higher-energy, happier-sounding music," while the rain makes them tend to turn to "lower-energy, sadder-sounding music with more acoustic vs. electronic sounds." A windy weather playlist for London today includes songs by Rihanna, Michael Jackson, and, err, Crazy Town.
Climatune users are not tied to the local weather though. They can switch things up and listen to a windy playlist in the rain, a sunny one when it snows and so on and so on. Check out the service for yourself here.