Watch A Drone-Shot Video Of Nosaj Thing Jamming In The Desert Of Dubai
The L.A. producer was joined by Dubai-based musicians Essarai and Tarek Yamani for the Boiler Room and adidas Originals session.
Last month, Boiler Room and adidas Originals came together for a special edition of the live-streaming show called Dubai Originals, which brought together Boiler Room vets and local artists. While he was out there, Los Angeles producer Nosaj Thing linked up with DJ Essarai of the 264 Cru and jazz pianist Tarek Yamani for a Bedouin-esque performance in the Qudra Desert of Dubai.
With a drone circling over head to film the crew's jam, the resulting video is a captivating visual and sonic experience set against rippling sand dunes. Speaking with The FADER over email, the three musicians detailed what playing in the middle of the desert was really like, their learning experiences, and the state of Dubai's electronic scene.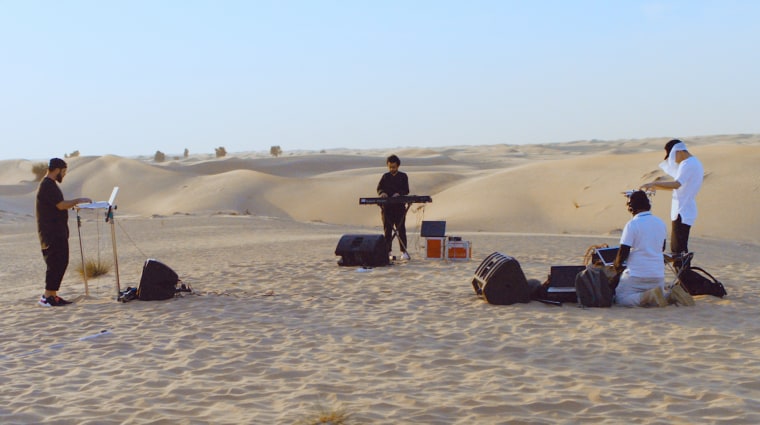 Did jamming in the desert create any particular challenges?
Tarek Yamani: On the contrary, the desert provides such an inspiring atmosphere which instantly clears out the mind and boosts the creative juices.
Nosaj Thing: It was unconventional, obviously — we had sand in our eyes and got baked by the sun. But it wasn't even about jamming, it was about being in the Dubai desert with everyone that was there just doing something we can remember. It was a real special moment.
What's the electronic music scene like in Dubai?
Essarai: There's a healthy slice of the more commercial side of electronic music here in Dubai, but having said that, you can also set to break just about any underground sound. There are plenty of heads here that really know their craft, and I believe it inspires — or influences at least — others to get involved in whatever capacity. There's cultural growth, and it's special to witness it with this diverse mix of people we have.
What was the jam session like? What did you guys learn from one another?
Yamani: I love collaborating with interesting artists and gaining insights, even if minuscule, into their personal approach to making music. The experience with Nosaj Thing was fantastic. What got me really excited is this little white machine/toy that he showed me, which produces amazing percussive sounds; a lot of the sounds on the track we produced were from me banging on it like a little kid.
Nosaj: There was a lot I got just from being around and vibing. It's just inspiring to meet people that would be doing what they do no matter what their situation is.
Essarai: It's always hard to say what you learn from an experience like this as it's really a more intangible feeling you take away. You're just constantly absorbing from the environment around you and when new and different stimuli enter that realm you invariably observe and adapt.