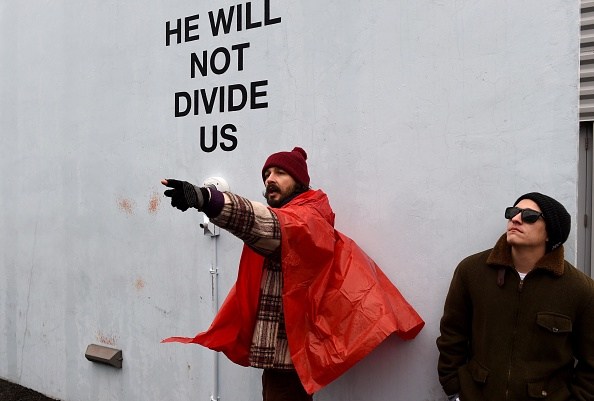 "He Will Not Divide Us," Shia LaBeouf's anti-Trump performance project, has been moved to Liverpool, England. The installation has been adopted by the Foundation for Art and Creative Technology after being in both New York and Albuquerque.
The project began on January 20, when a camera was installed at the Museum of the Moving Image in New York and visitors were encouraged to say the title of the project on a live stream. The camera was removed on February 17 following a series of incidents at the site, including LaBeouf's arrest.
The installation was then moved to Albuquerque, where it remained until March 8. It was taken down for safety concerns after gunshots were reported in the area.
"He Will Not Divide Us" now lives in Liverpool, where a flag bearing the name of the project will be streamed for the next four years. In a statement released on Wednesday, LaBeouf and his co-creators, Luke Turner and Nastja Säde Rönkkö, said that, "Events have shown that America is simply not safe enough for this artwork to exist...We are proud to be continuing the project at FACT, an arts centre at the heart of the community."