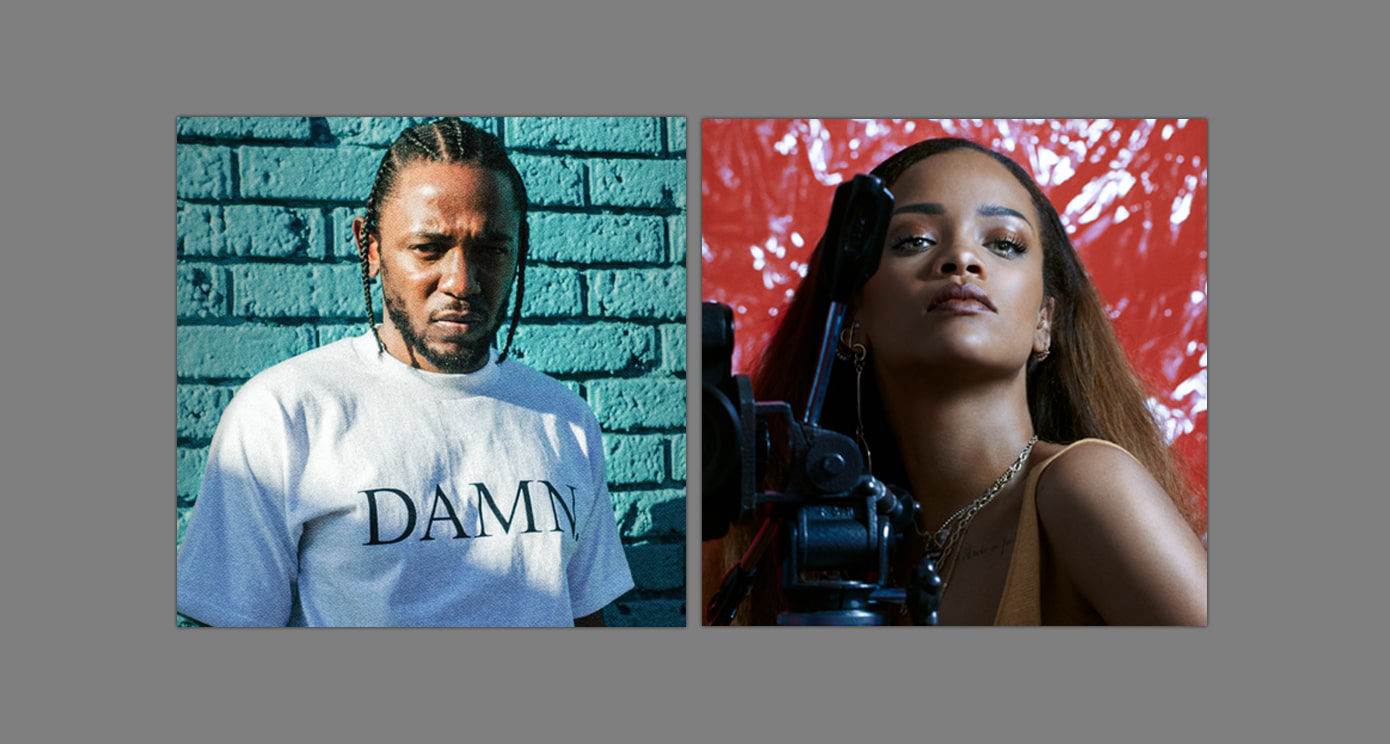 Of DAMN.'s 14 tracks — each one anxious, berserk, and beautifully intransigent in its own right — "LOYALTY." might be the most measured: equal parts pop, funk, and brooding rap hymnal. "It's so hard to be humble," Rihanna intones across the song, which was co-produced by Terrace Martin, DJ Dahi, and in-house TDE beatmaker Sounwave. Like at several other points on the album, the bad gyal-featured track finds Kendrick Lamar in exceptional form, as strident and unyieldingly sincere as ever: "Tell me who you loyal to," he questions. "Is it money? Is it fame? Is it weed? Is it drink?"
When I reached the Grammy-nominated Martin in the days following the album's magnanimous release, he was eager to speak about the bones of the track. "Loyalty represents some unconditional, agape love type shit," he said over the phone from Los Angeles. "Loyalty to me is the first base of life. Real brotherhood. Real sisterhood. Real human being shit. Real everybody shit. With Kendrick, that song represents a lot because he and I are loyal to each other. And we've been loyal to each other throughout every project."
Below, Martin details how "LOYALTY." came together in a serendipitous manner.
---
TERRACE MARTIN: Kendrick first approached me about this particular project in the middle of To Pimp A Butterfly. Because we were already saying like, "Yo, you know we are trying to do what we didn't do before." So we knew that the more extreme we went on Butterfly — musically and using influences from different genres of older music — that he was gonna use a different, opposite energy for the next record.
"LOYALTY." came about because I was working with Rapsody and 9th Wonder. 9th Wonder has a producer under him named Khrysis, who sent me a record to play on. It was a Bruno Mars sample of "24K Magic." I was like, "Whoa, that sounds crazy." I said, "I wanna replay it, reverse it, change the key, add a third harmony — do all these things to it. But still make it sound just like the sample, but with a different edge." I turned the sample around, set it up, and then hit Sounwave. From there, me, Sounwave, and DJ Dahi got in the studio and started to put drums on that motherfucker. Right there, on my mama, Kendrick said: "Imma get Rihanna on this." That day. Right when the drums started, he looked at me saying, "Aye, I'm gonna get Rihanna on this record." [Laughs]
Collaborating with Dahi and Sounwave was beautiful. 'Cause I don't believe music should ever be done alone. I don't believe music is a selfish thing; I don't believe in none of that. I love doing music for other people. So I was welcoming that 'cause I love new ideas, and Dahi comes from a whole different direction, and Sounwave — that's my creative brotha. We been creating together since this shit started. That's my personal homeboy. Like, that's my real friend. You know what I'm saying? We've done 12 records together, Grammys together, everything together. Been through the paint together with TDE.
"'LOYALTY.' was done with a different impulse than the last couple of records. DAMN. feels like now — it gets into your heart." —Terrace Martin

But Dahi was a different thing. He comes from a different approach; like, this motherfucker is the fastest guy with ideas and drums. I've never worked with anybody in my life that was as fast and perfect as Dahi. I'm talking about every idea — experimental. Every idea — new. I'm talking about every six minutes he's like, "Hear this, hear this. Hear that. Hear that." I'm on the bridge of my song. I'm tryna figure out the bridge [laughs]. And I'm tryna figure out the bridge on week three of the song! And there Dahi is, feeding me all these drums. Then Sounwave listens to it, and Sounwave knows how to make songs out of everything, you know, so he's like the cherry on top. It was beautiful. Kendrick came with the melodies, man. We was just having a ball in the studio. It felt fun.
I spent a long time on that sample. That particular sample has been through the ringer: from TopBox to VoCoder — we was really loving that sample way before we finally said let's do something with that. "LOYALTY.," which we recorded over a few days, was done with a different impulse than the last couple of records. DAMN. feels like now — it gets into your heart, but it feels like the future, man. You know? I feel like it's the future because it's incorporating a lot of other influences. Mike Will killed "DNA." and "HUMBLE." You feel me? You got all these different tracks from different influences, but nothing on the album sounds like anything else.
We went back to Section.80 and started there. We went back to the essence, man. Samples, drums, just a little vibe, and just Kendrick rapping and writing. And he's rapping his ass off. He's writing some of the most prolific beautiful songs in the world today. You know, he's writing songs that are gonna be in history books that are touching people but still with a high skill level being an MC over his power of music. That's the real shit. 'Cause he ain't and we ain't giving up no time soon.
When "LOYALTY" was done, I looked at Dahi and Sounwave, and told them that I was happy that we were all a part of a composition. I was just happy that we all saw that seed grow. The best feeling is when you're next to your brothers and you listen to a record, and everybody got they eyes closed, and everybody kind of look at each other on their own time, and everybody's in the zone. The vibe in the studio was serious but fun. We tryna change shit. Like, let's not do nothing we did. Let's just go back to the essence. Let's go back to the first point of direction, which was drum machines, boom-bap samples, and 808s. Let's go back to the point of direction and find a new way.