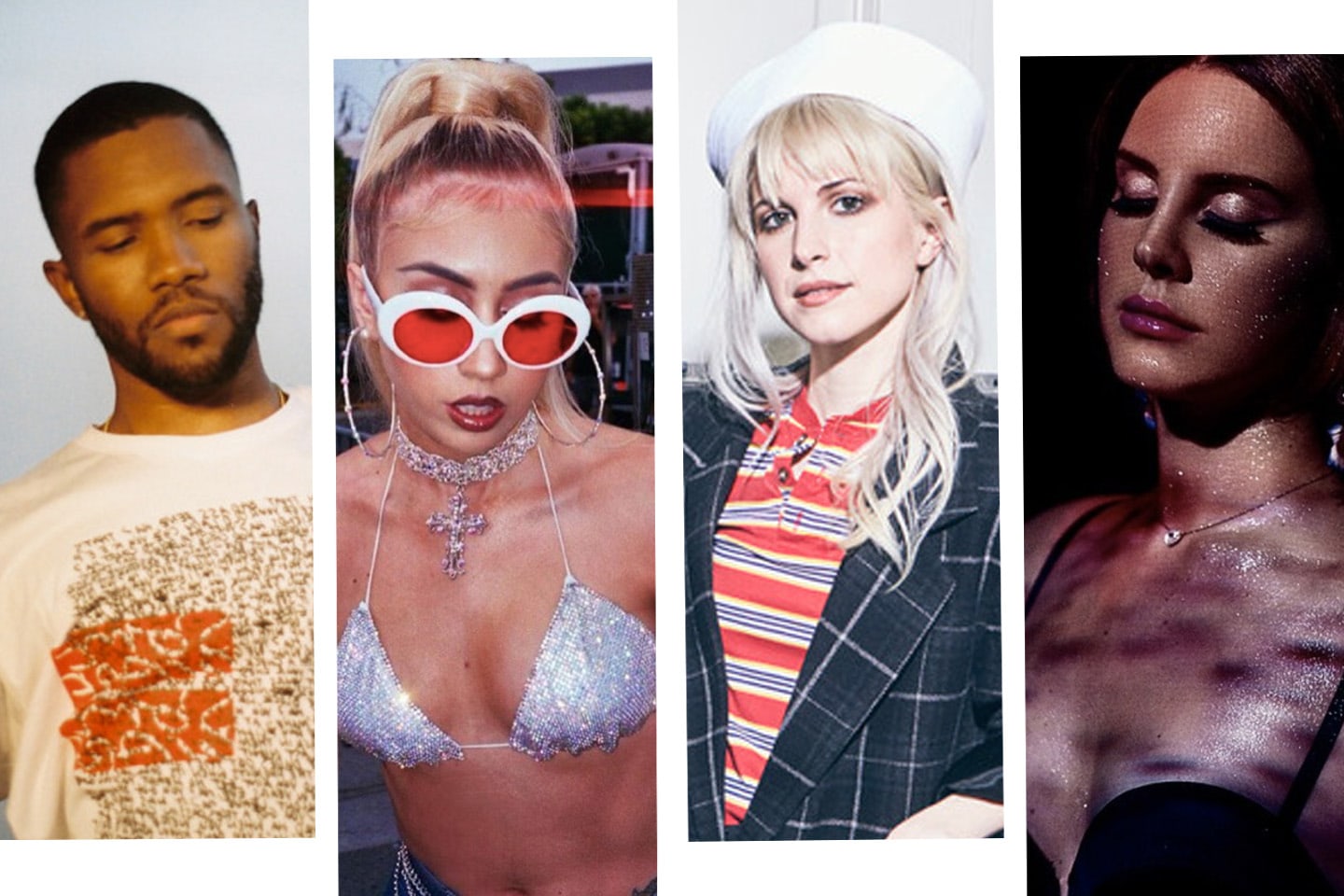 1. "Lens" snuck up on us in the middle of the night this weekend, like a teenage crush climbing through our windows. It's undemanding, autotuned bliss.
2. "Cool jewel be shining so bright/ Strawberry champagne on ice" 🎤 — we're far from done with Bruno Mars's sexy hit "That's What I Like," thanks to PARTYNEXTDOOR's ridiculously strong remix.
3. Paramore has always been like a friend we scream and cry with. So when we heard Hayley's voice again on the perky, emotional-health-themed "Hard Times," we geeked.
4. Of course Lana del Rey and The Weeknd birthed "Lust For Life," a dulcet confluence of Lana's rose-colored fatalism and Tesfaye's brooding desire.
5. Featuring one of Perfume Genius's more experimental song structures to date, "Go Ahead" twitches and shakes, and sounds like it may utilize some of those bronze bells from last year in Arcosanti.
6. Juanes and Kali Uchis teased a collab a while ago, and now it's here: "El Ratico" is a snappy, sensual breakup jam, one that we've got on loop.
7. Toronto's Pressa joined Giggs for "Sexy," which sounds steady and kind of hypnotizing. In the video they're grooving at a little hotel room party.
8. G Perico has Cali swag of the purest kind. The feel-good bounce of "All Blue" takes us on a sensory tour of the rapper's own South L.A. neighborhood.
9. The lyric "I was born strong," sounds packed with both pain and triumph when Augusta Koch sings it on Cayetana's "Bus Ticket," a passionate rock song about picking yourself up from emotional havoc.
10. Sounding at times like early Perfume Genius, L.A. band Midnight Sister shows off a knack for blending orchestral pop and psychedelia on "Leave You."
11. Juicy ii, some punks from New York, just put out a gritty debut demo. Eponymous mid-tempo thrasher "Juicy" sounds completely, perfectly "over it."
12. Mysterious trio The Trp claims to "make music for kids in inter-dimensional travel," and we're inclined to believe them, especially because "Beth" sounds like soul music in space.