How Gorillaz's Apocalyptic Vision Is Aligning Closer Than Ever With Real Life
Humanz is a well-timed "party record about the world going fucking nuts."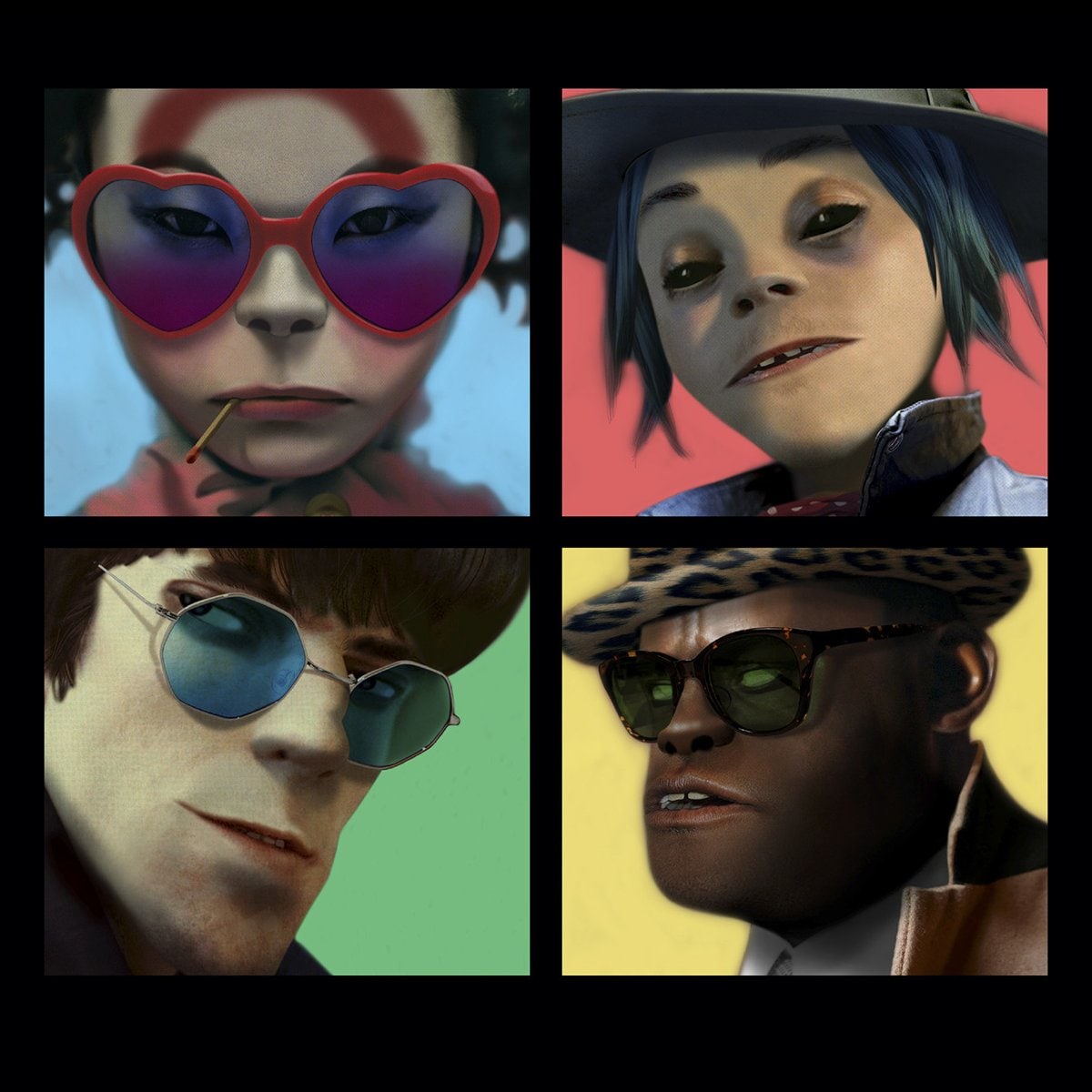 The night that the U.K. decided to leave the European Union, I was dancing. On the morning of June 23, 2016, I'd voted in London, but by evening was cocooned in the left-wing, hippy playground of Glastonbury Festival, where thousands of Remain voters were drinking cider and trying not to think about the referendum. On the sloping, grassy dancefloor, I remember half-joking to my friends, darkly, "What if...?" We laughingly put the thought aside, dancing wildly in the mud and the glitter, as if we could stop the morning, and the result of the vote, from ever arriving.
In the wake of that experience, many British Remain voters watching the rise of populism in the U.S. last year were filled with a sense of familiar, sinking dread. It was in that context that Damon Albarn, Blur frontman, delved back into his synth-fueled, sci-fi cartoon project Gorillaz. As Albarn told the New York Times in April, "As soon as Brexit happened, it was like some sort of subconscious talking drum with such a deep resonance that had just sort of unleashed...it had reawakened something." Specifically speaking of Gorillaz, he clarified, "Now it's super political." Or, as he put it in another interview, he decided to make a "party record about the world going fucking nuts."
Gorillaz didn't come from a particularly political place when Albarn created it along with cartoonist Jamie Hewlett in 1998. It was simply a result of Albarn's desire to get away from Blur, and explore more electronic music as a solo artist. With its pseudonymous animated members (2-D, Noodle, Murdoc Niccols, and Russel Hobbs), Gorillaz presented an opportunity for Albarn to collaborate with artists like De La Soul and D12 under one aesthetic umbrella. But the group has always had a distinctly post-apocalyptic feel, with doom-laden lyricism and the characters' hollowed-out eyes. The 2005 Demon Days critiqued the dumbing-down of mass media, and contained vague political allusions to Bush's "war on terror" ("The war is over/ So said the speaker with the flight suit on" — "Dirty Harry"). Humanz, though, finds the band with a new sense of purpose.
Now that the world is becoming as fucked-up as Albarn's imagination, he's produced an album that doesn't predict doom, but softens the blow.
The album's debut video set this tone, showing singer Benjamin Clementine performing an off-kilter ode to capitalism inside an animated Trump Tower. On the stomping, anthemic "Let Me Out," Pusha T raps about police brutality while Mavis Staples belts, "Change coming/ You best be ready for it." The album's emphatic call-to-action climax, "We Got The Power," is helmed by Savages's Jehnny Beth insisting, "We got the power to be loving each other no matter what happens." It's an unusually hopeful note for a Gorillaz album, and its message was reinforced in its making: Albarn worked with Noel Gallagher of Oasis, his former Britpop "rival," to write it.
While it's the most outspoken Gorillaz record, Humanz is also perhaps the most fun. It all begins with Vince Staples on "Ascension" playing a hedonistic Chicken Little figure, insisting like the children's book character that "the sky is falling," but demanding that you keep partying in the face of disaster. Meanwhile, the D.R.A.M.-featuring "Andromeda" and house vocalist Peven Everett's warm, lush "Strobelite" are both tunes made for blasting from car windows this summer. These songs all encourage you to seize the moment you're in. That impulse burns particularly brightly on the rowdy, Danny Brown-featuring "Submission," where Kelela smoulders, "Feels so good doin' me."
In that sense, the record isn't totally the dark, twisted fantasy that it sounded like it would be from Albarn's post-apocalyptic vision. Now that the world is becoming as fucked-up as his imagination, he's produced an album that doesn't predict doom, but softens the blow. At a hefty 20 tracks, it constantly shifts gear — from anger and apathy about the state of the world (e.g. defeatist ballad "Busted and Blue"), to upbeat escapism, infused with the urgency of crisis. It's a timely and real reflection of an internal conflict that so many of us can relate to right now: sometimes you need to be engaged, and shout, and fight. But sometimes, you just need to keep on dancing.