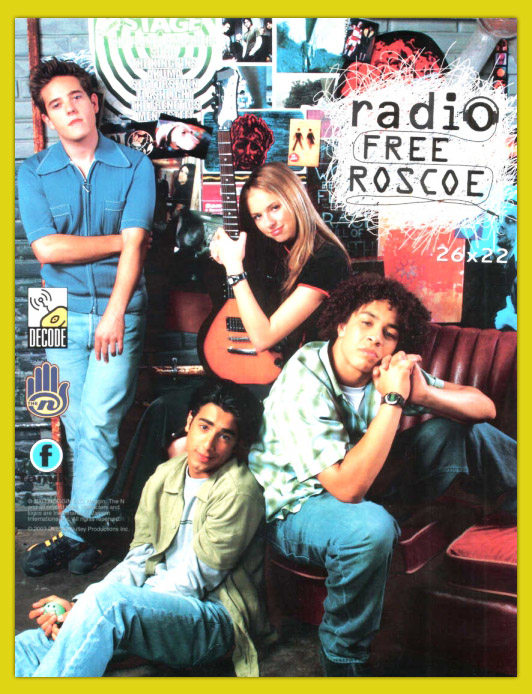 When I was 13, my favorite show was Degrassi: The Next Generation. That is, until Viacom-owned Nickelodeon offshoot The N started airing another Canadian teen soap right after Degrassi. That show was Radio Free Roscoe, a radically earnest series about four misfits who start an anonymous underground radio station in response to their high school's rigid "Cougar Radio," in a warehouse on the outskirts of town. The theme song began with a voiceover: "It's all you ever hear: look like this, think like this, be like this. How do you fight it? We started our own radio station. We keep our identities secret. It gives us the power to say what we want, as loud as we want."
Radio Free Roscoe didn't just make me want to start an underground radio station. I wanted to be Lily Randall, whose alias was Shady Lane (after her favorite Pavement song, naturally). The show's fearless teen feminist star, Lily brought her guitar to every session after school and improvised alongside Robbie "Question Mark" McGrath's philosophical musings, Ray "Pronto" Brennan's slapstick jokes, and Travis "Smog" Strong's stoic mixing. By the third episode she'd already made it clear she didn't care for double standards after the guys made fun of her for wearing makeup, and when she skipped a show her extensive musical knowledge was discernibly missing. She had many romances, but I shipped the hardest for Lily and Ray — and worried for Lily's emotional health when Degrassi's Jake Epstein cameoed as a punk rock heartthrob dirtbag in the show's fourth and final season.
Radio Free Roscoe taught me how to crate dig — both IRL and online. Lily, Robbie, Ray, and Travis were always hanging out at their local record store/venue perusing the literal crates of vinyl and CDs and chatting with the spot's supportive music guru owner. I could relate: when I was a teen I'd spend hours in Tower Records, just soaking in band names and album covers and track listings. The RFR crew felt like my people.
But I couldn't find RFR's killer soundtrack — a mix of obscure Canadian indie rock, pop, and emo — anywhere in the States. So I did exactly what Shady Lane, Question Mark, Pronto, and Smog would have done: I dug deep. I searched message boards and Limewire and Kazaa. I downloaded the mp3s of "3 Cheers 4 Me" and "99 Lives," nasally, high-energy tracks by The Pettit Project, a band that released one album and probably never left Calgary. I downloaded Reverie Sound Revue, cute indie rockers who made sweet gems like "One Marathon," and The Rocket Summer, whose "Skies So Blue," fueled fantasies of sunny days at skate parks. I found Quebecois punk group Subb, and I fell in love with my first all-girl pop-punk crew, Riff Randells; their plucky "Lethal Lipgloss" still pumps me up to this day.
Today, over a decade later, I decided to do another search for that soundtrack. There's still nothing official, but there is a 90-song YouTube playlist that some dedicated kindred spirit assembled for the greater good back in 2014. "10 years ive been searching for this," a user commented on Knacker's impassioned jam "Girlfriend," on of the songs on the playlist. At least now I know I'm not alone.