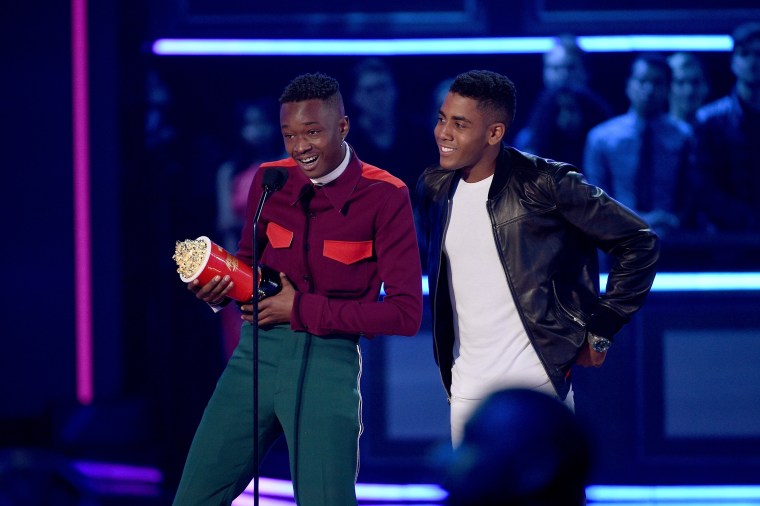 It's been a great year for Barry Jenkins' masterpiece Moonlight, which won the Academy Award for best picture, and sweeped at numerous award shows. The film has been the subject of unending discussion as it beautifully and bravely told the story of Chiron, a character that defied previous definitions of a leading man.
While it's not an Academy Award or Golden Globe, two of the film's breakout stars, Ashton Sanders and Jharrel Jerome, took home the MTV Movie & TV award for Best Kiss, which has been in years past one of the most talked about awards from the show. The two didn't recreate the kiss from the memorable beach scene on stage, but they did leave the audience and viewers with some important words.
"I think it's safe to say that it is okay for young performers," said Jerome. "Especially us minority performers, to step out of the box. This award is for that. It's for artists who need to step out of the box and do whatever it takes to tell a story and whatever it takes to make a change, to get people to wake up."
"This award is bigger than Jharrel and I," followed Sanders. This award represents more than a kiss. This is for the others, the misfits."
Moonlight won Best Kiss!
Moonlight won Best Kiss!
Moonlight won Best Kiss!
TWO GAY POC WON BEST KISS!#MTVAwards

— Marshal Knight (@Marshal_Knight) May 8, 2017