TV is good. TV is bad. TV rots your brain. TV can change your life. Wherever you stand, TV shows aren't going anywhere. Here's 14 buzzy newish shows (or fresh seasons of old ones) for you to consider digging into now that Big Little Lies is all over.
1. The Handmaid's Tale, Hulu
It's 2017, and a woman's right to choose is still under attack. The Handmaid's Tale — a dreary drama about a dystopian society where women lose practically all of their rights and are forced to procreate without their consent — often feels extreme and over-the-top, but then again, so does our current administration. Hulu has been releasing new episodes every week, as opposed to dropping the entire season all at once. That's probably a good thing, since the episodes are emotionally draining. If you want to imagine what our world might look like if everything went even further into shit, watch this. Just like real life, it's hard to look away. — JULIANA PACHE
2. 3%, Netflix
This Brazilian sci-fi is by far the best series I've watched in a long time. There's none of the gloss or glamour of Hollywood's often clumsy, usually cheesy takes on dystopia. (Looking at you, Hunger Games.) It's dark and grubby and, well, very real. In a nutshell: the world is fucked and all the rich people now live offshore in decadent glory. They flatter themselves that they're being generous in giving every poor kid a shot at joining them by subjecting them to an increasingly inhumane series of tests when they turn 20. Only 3% of candidates make it through yearly, leaving the other 97% to face a life of abject poverty. An underground resistance movement is gaining ground, though. — RUTH SAXELBY
3. Shots Fired, Fox
For generations, the crushing frequency of tragedy has, for black Americans, arrived through asphyxiation, equal doses swift and cripplingly slow. A modern understanding of this peculiar American narrative can be found in Shots Fired, a 10-part Fox drama that peels back a slate of injustices that plague one small North Carolina town. Created by partners Gina Prince-Bythewood and Reggie Rock Bythewood, and featuring actors as varied as Sanaa Lathan (the headstrong, single mother DOJ investigator), Helen Hunt (the two-faced governor), Stephan James (the boyishly earnest DOJ prosecutor), and Richard Dreyfus (the money-thirsting business mogul), Shots Fired tackles the most contemporary of horrors: a police shooting of an unarmed citizen.
But for all it's zeitgeisty applicability, it is Shots Fired's undercurrents that best map the widening fractures of our Trumpian republic: deeply ingrained racial strife, educational class divisions, ongoing bureaucratic oversights, and the hunger to incarcerate people of color. The truth, Shots Fired seems to propose, is not as black and white as people so desperately want it to be. — JASON PARHAM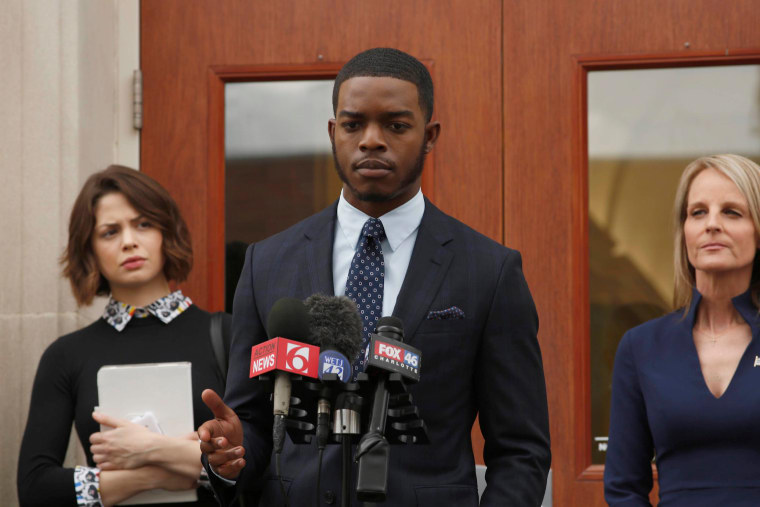 4. Brockmire, IFC
In Brockmire, Hank Azaria plays a washed baseball commentator who fled the U.S. after a clip of him losing his shit on camera went viral. That breakdown was a rant at his ex-wife Lucy after he walked in on her cheating. A decade down the line, he's perpetually drunk and back calling games for a minor league team in Morristown, Pennsylvania. He's joined by the team's owner Jules (Amanda Peet) and resident teen Charlie, who we are made to understand is good at the internet, because he has 4m Vine loops. The story of a broken man trying his best to make it at a level far below what he's used to, Brockmire reminds me of both Bojack Horseman and Eastbound & Down. Like both of those, it's a hilarious show. — DAVID RENSHAW
5. Fargo, Season 3, FX
In the Fargo universe — originating with the Coen brothers' 1996 movie, and extending now into three seasons of TV on FX — certain things are always going to happen. Suckers will get in too deep, death will be gruesome yet banal, some actors will be better at doing a North Dakota accent than others. And yet within that system, great creativity and great humanity arises.
The most recent episode, S03E03, focused almost entirely on Carrie Coon and her heartfelt portrayal of Gloria, a recently demoted North Dakota cop whose ex-stepfather's murder guides the season's action. Here's hoping that Mary Elizabeth Winstead, who plays a brilliant parolee and competitive bridge player, gets a full episode too. Ewan McGregor is also in this, but it's still definitely worth picking up. — DUNCAN COOPER
6. Skam, Season 4, NRK
Earlier this spring, I wrote a story about a groundbreaking Norwegian drama series called Skam. It's part web show, part social media soap, and each season follows a different teen-aged protagonist. Its fourth (and sadly final) season is airing now in real-time, is about Sana, a snarky, secretly sensitive muslim girl. Although there's technically no official subtitles yet, you can find translated episodes if you know where to look. Time to catch up. — PATRICK D. MCDERMOTT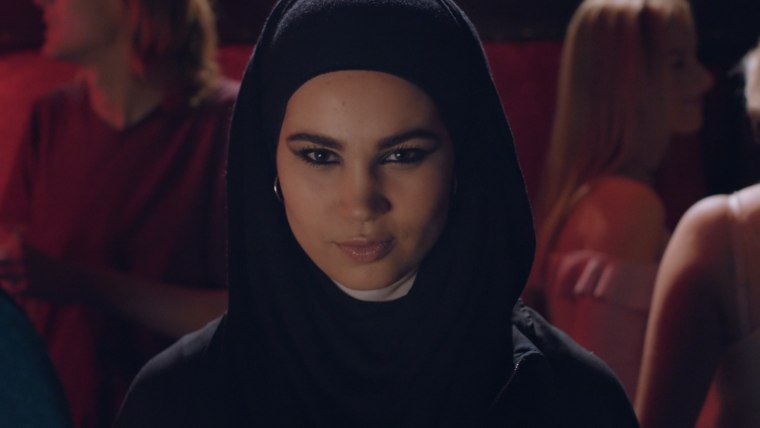 7. Dear White People, Netflix
Dear White People attempts to expose the racism and social politics of a prestigious majority white institution. The series unpacks our protagonist Sam's biracial identity with more complexity than the 2014 film, but I'm still not sure how I feel about the show in general. It undoubtedly calls out oppressive systems, and sheds light on real-life conflicts that young black students face while navigating them. Still, the identities of the characters feel limiting. While trying to explore and represent prominent narratives, the black students almost feel like caricatures, i.e. Sam, the radical biracial girl with the white boyfriend who is super "woke," but also possibly overcompensating for insecurities surrounding her race and complexion. So far, seven episodes in, my only wish is that the main cast hadn't been stuffed into these sometimes seemingly exaggerated roles. That way, the nuance might feel more organic. — LAKIN STARLING

8. American Crime, ABC

The acting troupe of this dark and doomy ABC drama is made up of some of the best in the game — Felicity Huffman, Connor Jessup, Lili Taylor, and Regina King, the last of who's won two Emmys for her work on the show. American Crime switches up their usual roles, and stretches them to their limits.
After previously exploring the murder of an army vet and male rape, the just-finished third season depicts class divisions in North Carolina: sex-trafficked girls and the woman trying to save them, the desperate conditions of an immigrant-staffed plantation, and a French-speaking Haitian nanny suffocated by a well-meaning rich white family. It's heavy, but worth it. — OWEN MYERS
9. 13 Reasons Why, Netflix
I wasn't going to watch 13 Reasons Why, until a friend told me she was hooked. I was apprehensive about the potential romanticization of suicide, so I dipped my toes gingerly. Based on a popular Young Adult novel, the Netflix drama series is about a girl named Hannah who leaves behind cassette tapes on which she details the bullying, sexual assault, and feelings of isolation that led her to end her life.
Crucially, the show's creators did nothing to tone down the plot's emotional and physical violence (there's a reason parents have been up in arms and high schools have issued warnings — it's not a show for the faint-hearted). It's also structurally gripping: the events preceding Hannah's suicide unfold through the perspective of her love interest, Clay. But the narration is all Hannah, who is so much more than just a dead girl; she may be gone, but this is still her story.
If nothing else, 13 Reasons Why forces us to think about the lack of sufficient mental health counseling in schools. With depth, a steady hand, and several entertaining plot twists, the show displays how things can wrong without the open eyes and ears of adults, or the proper language to describe painful emotions at their highest intensity. — LEAH MANDEL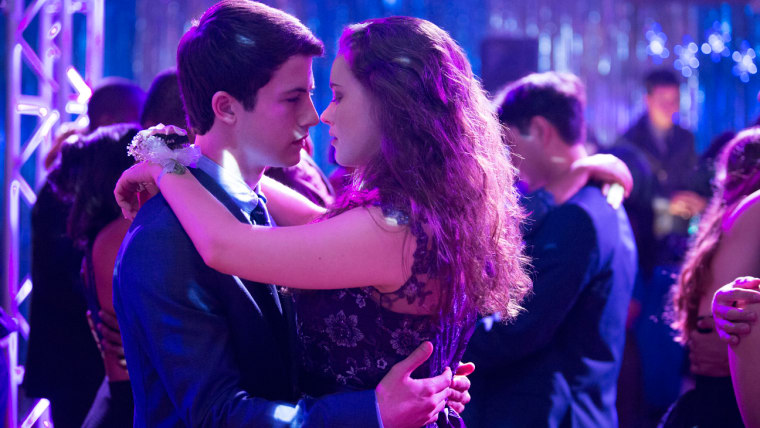 10. Mr. Robot, USA
My number one immediate concern, as far as catastrophic, civilization-halting events go, is a cyber attack. I find myself considering the possibility of a government commissioned virus, perhaps one like Stuxnet, burrowing into my city's power grid and dismantling it with unstoppable efficiency. I can't find a single other person who enjoys Mr. Robot who isn't a critic, and it's certainly not a perfect show — it can be po-faced, convoluted, and derivative. But I'm eagerly awaiting the next batch of episodes, because it's a show that takes anxieties specific to our digital world seriously, something that would not have been possible even five years ago. When the show is good, it is really, really great. Plus, when that virus eventually does decimate everything, I'll be able to make some good references. "This breakdown of society reminds me of season 2, episode 4..." — JORDAN DARVILLE
11. Love, Season 2, Netflix
Pretty much everyone I know hates this show, and I totally understand why. It's basically one-long will-they-or-won't-they with two purposefully unlikeable main characters — the nebbish Gus, the self-destructive Micky — whose failings are so minor and seemingly avoidable that they only make that inherent unlike-ability all the more infuriating. To me, though, watching these two bungle their way through their lives — and eventually, inevitably, toward each other — is like quaffing from some life-supporting succor; there is a kind of winking self-loathing here that I find deeply comforting. I guess what I'm trying to say is, if you don't wanna invite Love to your party, it's OK, Love didn't really wanna go anyway. — AMOS BARSHAD

12. Abstract, Netflix
Abstract is a really tight, super insightful new Netflix docu-series that sheds light on eight superpower brains within the design world. In its first season, each hour-long episode is dedicated to telling both the personal and design-centric story of its subjects, all the while documenting their progress on a specific project they're working on IRL, like a self-driving electric van. My favorite episodes feature stage design-extraordinaire and actual genius Es Devlin (she's the mind behind Jay Z and Kanye West's Watch The Throne experience and Beyoncé's larger-than-life Formation World Tour stages), every-so-often New Yorker cover illustrator Christoph Niemann, and Nike design lord Tinker Hatfield. My big criticism of the show is that it should feature more designers of color and more women designers across the board — they're out there, y'all! — NAZUK KOCHHAR

13. Scandal, Season 6, ABC
I will never give up on Scandal. Yes, the show has gotten really bad at several points, and the writers often pull out the same stories over and over again, but this season feels different somehow — or maybe I've just begun finding comfort in the drama's repetitive twists. The show, which originally focused on an exciting affair, has stopped caring about its complex love triangles and instead has zoomed in on an insane political assassination. There's no Trump in Scandal's Washington, just a group of frenemies all vying for power and trying not to get killed along the way. I would watch this show for 100 more seasons. — MYLES TANZER