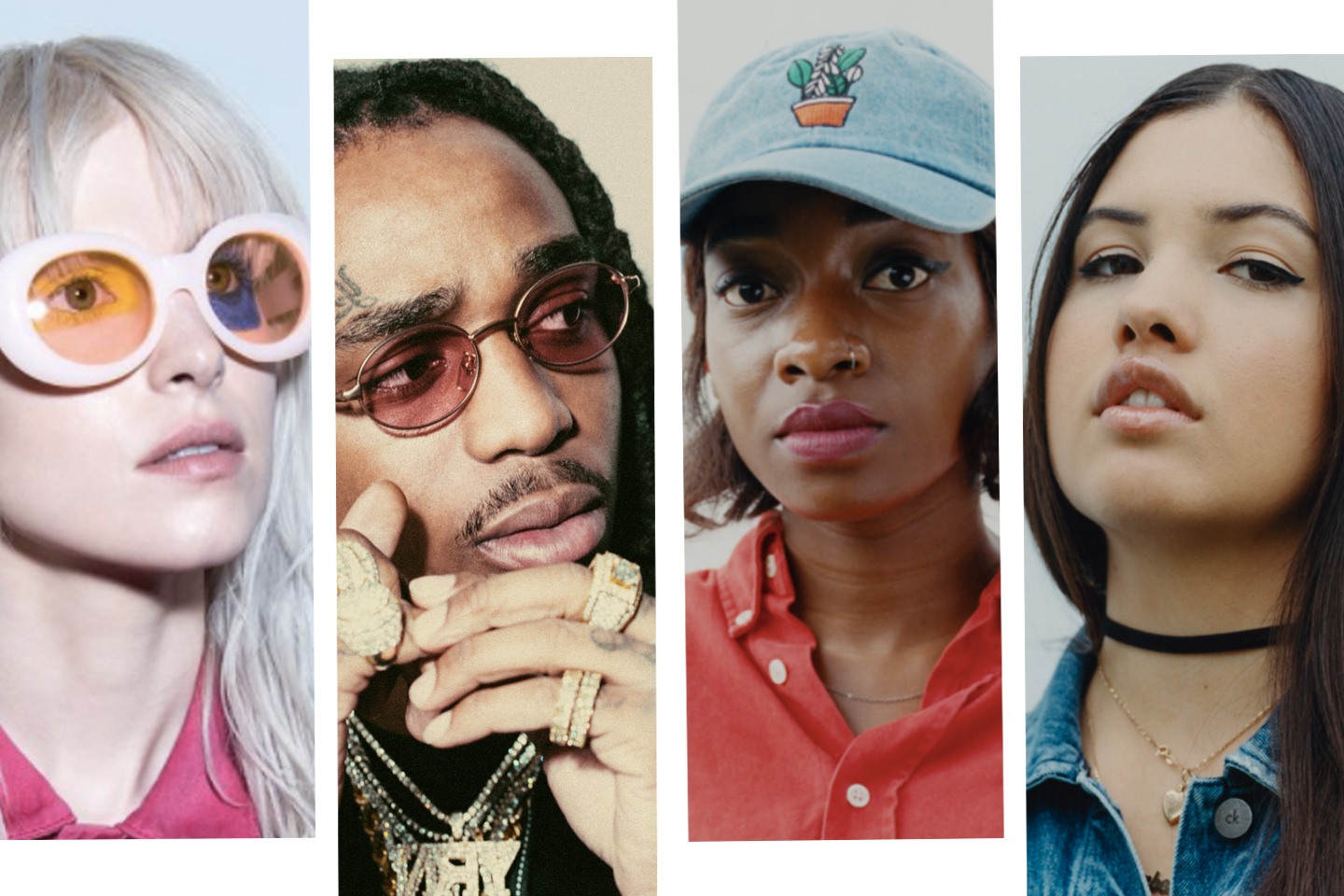 1. Of all the bright, sensual tracks on J Hus's Common Sense, "Bouff Daddy" stands out the most. The hook — "Now they see me and say Bouff Daddy, Bouff Daddy / Everywhere I go they say Bouff Daddy, Bouff Daddy" — is currently lodged deep inside our brains.
2. Future and Khalid vibe very well together on Calvin Harris's "Rollin," a funk-infused jam about pensive driving.
3. On "Coachella - Woodstock In My Mind," in what may be Lana Del Rey's most ironic move to date, she sings about all those "children" at music festivals. "I'd say it was hella cool to win them over/ Critics can be so mean sometimes," she croons, dreamy as always.
4. "Fake Happy" is the kind of song you cry to after a bad party, a bouncy pop song filled with classic Paramore angst. "Oh please, don't ask me how I've been/ Don't make me play pretend," Hayley pleads.
5. Sheer Mag is back with their signature punk-blues fusion. "Just Can't Get Enough" packs a punch — we expected no less.
6. OK, this one is divisive: we can't help but like Miley Cyrus's airy, chorus-less "Malibu," because it sounds just like the beach. Take it or leave it.
7. With her characteristic dark lyricism, Little Simz flows over haunting beats on the pensive "Backseat," the first single from her new album.
8. Our favorite song off Mac DeMarco's new album is "Still Beating," a sunshiny but melancholy love song. "Honey I cry, too," sings Mac, all openhearted and lovelorn.
9. Whatever special sauce Quavo's got, we want it. This solo loosie, "Paper Over Here," is breezy and shining with Quavo's golden voice.
10. Whew, this smoky groove "Stepping Out" by Jay Worthy and Alchemist (with vintage-sounding vocals from Sha Hef) is a true gem.
11. Unknown London singer M. T. Hadley got a come-up when Frank Ocean spun his gorgeous 2016 track "Janet" on BLONDED radio this past weekend. This song is a stunner.
13. Ghanaian producer Juls has beats. "My Wave," featuring Sona & Odunsi (The Engine), off his new album Leap Of Faith, is the waviest.
14. Mabel's "Bedroom" is a love smash that's somehow both intimate and expansive. This girl is destined for pop greatness.
15. Kaytranada produced smooth Compton rapper Buddy's excellent new single, "Find Me," and their galactic sensibilities sound meant to be together.