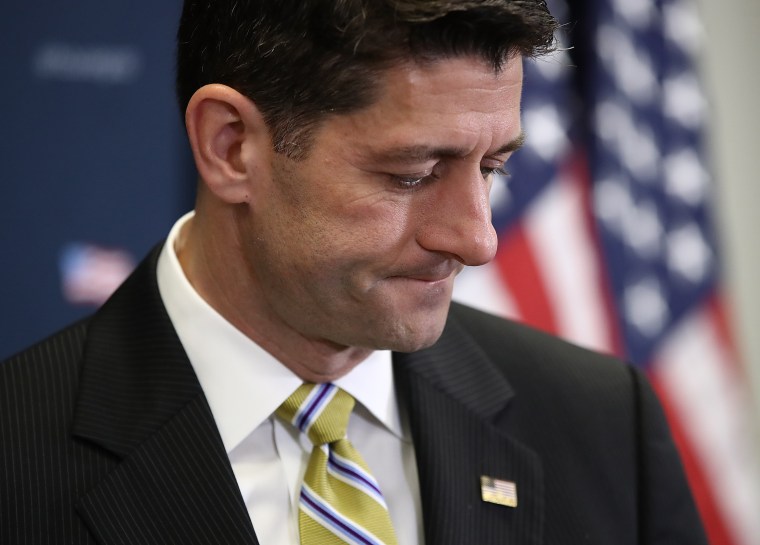 According to a report by ABC News affiliate Eyewitness News 7, one half of an eighth grade class visiting from New Jersey refused to take a photo with Speaker of the House Paul Ryan. The class was on a trip to Washington D.C. when they were informed that they would be taking a photo with Speaker Ryan.
One eighth grader, according to the report, texted his mother after finding out about the photo op, saying that he didn't want to pose for the photo. Matthew Malespina later told Eyewitness News that "it wasn't just a picture."
"It's being associated with someone who puts his party before his country," added Malespina.
"I think that taking the picture represents that you agree with the same political views and I don't agree with his political views so I chose not to be in it," said Wendy Weeks, another South Orange student told the The Village Green.
While those who chose to be in the photo posed with Speaker Ryan, the other half of the eighth grade class from South Orange Middle stood across the street in the parking lot.
Speaker Ryan has been a vocal advocate for a healthcare bill that is projected to leave over 20 million Americans without health insurance. The bill has received little support outside of the GOP, and has been widely criticized. He is also on record for supporting President Trump's proposed budget, which will cut funding that supports education and the poor, and instead channel that funding towards the U.S. military budget.
"I am very proud of him for standing up for what he believes in," posted Malespina's mother, Elissa Malespina on Twitter, in response to the encouraging tweets she has been receiving about her son's decision to opt out of the photo.
You can see the photo Speaker Ryan took with the other half of South Orange Middle School's eighth grade class below.