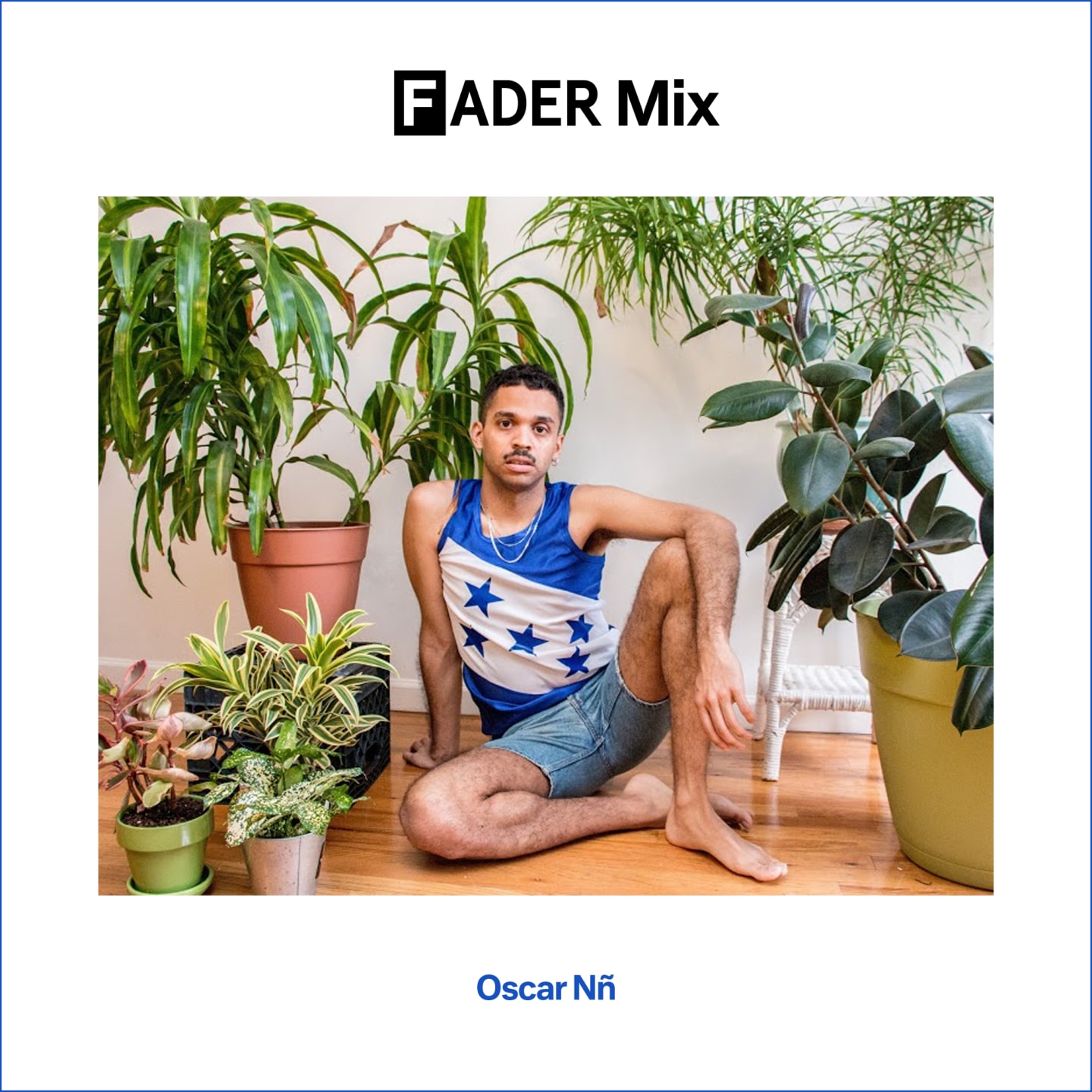 Writing in The FADER last June, Antwaun Sargent noted of Papi Juice, the queer collective that hosts monthly QTPOC parties in New York City: "Though Papi Juice has grown into a platform for artists of color, it has also functioned as a micro-liberation movement against the white gay scions of Manhattan's club kid circuit." For co-founder DJ Oscar Nñ, the need to create spaces of inclusion and release are increasingly important in a moment defined by widening social and political divisions.

In honor of Pride Month, the 29-year-old Brooklyn-based DJ conjured a mix that culls club music from international locales as disparate as South Korea, Côte d'Ivoire, and Honduras into one thump-crazy, sweat-inducing, spirited flurry of sound. It's an ideal mix that maps the highs and lows of a night out, all of it inspired by queer and femme artists from around the world. Listen below, and check out Papi Juice's fourth annual anniversary party on June 24.
Where are you right now? Please describe your surroundings.
I'm in my room in Bed-Stuy taking it real easy. It's been a breezy day for me because we just had a beautiful party last night in collaboration with our friends RAGGA NYC to celebrate multiple things like their residency at the New Museum and Brooklyn Pride.
 
Tell us a bit about this mix — what do you imagine people doing while listening to it?
For this mix I envisioned what a night out would feel like in a black and brown queer virtual club. Starting with faster and heavier tracks for the build up of the night and ending on a lighter and chiller note for the sexy come down. I was also thinking about how much i've enjoyed gathering club music from all genres and from across the world. With this, I hope that it can feel like a cute night out anywhere! From Busan, Abidjan, Sucre, or my hometown of Tegucigalpa. I guess I hope that folks dance and live their best life to this mix.
What's your earliest musical memory?
I was 3 years old and my dad was carrying me around our living room. I don't even think I could speak very much but I do remember singing along to "Quién Como Tú" by Ana Gabriel with him. After that, I remember learning to play the cassette by myself, and any other tapes I could find.
In such socially and politically fractured times, what do feel is your mission as a DJ?
In some way, as a DJ, you are giving a voice to the artists that you play. I try to highlight QTPOC and femme artists because I believe that we're the ones that have been and are still making culture. 
How has your own musical taste evolved over the years?
I've always loved club music and I think I always will. I'm not sure how much my taste has evolved but I guess by being involved in nightlife and going out in N.Y.C. and other places I visit, I'm always listening and learning from my friends that are playing.
How do you stay creatively motivated?
This is so hard because aside from living in the constant hustle that is N.Y.C., I also work full-time at an office job. So when I get home I either want to drink a thousand bottles of wine or watch stuff on Netflix. Actually, ideally both. But I've found that doing a bit of self-care goes a long way for creativity. Things like hanging out with homies, meditating, and exercising are all basic af but they work. Also, seeing what everyone in my community is doing and accomplishing is so inspiring and it definitely motivates me to keep creating.
What projects do you have coming up this year?
With the Papi Juice collective, we're trying to flex our curator muscle so we'll be hosting a series of performance events in August as part of a residency at a really cute venue here in Brooklyn. We're excited to open up to and work with artists in all mediums. We want this residency to be an all-encompassing experience with visual, performance, and sound art. As for myself, to be honest, I'm just trying to stay happy and less anxious while working on cute things along the way.
What's the last book you read that had a big impact on you?
This is easy! Hands down la muñeca Juliana Huxtable's Mucus In My Pineal Gland. I think it's very rare that artists, especially artists involved in nightlife, are so publicly vulnerable. And in her book, Juliana blurs the line between url reality and irl fantasy with funny, sad, and WTF chapters of free-form text pieces. Not to mention the design of the book is beautiful! As I finished reading it, I immediately grabbed my laptop, pressed the caps lock button, and started writing.

Tracklist
amaF alaM - Uyush Guerrero x Indyra Mendoza x Lirael P (Nñ BLEND)
quest?onmarc - FEEL IT [VIP]
MSTK - Ciara Get Wet
MM - QBT16
GIL - BATERIA
Merca Bae - Baechat
Miracles - Bottle Snap
Ase Manual - Body Drop[ (Trina's Theme)
laws knows - fantasy bootleg 2
Lil Crack - Blood rave (Club re-edit)
rose geller - fuck me
Leonce - Apparition
Nargiz - OoW No More
SUPERFÍCIE - LOST MY BREATH
Glolaluz - Soy Peor remix
El Alfa - Llego EL Moreno (DJVivaedit dembow intro)
El Mega x Zacmatic - Dame mi banda sinful reactions (Zacmatic hard trance edit)
Orlando - Cute
Ideal Corpus fe Aamourocean - Envole-toi
Foba - Psycheriddim
Stiekz-O-Matic - Encosta
Bad Gyal - Mercadona
Ynfynyt Scroll - Fantasma eres tu