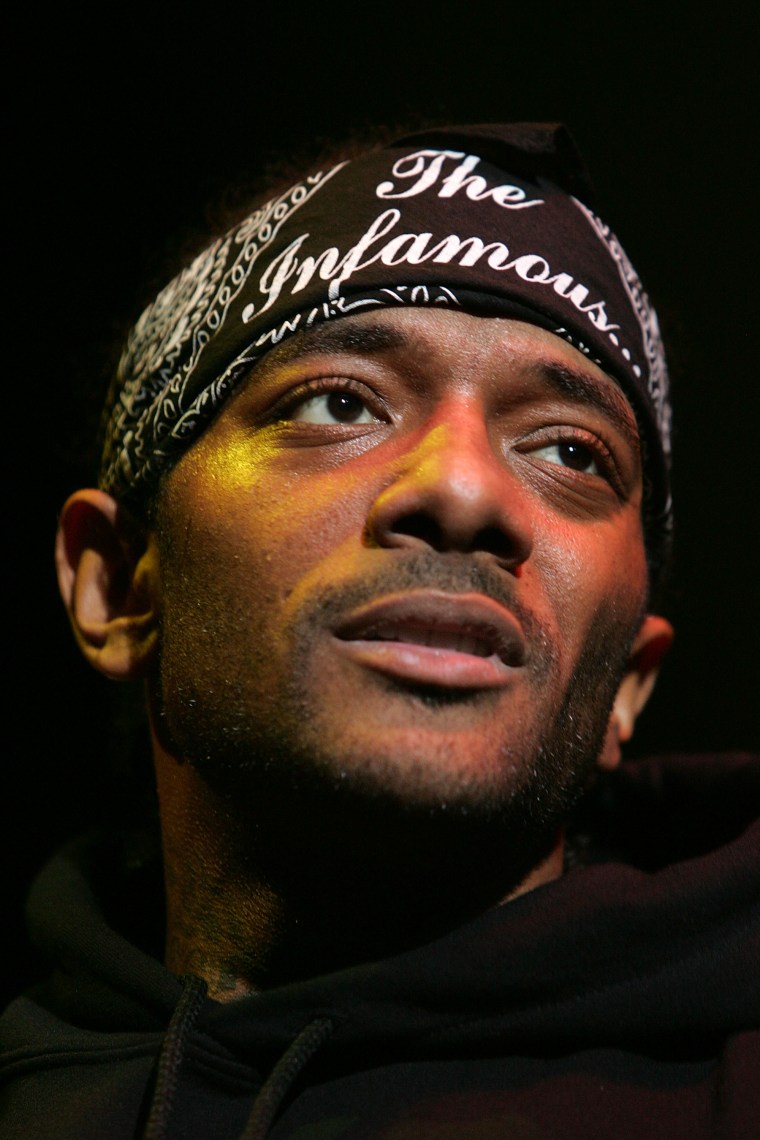 Prodigy, the New York rapper who passed away on Tuesday, became a hip-hop legend thanks to lyrics that could be bleak, funny, but always full of humanity. His career as a blogger followed the same path — he started writing in late 2007 on prodigy-hnic2.com, and was eager to share his life and thoughts with his fans. "I want to connect with my fans on a one-to-one basis, so when folks leave comments, I write 'em back," he told The Village Voice after his site had been live for six days.
His blog is now defunct, with a handful of posts surviving thanks to the decade-old posts of fans, detractors, and hip-hop sites. His style was confrontational, and his views on hip-hop went against popular thought, which is apparent in the dismissive tone some of his fellow bloggers employed to share his posts. But like his music, many of his opinions stood the test of time. Read a few selections below.
1. Prodigy on Southern rap
"WHAT THE FUCK IS THE BIG DEAL ABOUT SPEAKIN YA MIND? YOU WANNA KNOW THE ANSWER…IT'S NOT A BIG DEAL AND WHOEVER GETS UPSET CAUSE YOU PREFER SOUTHERN RAP OVER NY RAP OR YOU LIKE SHAWTY LO OVER YOUNG BUCK….
TELL EM' TO KISS YA ASS!!!"
2. Prodigy on the co-opting of counterculture
"YOU GOT A LOT OF FRADULENT REBELS AND REVOLUTIONARIES WHO ARE REALLY FALSE PROPHETS. THEY ARE OPPORTUNIST WHO PUT ON A REBEL/REVOLUTIONARY CLOAK FOR SOME SHORT TERM GOAL LIKE AN ALBUM PROMOTION, OR IT'S THE LATEST TREND THEY WANT TO FOLLOW AND APPEAR INTELLIGENT AND "IN THE KNOW," OR THEY WANT TO MAKE IT SEEM LIKE THEY WANT TO CREATE CHANGE WHEN ALL THEY REALLY WANT TO CREATE IS SOME GOOD PUBLICITY AND CHANGE IN THEIR POCKETS."
3. Prodigy on where hip-hop's power truly lies
Prodigy knew that those blindly chasing media and corporate approval were doing so at the expense of their art.
"THE ONLY PEOPLE WHO GONNA CALL SHOTS HERE ARE THE ONES ON THE FRONT LINES, THE ONES WHO CONTROL THE FRONT LINES. WE CONTROL THIS MUSIC AND IT'S DIRECTION. NOT HOW MANY MIC's IN THE SOURCE, NOT HOW MY X's OR L's in THE XXL, NOT VIBE, NOT RADIO, MTV OR B.E.T. OR 99% OF THESE WEB SITES. THEY ALL ACT AS IF AND WISH THEY COULD DICTATE WHAT WE DO AND WHERE IT's GOING BUT THE PEOPLE THAT WRITE AND PROGRAM ALL THAT BULLSHIT DONT KNOW WHAT'S GOING ON WHERE I STOMP MY FEET... RAP MUSIC IS JUST MUSIC BY A SMALL CIRCLE IN THE HOOD FOR THE HOOD AND WILL END WITH THE HOOD. WE MAKE THE RULES AND GOVERN IT."
4. Prodigy on changing his mind
"people say 'how you gonna like pac when he dissed you?' but i dont make my decisions off of what people say, i move on my own instincts. dont care if pac said shit bout my sickle cell, i still like 2pac regardless. so whoever disagrees, so what................................................................"
6. Prodigy on America's legacy of violence, racism, and "personal responsibility"
"It is indeed time for 'a new era of personal responsibility.' That 'mass dream' that you say President Obama is 'altering,' is just that, a dream. An 'American dream,' it's time to wake up [and] start living an American reality."
"ANYBODY THAT GOT SOMETHING AGAINST KEEPING A BLOG, YOU SHOULD STAY FARRRRRR AWAY FROM THE FOOL AND NEVER TRUST EM'. A BLOG IS NOT FOR EVERYBODY, JUST LIKE RAP MUSIC ISN'T FOR EVERYBODY. A BLOG IS INTERNET SLANG FOR A LOG AND IF YOU DON'T KNOW WHAT A LOG IS—IT'S WHAT BOAT CAPTAINS WRITE AND KEEP IN ORDER TO DOCUMENT THE DAYS OF LONG VOYAGES AND TRAVELS...IT'S LIKE A DIARY."