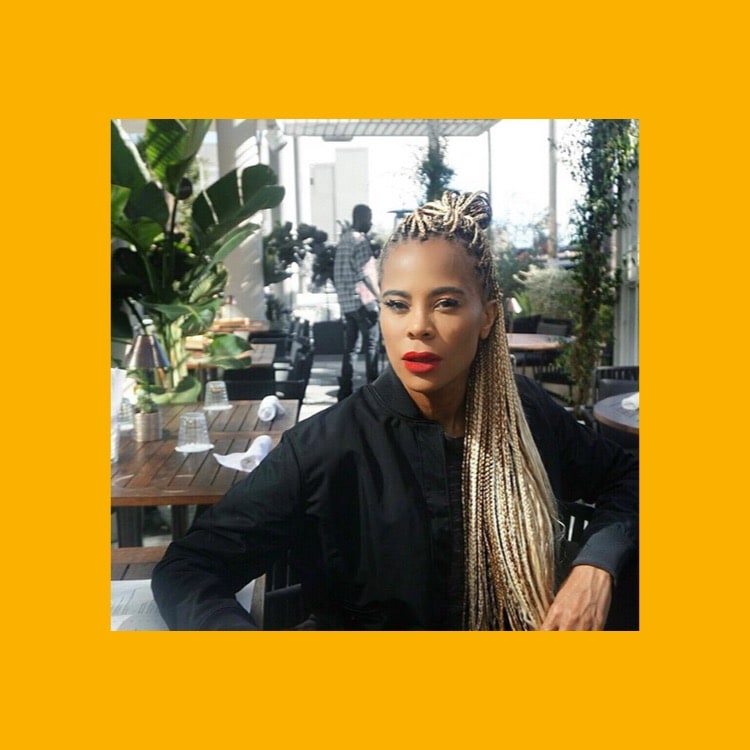 Laurieann Gibson is an audacious visionary, a gutsy choreographer, and a potent force in Bad Boy history. In Can't Stop Won't Stop, Puff Daddy's new documentary about the record label, director Daniel Kaufman forms a circular narrative of Bad Boy's legacy, with the action mostly taking place behind the scenes at 2016's momentous opening show of the Bad Boy Reunion Tour.

Despite the tight turnaround time to pull off the massive production to celebrate Notorious B.I.G.'s 44th birthday, and the pressure fueled by Puff's signature perfectionism, Gibson, who was the night's creative director, gloriously executed an iconic show. It's the first time in a long time — since the 4th season MTV's Making the Band, in 2005 — that we've followed the rigorous dancer on camera. But, here as she brings the Bad Boy journey full circle with old friends like Mase, Total, and Lil Kim, Gibson appears introspective and tender.

Below, Gibson opens up about working with Puff in the early days of Bad Boy, being named the "general" of the production, and what it means to see her hard work pay off in such a meaningful way.


---
LAURIEANN GIBSON: I left Toronto and I took a Greyhound bus to New York when I was 18. I was studying at Alvin Ailey American Dance Theater and was about join a modern dance company. Then, I went to a Heavy D and the Boyz audition where I ran into a gentleman by the name of Sean Puff Daddy Combs, who had a silver briefcase and handed me a business card, that said "A&R of Uptown Records."

My heart wasn't in contemporary dance. I was doing a performance once and I just felt a little trapped. I was pulled to hip-hop, which was the freedom I wanted, my voice. So I left Alvin Ailey, and I ended up then going on the road with Mary J. Blige. That was the beginning of my relationship with Sean Puff Daddy Combs and Uptown Records — and my love affair with hip-hop.

Mary's career was just was starting. We met in the conference room and they were like, "Mary's never done a show. Puff wants you to dance. You guys go over there and make up the routine. Good luck." When Puff left Uptown and went to Bad Boy, it just continued from there. Then it was "Making the Band," and Danity Kane, and I just never left [Puff's] side. Being a part of the culture during the early days of Bad Boy was difficult because I don't know that I realized I was a part of something. You're in your dream, you're fighting to be somebody, to become somebody. The battle was more or less my dynamics and relationship with Puffy and becoming a part of the music business, fighting through a male-dominated world.

I identified with Puffy and his fearlessness, and his ability to sustain and push me. He pushed me from the beginning, from all the performances I did with him and Mase. I was a fighter myself — that's what made us great. We never expected. We had no entitlement like people today. We had the real talent. A lot of artists today don't understand what greatness really is about. Bad Boy did. We were that. We walked it. We talked it. We were unafraid to do the work.

"A lot of artists today don't understand what greatness really is about. Bad Boy did. We were that. We walked it. We talked it. We were unafraid to do the work."
Before working on the Bad Boy Reunion Tour, let's just say I got fired seven times [laughs]. The amazing dynamic between Sean and I is when we are on our personal time. He's my brother, all his children are my nieces and nephews, and Mama Combs is my mama. I love them. It's all very real and merry. But in business, it's definitely Mr. Combs, coming in strong to talk about the things that he thinks I can do.

I was like, "Oh, when was the last time you've been on tour? Oh, maybe the tide has changed since you tried to yell at me on Making the Band." [Laughs] I was inspired to say, "Brother, I've done it. I did it. I've grown up. Let me do my job. Let me show you just how great I am." Of course, that took a couple beats. He doesn't let go of the reigns for anyone. When he let go and allowed me to be who I am, praise God, it was magic. It's always been magic between us.

To get the show together in such a short time was impossible by a regular person's standard. A lot of people don't realize that you don't always get put in the perfect situation. If you are rocking with the best, you can't really produce excuses. You can only produce the job. [The reunion show] was definitely one of the most difficult jobs for me, both physically, mentally, and spiritually. I had never been pushed quite so hard. It broke something new in me, a knowledge of what I'm capable of as a woman and as a visionary. Women in this business tend to be objectified. You can't possibly be as smart as a man or as capable, so you're constantly proving yourself over and over and over again — you have had to have slept with someone. You didn't do that. There's this constant space where it's never good enough and you constantly have to be proving yourself over and over again. If I wasn't good, I could not stand behind — beside— this $700 million man and produce at the same level. I'm on my way, but the reality of it was the odds were against me.

There were some nights [while working on the show] where I didn't sleep, where I was like, "I didn't smoke any joints. Why am I high." Puff is still calling me, like, " I need you. I need you at the house right now. This is not right." I'm like, "Oh my God, I just left. What is wrong with you, brother? I just left. I told you what it was," for months. Then the opening night, it was, you don't even want to know. In the film, they kind of try to make a joke about it, but all you do is see me running around. [Laughs]

"He doesn't let go of the reigns for anyone. When he let go and allowed me to be who I am, praise God, it was magic. It's always been magic between us."
And then talk about managing all of those artists — keeping them inspired and keeping them in the zone. Being sensitive to coaching them into their opening position. The dancers and I had a great team of choreographers, but the reality was it lied all on my shoulders. I wanted to stand as strong as any man, and I did. Puff was able to lean on me, and I was able to pull him through, which I feel like is one of the most proudest moments for me.

The Bad Boy Reunion Tour was confirmation for me that music and entertainment, is a gift that's given not to the weary, but to the strong. When you see that we've all survived and everybody's healthy and happy and we made it through, it's confirmation that it was all worth it.

Everytime I think about the last scene in the film I get emotional. It's a combination of being overlooked and never getting the recognition. And I've had a rough time with people acknowledging my contribution. But, to find such an incredible man [Puff] as a black woman, that's what was motivating me to lose sleep, to make sure that the legacy was timeless. Puff came out of nothing. I came off of a bus. Real magic is possible.

Can't Stop Won't Stop comes out on Apple Music on June 25th.