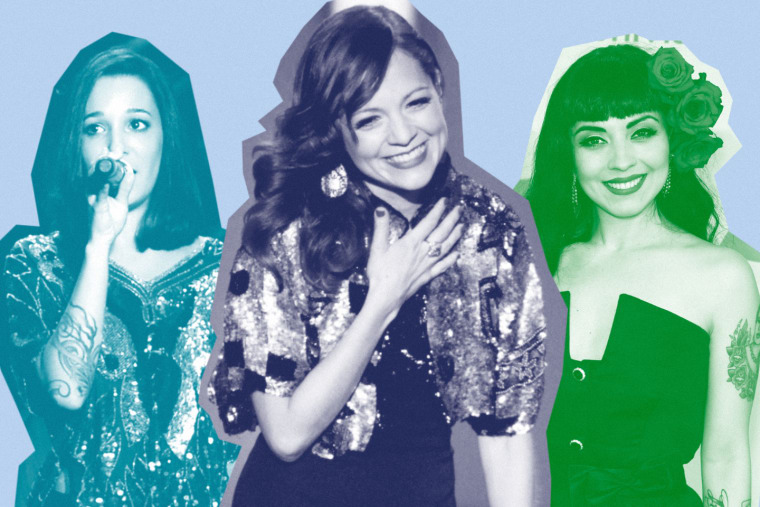 Last month, Mexican singer-songwriter Natalia Lafourcade released Musas, an album that is brimming with ghosts of genres past. Lafourcade reconnects with Latin America's folk traditions by honoring legendary artists and acoustic masters, such as Violeta Parra, Chavela Vargas and Agustin Lara. "I wanted to continue to investigate the history of our music and the folklore of our culture," she told Billboard.
Imbuing art with pieces of the past is nothing new, but several Latin artists have been riffing off tradition to make music that doubles as uniquely modern and elegantly nostalgic. Lafourcade's wistful love letter to folk is just one example of musicians finding inspiration by thumbing through history and drawing on genres like nueva cancion, ranchera and boleros. On Latin Divas, a playlist curated by Spotify, you can hear these artists, and others, paying homage to their roots.
Before Musas, Lafourcade had already spent time interpreting the musical progenitors that came before her. Her 2012 album, Mujer Divina, was a collection of Lara covers, lovingly recreated with Lafourcade's gauzy vocals and air-light arrangements. When her 2015 masterpiece Hasta La Raiz swept the Latin Grammys, critics pointed to the album's obvious foundations in the acoustic melodies of artists like Parra and Mercedes Sosa. So on Musas, Lafourcade didn't just want to evoke her inspirations—she wanted to bring them bursting forth through the speakers. She worked on every song with Los Macorinos, made up of Juan Carlos Allende and Miguel Peña, the famed guitar duo that often accompanied Vargas. Lafourcade steps in where Vargas left off on songs like "Tú Sí Sabes Quererme."
Similarly, La Santa Cecilia hoped to do more than just recognize musical history. The six-piece band that got its start busking on the streets of Los Angeles just recorded their fifth album, Amar Y Vivir, in cantinas, open-air plazas and theaters in Mexico City. The resulting music erupts with a buoyant live energy—just as it's traditionally meant to be heard and played. The album is an audio celebration of Mexican genres, like ranchera and boleros, and the band expertly pulls off each sound, in large part thanks to singer Marisol "La Marisoul" Hernandez's booming voice, which recalls the power and assertiveness of Lucha Villa and Amalia Mendoza.
Mon Laferte is a Chilean songstress, known for her Vargas Girl coquettishness and a perennial flower in her hair. Her seductive style winks to bygone eras, which she got a peek at as a child listening to her grandmother's tango and bolero records. Her recent release La Trenza nods to nueva cancion, the popular genre of revolution and social justice that originated in South America in the 1970s. In the same theatrical vein, Bogotá band Monsieur Perine has made itself known for a look and sound that harkens back to the roaring 20s. The ensemble boasts a swing-meets-gypsy spirit that manages to be both playful and sophisticated—and that won them a 2015 Latin Grammy for "best new artist."
One of the brightest acts braiding together old and new school is Puerto Rican artist Ileana Cabra, or iLe, who made her debut as Calle 13's big-voiced baby sister when she was just a teenager. Cabra released iLevitable back in 2016, and surprised audiences when the album wasn't a collection of lighting quick rap verses, but a gorgeous compendium of boleros, boogaloos and ballads, sung, as the New York Times put it, "without a hint of either irony or naïveté." One of ILe's standouts is the tearful "Triángulo," which could easily pass for a vintage record discovered 50 years later on a phonograph. On "Te Quiero Con Bugalú," she channels Celia Cruz and La Lupe, sounding every bit like a salsa performer in 1970s New York. The album's maturity and old soul secured a 2017 Grammy in the category of best Latin rock.
Each of these artists has found a way to incorporate their culture and traditions into music that is breaking barriers today. Whether their styles delineate directly from the classics or completely reinvent a tradition, these musicians prove that Latin America's musical history always endures.