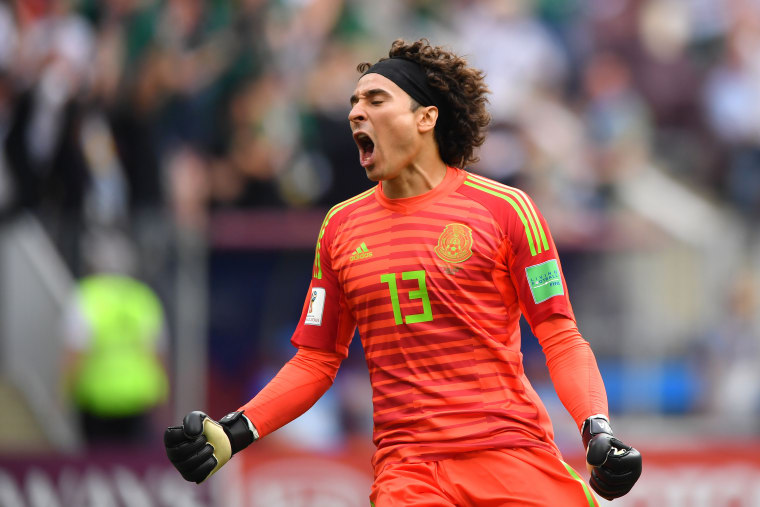 When looking back at World Cups gone by, it's not just the videos and sounds that capture nostalgia; it's the images. Squadrons of photographs from all over the world have made treks to every one of FIFA's quadrennial soccer tournament, and they have captured the world's best players in their most iconic moments, such as Diego Maradona lifting the trophy in 1986 or Andres Iniesta ripping off his jersey after scoring Spain's trophy-winning goal in 2010.
For the 2018 edition of the World Cup in Russia, social media has taken the center stage for how we consume the world's beautiful game, as GIFs and Twitter videos threaten to suffocate other types of captured moments. However, as we get further from the hot Russian summer, it will be the photographs that once again reminds us of what it felt like to watch Luka Modric, Belgium's attacking blurs, and the duality of heartbreak that befell Lionel Messi and Cristiano Ronaldo.
To that end, Getty Images sent its own veritable army of photographers to Russia, hoping for the photographs that will live on after every Twitter video has been DMCA'd into oblivion. Things like Messi, head in hands, contemplating his international failures. Or, more recently, AFP Mexico photographer Yuri Cortez's first-hand portraits of Croatian ecstasy.
To find out more about the men behind the lenses at the biggest sporting event in the world, we talked to one of those under Getty's employ, Mexican photographer Hector Vivas, who followed his country's El Tri side throughout their up-and-down campaign in Russia. Vivas opened up about being on the World Cup trail with his country's side, as well as what it means to be at a World Cup with one of the biggest companies in photography supporting you.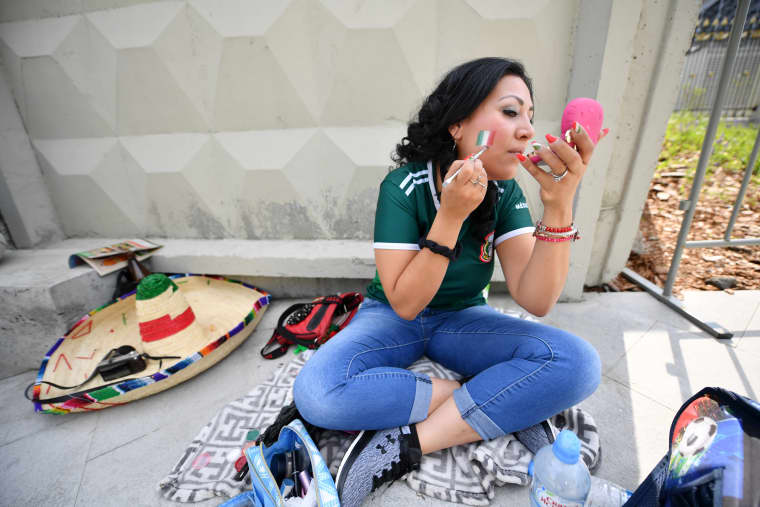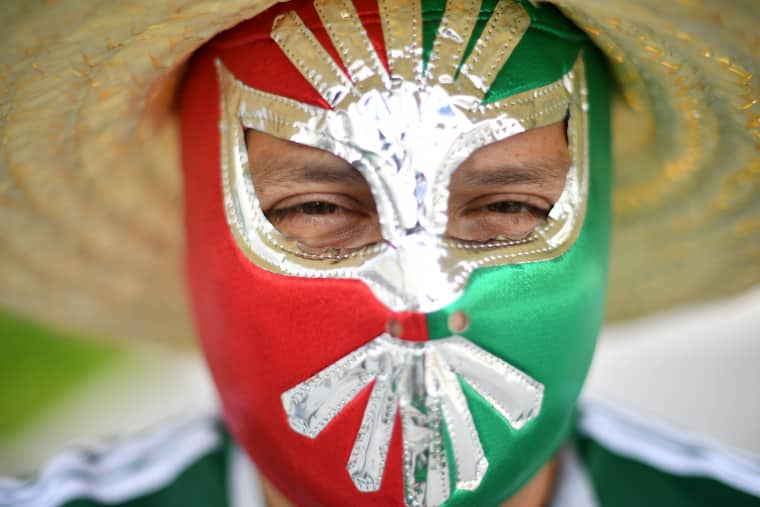 How was the experience of covering the World Cup in Russia, while following your homeland's team?
Very challenging, because it's very physical. It's great to have the Getty name supporting you, though. But it's also a big responsibility; you have to get the highest-quality photos for Getty. It's been a very, very good experience. My job was to follow the Mexican team at all times, which was a challenge because you need to be alert and aware of any events. For example, I need to know if there's a press conference or a training session to be there.
You need to be close to the team's base camp, and you need to read the news and be in contact with the press manager. It feels like you're part of something real big; both with Mexico and with Getty's coverage of the World Cup. You need to do your job very well. It's fun, but there's pressure.
How do you balance your own personal style with Getty's needs at a big tournament?
I'm lucky, because my style has always been a Getty style. That's how I'm here, working the World Cup. No matter your style, though, you need to have constant quality. Every photo you take has to be quality. It just matters that your style doesn't fight with the quality; you need to blend both together. If your style doesn't have quality, it doesn't work.
Before the tournament, there were worries about Russia as a host country. Did you find it hostile, or did the Russian people welcome outsiders in for the World Cup?
It's impressive. Moscow is a beautiful city, and Russia is a beautiful country. And the people!
I always have heard that the Russian people are strong and cold. That wasn't the case. It was very different than what I expected. Moscow is more like a big city, like any anywhere else in the world. But in the smaller cities, like Samara or Rostov, the people stop to help you. Even if you don't need it!
The people know that you are visiting, and they stop to make sure you're ok. Yesterday, I was just waiting for an Uber and some old woman stops and asks another girl to help me to make sure I don't get lost. I didn't really need it the help, but it was impressive to see how she went out of her way to help. That was the impression I got from everyone during the tournament. A very gentle people. Strong, but kind and very gentle.
Specifically with following Mexico, what were the best moments of the tournament?
The first day was very strange! Nobody expected that Mexico would win that game [against defending World Cup champions Germany]. Every photographer that I talked to about that day was freaking out, like "Oh my god, that was insane!" It was a normal World Cup game, but it also felt like more. Everyone said it was like a World Cup final for Mexico.
There were a lot of emotions, and a lot of pictures! It gave us hope, that the team could do big things. Unfortunately, they eventually lost [to Brazil in the round of 16], but after the first game, we were all very excited and very happy with the team's performance.
It also made the world's eye turn to the Mexican team for the next matches. Everyone was watching. The editors were all wanting my work then, whether it's newspapers or websites, because Mexico had surprised. That was very fun for me.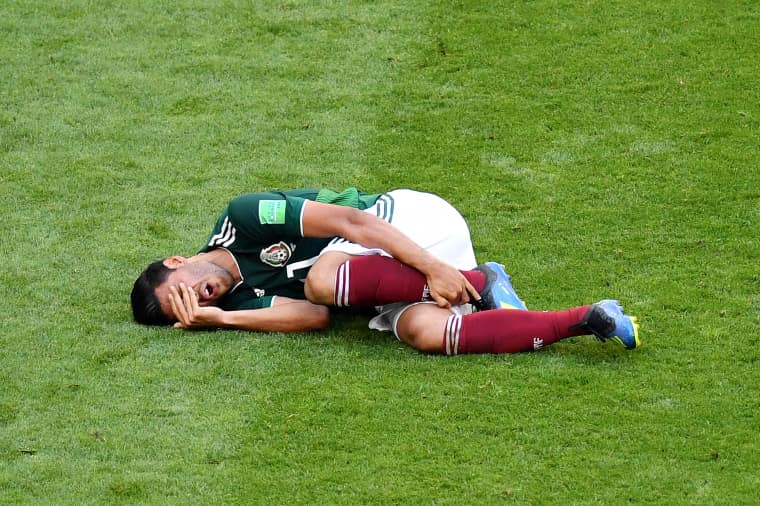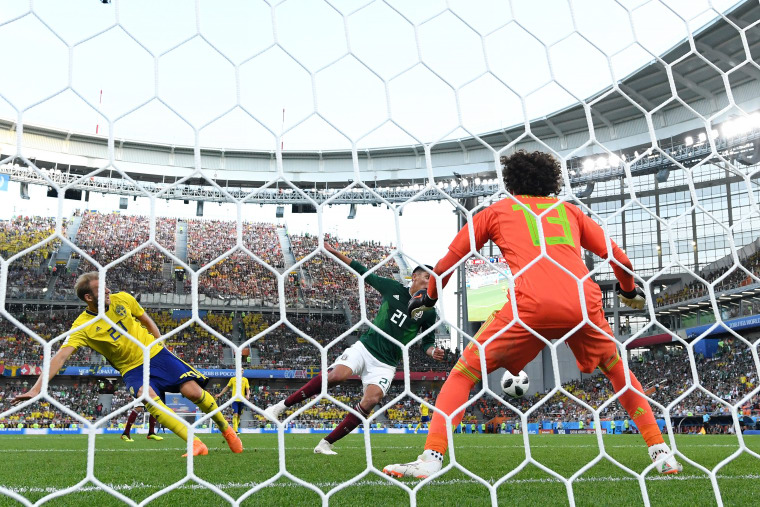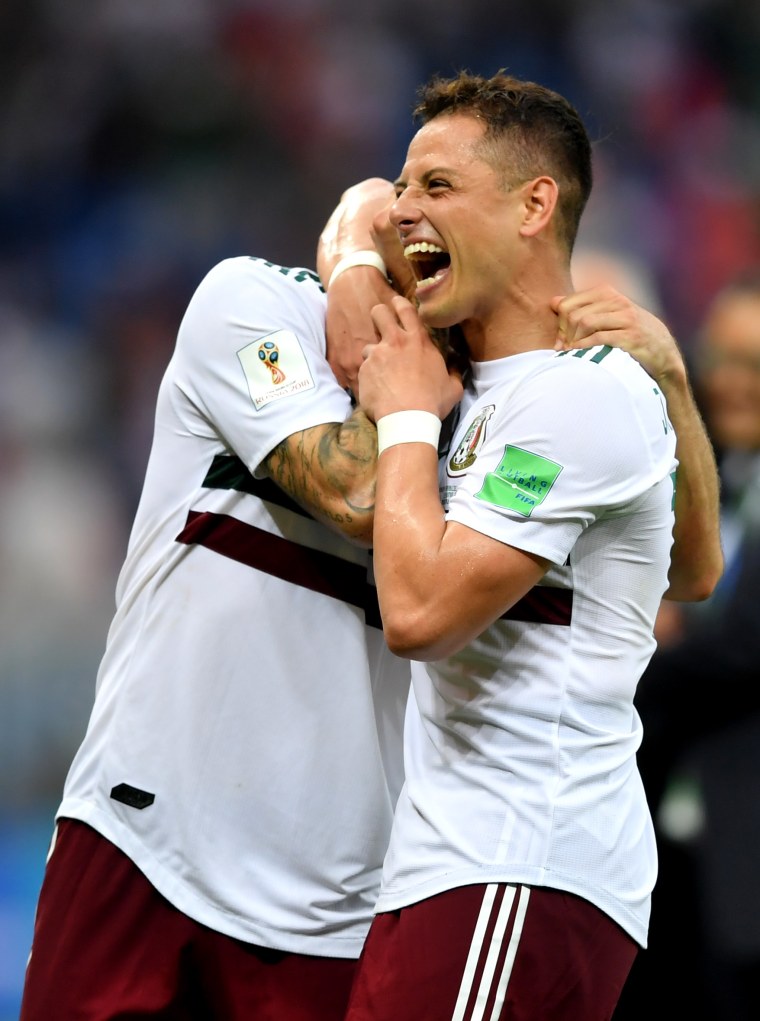 Is it hard to balance being there as a fan with being there for work?
A couple nights before the start of the World Cup, I was with the team and all the photographers, and they all talked about the two different approaches to being a sports photographer. One is that you are not a fan of the sports, but you love to photograph them and that gives you a handle on your emotions, so you can concentrate only on your work.
The other position is to be a fan of sports and let your photos show the feelings you have when living those moments as a fan. You really have to play with these two aspects. You have to balance loving sports, while at the same time being a bit away from it so you can focus on your photographs.
Was there a Mexican player that stood out for you as someone who was great to photograph?
Guillermo Ochoa, the goalkeeper, and Hirving Lozano, who was the best scorer in the Dutch league last year. Lozano played very well, and he scored the huge goal against Germany. I think he's a good prospect to be the best Mexican player in a couple years. And Ochoa, this was his second World Cup where he's been doing great things. He played very well against Brazil four years ago, and again this time around. And also, he's very photogenic! He has the big hair, this afro of sorts. Photos of him always come out great, he's very unique.
What does it mean to you, a Mexican photographer, to follow Mexico during such a big event?
Being part of this team's journey... it was amazing. Being part of Getty, they are the best team in photography, with all the editors and production people. Like I said, it was a big responsibility, but I enjoyed it a lot and I learned a lot too. I learned from the best, and it's good that I can bring what I learned back to Mexico.
We need to push all the sports photographers in Mexico to do bigger things; we have the 2026 World Cup coming up, and I want us to be impressive to the world stage. All of the things I learned, I just want to gift to the other photographers back home. You know? I want to tell them that we can do the same things in our own way. We can use remote controls, we can adapt to higher-quality levels, but we can also do it in our own Mexican way. It was great to see how it was done at a World Cup, but now we can move forward.
Do you have any advice that you wish you had known when you were a younger photographer?
Yeah, be consistent. Be always consistent. As a sports photographer, we need to take a lot of photos, at a lot of events. Sometimes, the events we shoot are not the biggest or the nicest. But you need to be consistent. Every photo you take, every event you cover, you need to be your best, whether it's a local thing or the World Cup. Respect yourself and respect the profession, and the photos will follow.