I didn't realize the true impact of what the rhythm of salsa could do to a person until I saw my father's dance moves. Growing up, I'd anticipate the very moment he would break out dancing to Celia Cruz at family functions. One by one, my uncles (and that one aunt who'd been drinking too much wine) would also take the dance floor, encouraging everyone to join. As my father would dance to "La Vida Es Un Carnaval" with one of my cousins, the room would brighten. No matter what was happening in our lives, hearing any song from La Reina De La Salsa would make us all feel invincible, and without any care in the world. It was that joy Celia Cruz's music emanated that demonstrated her true impact and influence on a small town Peruvian girl from New Jersey like me, and on artists today like Cardi B.
Like Celia Cruz, Cardi B is an Afro-Latina artist from the east coast who celebrates her culture, which is why it's especially amazing to see that she's taking style notes from La Reina. With her new music video for the Bad Bunny and J. Balvin-featuring "I Like It," Cardi takes us back to her own roots, while also paying homage to Celia Cruz's ability to take the fiesta anywhere through her outfits.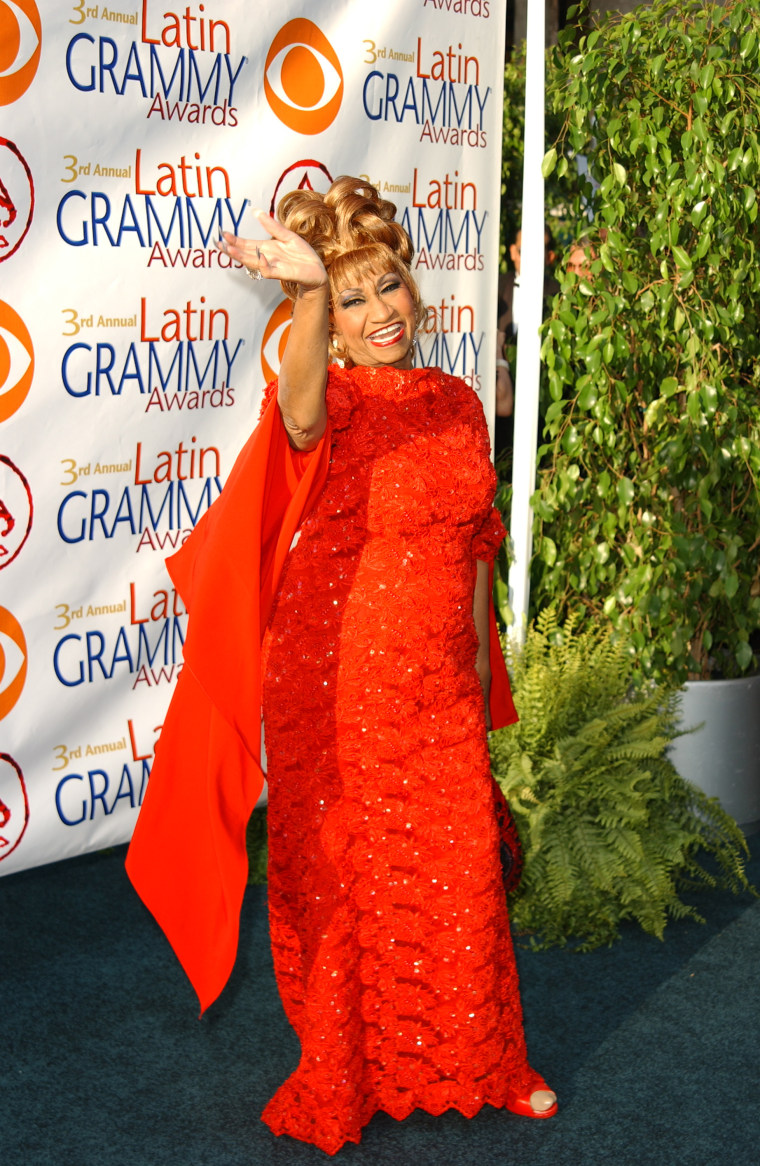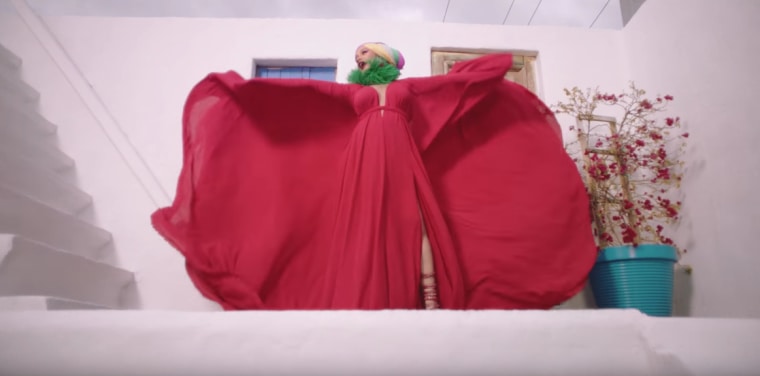 In a custom red Michael Costello dress, Cardi radidates as she delivers her bars from her hit single while also giving us a throwback to Celia Cruz's iconic look during the 2002 Latin Grammy Awards. While Cardi could have worn anything other than this dress, she didn't, and the world is a little bit better now for it. The turban-topped look, put together by her trusted stylist and glam squad member Kollin Carter, is nothing short of perfection.
While other celebrities followed the style trends, the only trend Celia Cruz ever followed came from herself. Similarly, Cardi's never been one to wear what others do, from her no-compromise Fashion Nova 'fits to her crowned Moschino Met Gala look. Not only does Cardi follow Celia's dynamic style, but she also references to some iconic hairdos of hers. In her "Bartier Cardi" video, Cardi's blonde hair is styled similarly to Celia's classic updo, which she also wore during the 2002 Latin Grammys.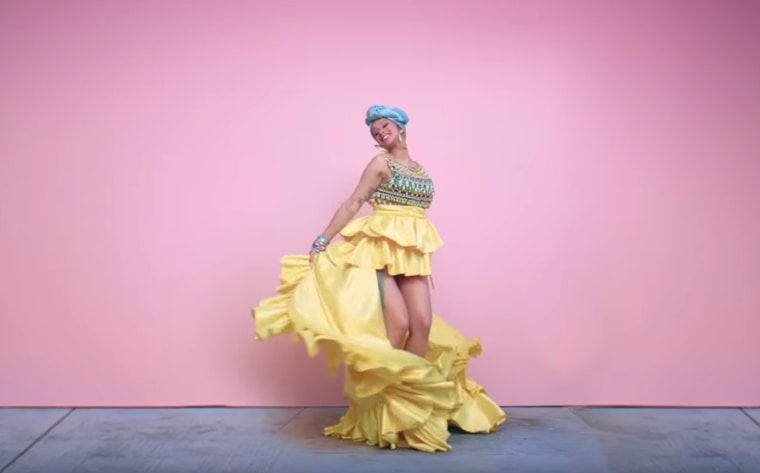 Each woman also shares a love of catchphrase. In Cruz's 2000 Grammys acceptance speech, made while wearing her memorable all-blue look, she reached out to the mic to say one word before thanking anyone — "AZUCAR!" (Which means sugar to all my non-Spanish speaking folks out there.) Similarly, Cardi is famous for many sayings, but her signature "OKURRRRT" and "EEEOOWWW" are definitively her.
Celia Cruz was one of the greatest Afro-Latina artists of all time, and now artists like Cardi B and Amara La Negra, with their empowering and energizing music and down to Earth personalities, are following in her footsteps. They demonstrate, through their actions and personal style, that it's time to embrace every inch of our bodies, and every aspect of ourselves. I admire the pure happiness that poured forth from Celia while she sang and danced because it showed that she loved what she was doing. It's that same passion I hope to put into what I love to do or at least, into my salsa at the next family function.