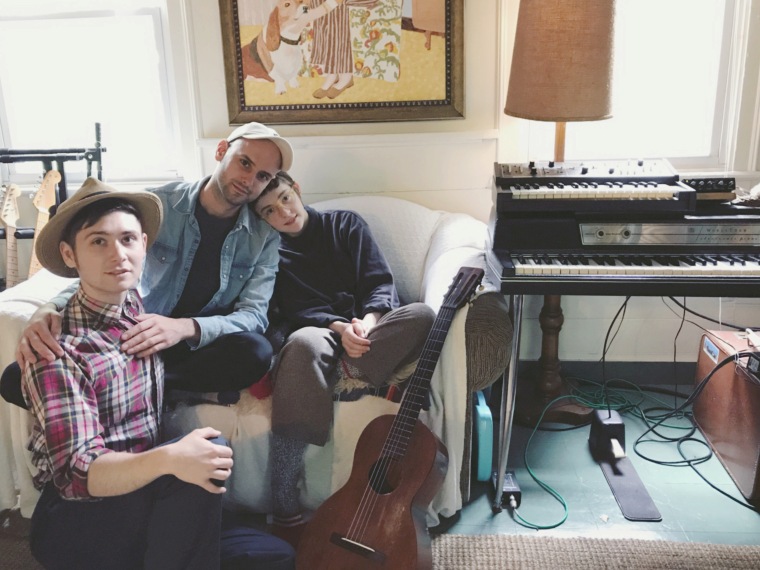 For a simple folk song, "What I Wanted to Hold" packs a big punch. It's our first preview of the new Florist full-length, which is called If Blue Could Be Happiness and comes out this fall.
And what a gorgeous preview it is, thanks to a bevy of atmosphere-building quirks and some heartbreakingly visceral poetry. I honestly almost shed a tear the first time I heard Emily Sprague sing "when the summer goes long and the water stays warm/ I remember the faces of everyone I've loved." It's a killer line, devastating in its directness.
"It's a contemplative journey, mostly about impermanence and how important it is to recognize that as the dominant theme of life," Sprague said of "What I Wanted to Hold" over email. "It also deals with the melancholy of remembering and the little associations (colors) that we make to people and places, to hold on to these things that are either already gone, nearing an end, or just beginning." Listen below, and check out Florist's upcoming tour dates with Pinegrove and Lomelda.
Tour dates:

9/20 – Burlington, VT @ ArtsRiot *
9/21 – Montreal, QC @ Bar Le Ritz PDB *
9/22 – Toronto, ON @ Velvet Underground *
9/24 – Bloomington, IN @ The Bishop *
9/26 – Lawrence, KS @ The Bottleneck *
9/27 – Oklahoma City, OK @ 89th Street (OKC) *
9/28 – Houston, TX @ Walter's Downtown *
9/29 – Austin, TX @ Barracuda *
9/30 – Dallas, TX @ Club Dada *
10/2 – El Paso, TX @ The Perch at Tricky Falls *
10/3 – Tucson, AZ @ Club Congress *
10/5 – Los Angeles, CA @ The Echoplex *
10/6 – San Diego, CA @ The Irenic *
10/7 – Santa Ana, CA @ Constellation Room *
10/10 – Santa Cruz, CA @ The Catalyst (Atrium) *
10/11 – San Francisco, CA @ Slim's *
10/12 – Reno, NV @ The Holland Project *
10/14 – Denver, CO @ Bluebird Theater *
10/16 – Iowa City, IA @ Gabe's *
10/17 – Sioux Falls, SD @ Total Drag Records *
10/18 – Fargo, ND @ The Aquarium *
10/19 – Minneapolis, MN@ 7th St Entry *
10/20 – Milwaukee, WI@ The Back Room at Colectivo *
10/21 – Madison, WI @ The Rathskeller
10/22 – Chicago, IL @ Beat Kitchen
10/24 – Washington, DC @ DC9
10/25 – Philadelphia, PA @ Boot & Saddle
10/26 – Cambridge, MA @ The Middle East (Upstairs)
10/27 – Brooklyn, NY @ The Park Church Co-Op
* w/ Pinegrove and Lomelda