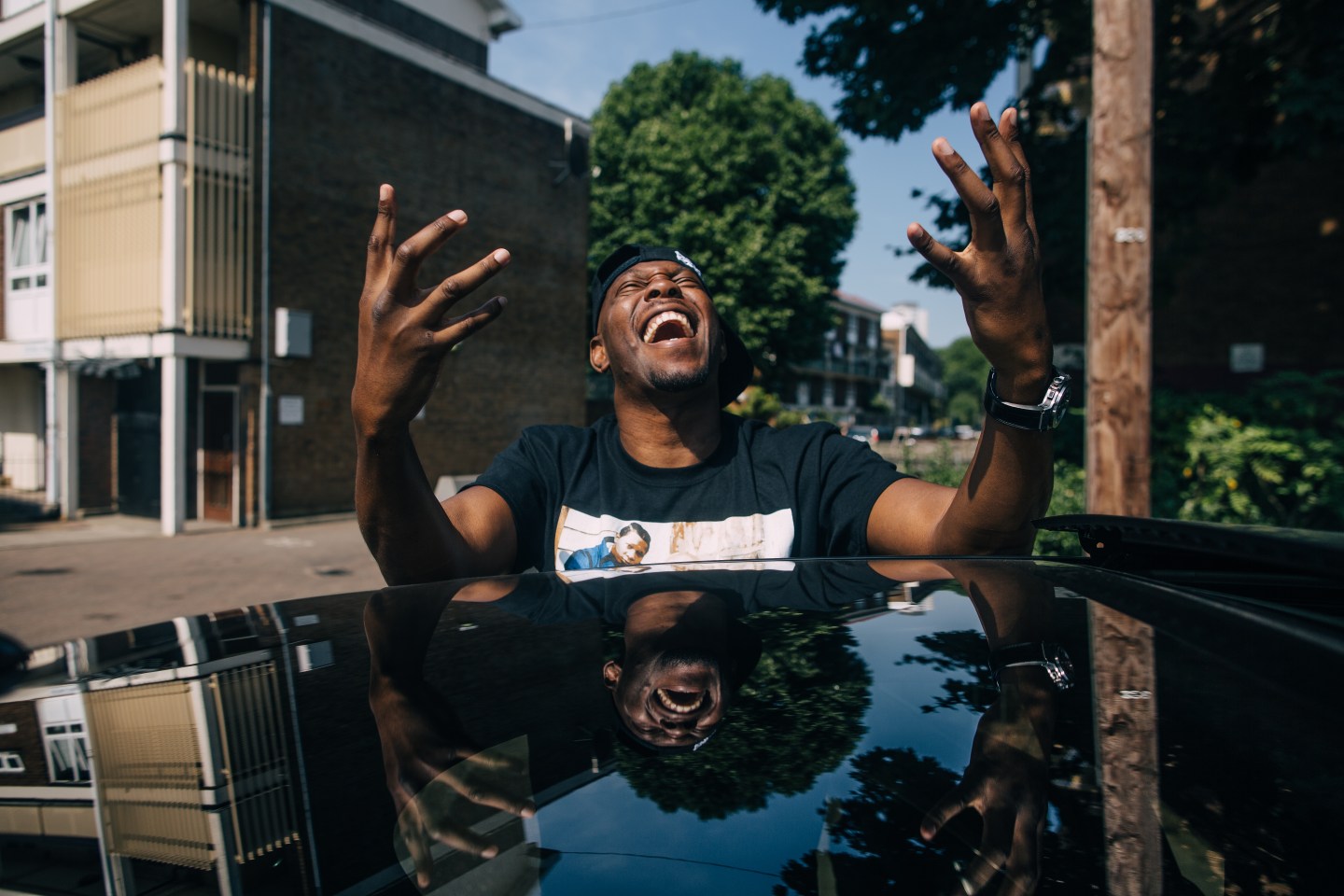 "Why they talking like I never made bare grime?" Dizzee Rascal demands to know on "The Other Side," a fighting cut from his sixth studio album Raskit. The low-riding track is perhaps the angriest of the bass-heavy rap and grime album, on which Dizzee confronts his past, speculates on his future, and outlines his legacy. Since releasing the seminal early grime record Boy In Da Corner in 2003, Dizzee's had U.K. chart hits in multiple genres, but on Raskit he re-asserts his MC credentials. "Raskit" was one of his numerous aliases on pirate radio as a teenager, and it's no coincidence that he picked that name to christen his latest album, at 32. "It's just like, back to basics," he explains of the choice of title, on the phone to The FADER a week before the album's release. "It's about the bars and the beats again."
On Raskit, Dizzee reckons with the interior struggles of being a veteran artist, but he also casts his gaze outward, revealing a firm skepticism of British politics. Samples of Margaret Thatcher and Boris Johnson making empty promises are placed adjacent to bars about the gentrification of Dizzee's birthplace, east London. Meanwhile, a laughing voice at the end of opening track "Focus" asks "What's Brexit?...Do you mean Brixton?" As well as reflecting on his place in the scene, Raskit tells a story about a working class boy from London's council housing grown into a self-declared "Businessman" in Conservative Britain.
One thing that hasn't changed about Dizzee, from his debut to now, is a deep-rooted disdain for the establishment. In a chatty — and occasionally prickly — half-hour phone call, Dizzee explained why he's addressing his critics now, and why he won't be joining #Grime4Corbyn or endorsing any politicians.
"Wot U Gonna Do" and "The Other Side" speak of tensions within your career and the scene. Why did you want to bring those anxieties into your new music?
["Wot U Gonna Do"] illustrates how this game can be in general...if you're not awake and being realistic about your situation, it could fuck you up. ["The Other Side" is] a clapback at my critics. I think it's healthy, because we live in a day and age where everyone can say exactly how they feel and let you know. You can sit there on your keyboard and tweet back, but that's a waste, innit? My job is to put it into art, put it into music. They say they wanted hard shit — there you go. That's a hard track.
It's plain to hear the '90s rap and G-funk influence on this record. What's your relationship with those genres?
Around that time in the '90s, obviously Tupac, Snoop, Warren G, Dr. Dre, I was heavily into that. Luniz's [Operation Stackola] was a massive album for me, as I was making Boy In Da Corner even. Years later, I started discovering Celly Cel, and that whole Bay Area sound that I'd missed growing up. I've always been into E-40 as well.
It weren't necessarily a conscious decision [to put those sounds on the album], it's when I hooked up with Cardo, who produced a lot of that stuff [on Raskit]. I met him in L.A. a couple of years ago. He makes a lot of trap stuff, he does stuff with Migos, 2 Chainz, Kendrick Lamar...I was like, Oh shit, I've always loved this music, but I've never had these kinds of beats at my disposal. "Man of the Hour," I love that beat — I thought it was American, but it's actually a sample of a French song. It's a guy called Aelpéacha, and he's basically a French G. France have always been ahead of everybody else in hip-hop, aside from America. People make a big deal out of what's happening in the U.K. now, but really we're way behind. I remember when I started going to France, [when] Boy In Da Corner was out. [I found out that] by law they have to play 60% French music on their radio, so [the artists] were able to thrive. Imagine if Radio 1 made sure they played 60% British music.
British institutions don't always necessarily seem to support British music as much as American.
Yeah, like why should it take Drake to get everyone excited about Skepta? That's not a dig at any of them. Drake's Canadian anyway. But it's not like we haven't had the quality of music, because obviously everyone who's big in grime now, [like] Stormzy, they're all influenced by the original generation. It's always been there. And a lot of it was more experimental at the time anyway, if you listen to the earlier stuff, it sounds more like nothing else, out of this world. Whereas most things today — you can hear the immediate American influence. That's not a diss, that's just the way it is. Thing evolve, people have got different influences. Kids now, kids are doing drill...they've obviously been listening to Chief Keef and his mates, that's what they grew up on.
After playing Glastonbury you recently said that you should be headlining the festival — why do you think no British rapper or MC has done that yet? Is it about time?
We haven't ever been confident in it. The truth is, I've had more hits than JAY-Z in the U.K. and I'm more than capable of performing [on] the main stage. Twice I've been on the main stage, just before the headliner, and I've smashed it. There's no debate. It's just at that point, like, "Come on, what's going on?"
How have you seen the area you grew up in change over the last few years?
It's a hard one. It's a double-edged sword, because the area looks better. Next to the rough parts, you've got really nice parts. You drive through it, and a lot of it looks really nice. But then obviously, all across London, rents have gone up; you've got loads of people staying in one flat, all sorts of stuff going on. But I'm limited to how I can talk about it, because I lived there 15 years ago. So I'm not going to pretend to understand what it's like. There's a book I read called Big Capital: Who is London Really For? The best thing I can really do is guide people to that book. This woman breaks it down differently. It's easy to read, it's not too long, it's very interesting. I couldn't attempt to break it down like her. I could if you gave me a beat.
There's a lot of mistrust of politicians on this record. Where did that come from?
I'm not a scholar in politics. I'm still learning about it today. But there's certain things that come with common sense. If I see something that don't look right, then it just don't look right. If I don't know enough about something, I won't just co-sign it either. It's not even necessarily a distrust for certain politicians, it's just like, I don't know their policies or what they're really about. I don't need to jump on the bandwagon because it might sell me a few records or get me a bit of attention on social media.
"What's the point in telling people to just go out and vote, if you can't even educate them on what is going on?"
In an interview you gave on Newsnight in 2008 you talked about how Obama embraced hip-hop to encourage young people to come out and vote, and that's how he won. This reminded me of how Corbyn is being backed by grime artists at the minute — do you see a similarity?
Nah. Not really. I think the whole Obama situation is totally different, and the effect it's had on especially black people in America, that's a whole other long talk. That's another interview. It's not the first time; people always use popular music. Hillary did it as well, it didn't quite work out for her. She got Beyoncé and JAY-Z, it didn't quite work out did it?
What do you make of the whole #Grime4Corbyn movement?
What am I supposed to make of it? That's the question innit, what's it got to do with me? This #Grime4Corbyn, is it a race thing, or is it a grime thing? If I wasn't black, would you ask me? Would anybody be asking me? The question is, why would a grime artist co-sign him?
I don't know, I can't speak for them — maybe because he's a hopeful politician —
What? Because he's a hopeful politician? Why?
— because he has good policies, and because grime artists want to engage the youth in his policies and the Labour manifesto.
I'm 32, what's [youth] got to do with me? You know what, this is the one thing I can say about Jeremy Corbyn. I was in a barbershop, I asked, "What is this about Jeremy Corbyn?" Someone explained to me that they're from north London, and they were having trouble getting their kid into school, so they spoke to their local MP, and Jeremy Corbyn sorted it out. That's the positive side of Jeremy Corbyn. So if I was to ever co-sign, which I haven't, it would be based on that, it wouldn't be anything to do with #Grime4Corbyn.
I don't know what Corbyn's got to do with grime, really…You could have asked me about Theresa May. Someone somewhere believes in her, because she's prime minister and she won, and without co-signing grime. You know who wins, anyway? The only person I really answer to? The taxman. He's the guy, he won.
Do you think it's important for artists to speak out about their political views?
If they want to. If it means something to them, if they know what they're talking about. The best thing you can do is guide people into actually — not just to go out and vote. What's the point in telling people to just go out and vote, if you can't even educate them on what is going on? [Artists] should at least make them check out everything that that [politician] proposes to do, because one thing might be good for you, but then there might be a couple other things that mess up your life in another way. If you're gonna start misguiding people, you're part of the problem.
---