Why Kesha's Fight Is Not Over
Industry legal experts and Kesha's collaborators on what's really going on with her comeback.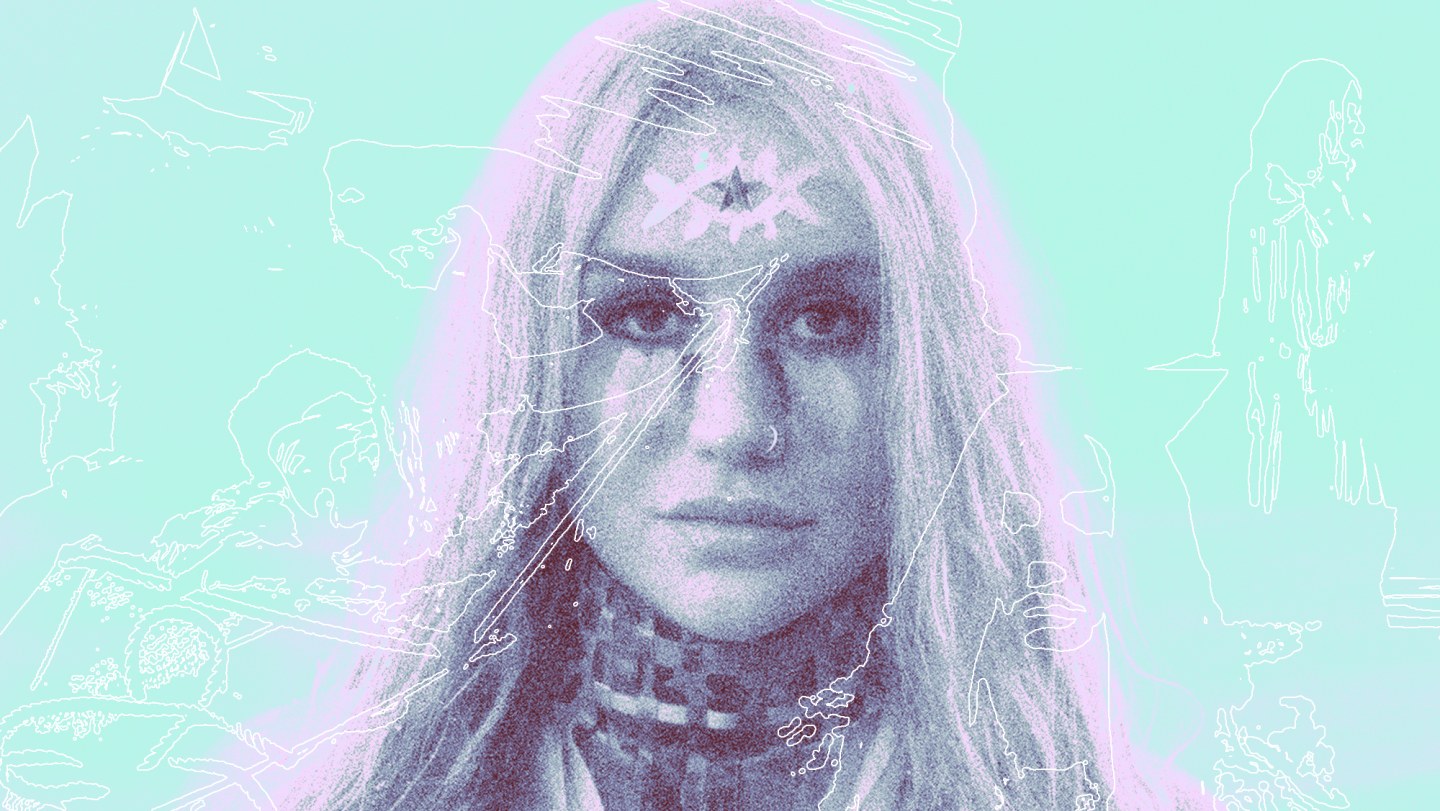 On Kesha's new singles, "Praying," "Woman," and "Learn to Let Go," she sounds liberated. The tracks are the first solo music the pop star has released since her 2012 album Warrior. "Praying" in particular is an earth-shaking ballad, with a vividly colorful video that mirrors the song's theme of thriving after trauma, and learning to forgive those who hurt you. Kesha's piercing high notes and uninhibited bellows sound undoubtedly free.
Freedom is what everybody wants for Kesha. Since 2014, the artist has been embroiled in a legal case against her ex-manager and producer Dr. Luke. (She signed to his company Kasz Money Inc. in 2005, and since 2011 her music has been released via Kemosabe Records, a joint venture between Sony and Luke.) Kesha is accusing Luke of emotional, physical, and sexual abuse, and seeking the termination of the contract she signed with him when she was 18. To make matters more complicated, in 2015 her attorneys also alleged that Sony were refusing to allow her to record new music without Luke's involvement. That year, she filed an injunction which would have allowed her to release music outside of her contract during the court case. This was denied, and in response, the cries of #FreeKesha grew louder on social media and stages around the world.
In October 2016, the New York Times reported that Kesha had recorded 22 new songs at her own expense, and in the same article her reps claimed that all decisions regarding any music she released would still be made by Dr. Luke. It seemed that Kesha was holding back on sharing new music, because its release would involve working with her alleged abuser. So, what's changed? In April of this year, Dr. Luke stepped down as CEO of Kemosabe, appearing to create distance between himself and the label. She then announced that Rainbow would be released on Kemosabe on August 11.
Kesha's return with new music is cause for celebration, but its release on Kemosabe raises questions about whether her struggle is really over. As ThinkProgress posited in 2015, the predicament she realistically faces has always been complex: either let her career die, or work with her alleged rapist. So is she actually "free" now — or has she chosen to take the latter route? What creative and professional bonds does she still have to the man she accuses of abusing her?
It's unclear how involved Luke or Kemosabe were in the recording of Rainbow.
Kesha seems to have started work on this album independently, without financial or creative input from Luke or Kemosabe — at least until some point before October 2016 (as reported by the New York Times). In a phone call with The FADER, Ben Folds described the process of recording with her in 2016 as very DIY: "She said she needed to get some songs recorded while they [were] still in her. She didn't, as far as I know, have any label backing at that moment. It seemed very renegade. So a lot of my gig was making what would have normally been a $125,000 recording session into $10,000. We made [title track "Rainbow"] really, really cheap." Folds stressed that while working on the song, he didn't know what it would ultimately be used for. "I didn't really know if it would be released at all, frankly."
Some of the songs that were recorded for the album may have been written long before the 2016 sessions. Folds claims "Rainbow" was written while Kesha was in rehab, which would date it to 2014. Producer Ricky Reed, who also worked on the record, stated in an email to The FADER: "My work on Rainbow began in 2016, but knowing Kesha I would guess she had been developing ideas long before we met." Asked whether the label had any input on the process as they recorded together, Reed responded: "In the writing and recording process we always do our best to not take input or advice from anyone outside of the studio."
A statement released by Dr. Luke's lawyer in October 2016, however, suggests that Kemosabe did become involved in the creative process at some point last year. "[Kesha] provided 22 recordings created without any label consultation which were not in compliance with her contract...For the last several months, the label has been in discussions with Kesha and her team to choose the best music, create additional music, and work on the tracks created. A&R representatives of both Kemosabe and RCA have provided Kesha with detailed feedback in writing and in person on the tracks she provided to help her further develop the material."
Dr. Luke is no longer CEO of Kemosabe, but claims he retains ties to Sony.
When the news broke that Dr. Luke's contract had expired as CEO of Kemosabe at the end of March 2017, the media suggested that this was an indication of Sony "cutting ties" with Luke amid the PR chaos of the trial. But a representative for Luke swiftly told The Los Angeles Times, "This is wrong, they are not cutting ties." After Kesha dropped "Praying" in July 2017, Luke's reps further claimed in a statement to Billboard that it was inaccurate to report that he was not attached to the release: "[Kesha] was always free to record and refused to. Now, as legally required all along, the album was released with Dr. Luke's approval by Kemosabe which is a joint venture label of Dr. Luke and Sony." (Representatives for Kesha and Sony declined to comment for this story; a representative for Dr. Luke did not respond to multiple requests for comment.)
He also has a contractual relationship with Kesha independent of Sony.
The deal Kesha signed with Luke is complicated. There's a relatively clear breakdown of it in this Hollywood Reporter article: essentially, Kesha signed to Luke's own company KMI in 2005. From there, Luke brought their agreement to RCA/Jive (a subsidiary of Sony) in 2009, effectively in a distribution deal. Then in 2011, Sony and Dr. Luke created the label Kemosabe together as a joint venture, and Kesha agreed that her music from that point would be released by Kemosabe. So, Luke's and Kesha's contractual relationship is partly independent of Sony. Luke is no longer CEO of Kemosabe, the label that releases Kesha's music — but Kesha is still ultimately signed to KMI.
Luke may be profiting from Kesha's new music.
Entertainment and sports attorney Deborah Wagnon pointed out in an email to The FADER that Kemosabe is an LLC, or Limited Liability Company. "An LLC is owned by its Members," she wrote, which in this case would be Luke and Sony. "Those Members/Owners will share in the profits of the LLC, pursuant to an Operating Agreement, which I imagine exists."
She continued: "An LLC can also elect to have Officers, such as a CEO. That officer can be paid a salary, and be subject to a contractual expiration date, as appears to have been the case with Sony and Dr. Luke. That expiration would apply to the CEO agreement; not necessarily to any participation in the proceeds of the LLC as an Owner/Member." While the agreement that formed Kemosabe is private, Wagnon supposes that it's "likely" that both Sony and Luke are the recipients of the label's profits — "unless modified or otherwise agreed in a separate writing with Sony due to the Kesha dispute."
Kesha and Kemosabe have likely reached an agreement behind the scenes.
It seems that Kesha may have recorded much of the album on her own dime, but eventually decided to release it with Kemosabe. Why she decided to do this, we can't know for sure: more than likely, it was the preferable option to allowing the music to languish in secret any longer, as her court case is moving so slowly. As music industry attorney William Hochberg told The FADER in an email, "[The case] could go on for years, including a jury trial and more appeals than we've already seen. The mills of justice grind slowly...and the legal fees pile high. The time, effort, and money is better spent making music than courting a jury verdict, especially when the judicial wind isn't blowing her way. Rainbow looks like a good comeback move."
Entertainment litigator Dan Stone explained in a phone call with The FADER that he believes Kesha's decision to release music with Kemosabe now indicates that the singer has struck a behind-the-scenes deal with her label. "I would assume there's some sort of agreement between her and Sony and Kemosabe, with respect to how the album would be treated," he speculated. "Obviously they came to some sort of understanding...even if [only] that her old agreement would govern this record.
"I have to imagine that she and her representation realized that she was not going to simply get out of her record contract. That was always going to be an uphill battle. Irrespective of everything else that happened, she had a contract, and it's very difficult to get a court to say, 'You signed a contract, but you don't have to live with it.'"
But it doesn't mean Kesha has given up on her legal case.
In Dr. Luke's representative's statement to Billboard, it was insinuated that Kesha's decision to release now undermines her claim that she was previously unable to record. But it seems possible that she was genuinely fighting for a way to record without connection to Dr. Luke — and that now, having reached an impasse, is accepting his involvement, and prioritizing the release of her music.
Wagnon points out that Kesha, perhaps having realized how long litigation will take, is speeding up her route to freedom by releasing with Kemosabe: "She is executing the terms of an agreement to which she is a party that has not been altered thus far...the only way out is to keep moving forward. It is a wise and strategic decision in my view."
Hochberg also believes that Kesha's willingness to work with Sony will actually play well for her in court: "All things considered, fulfilling one's contractual obligations, even in a deal she is suing over, shows good faith to a judge and jury. If she was sexually assaulted and abused, as she alleges, then her release of the album as part of her contractual obligation should not prejudice her claims against Luke or his company."
Perhaps for Kesha, the change in public opinion she's created was always the best victory she could hope for. As Hochberg puts it, "The optics are good right now for Kesha at least outside of the courtroom, where it looks like she's driven a wedge between Dr. Luke and Sony." In an April 2016 Instagram post, she revealed that she had been offered "freedom" in exchange for publicly retracting her allegations against Luke. "I would rather let the truth ruin my career than lie for a monster," she wrote. (A representative for Dr. Luke denied that this offer was made.) She may be embroiled in court dates, and contractually bound to Luke, for many years to come. But with her version of events out in the world, and the public turned against her former mentor, perhaps she's making the best of the amount of freedom she has already won.