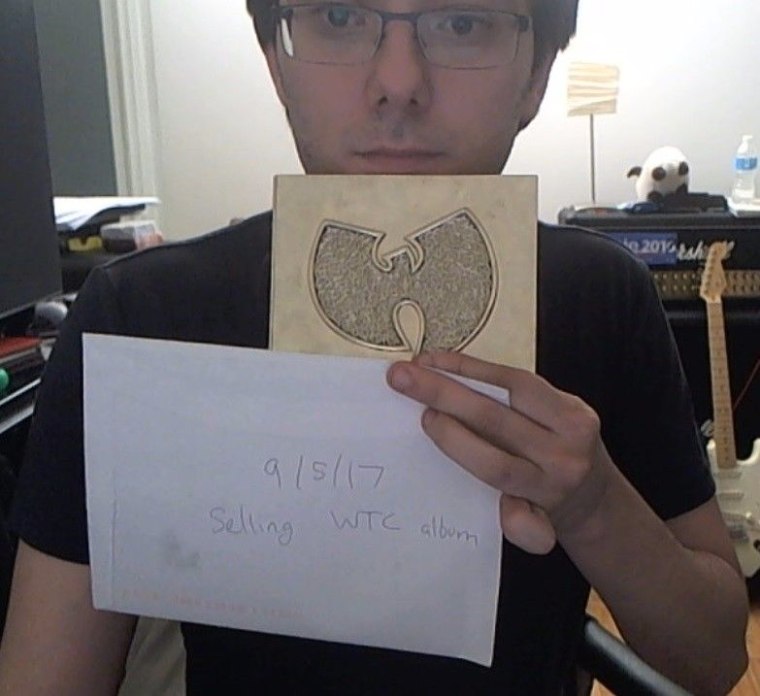 Convicted fraudster Martin Shkreli appears to be selling the one-off Wu-Tang Clan album he owns on eBay. Shkreli doubled down on his status as "the most hated man in America," when he purchased the sole copy of Wu Tang's Once Upon A Time In Shaolin for $2 million in December 2015.
However, an eBay listing posted on September 5 by user martishkrel_7 lists the CD as being available for the relatively cut price of $74,500. Shkreli is pictured in the listing alongside a time stamped notice and a copy of the album.
Shkreli says he is selling the album following the "scorn" he has received since purchasing it two years ago. He states that he will donate half of the sale proceeds to medical research but that he may cancel the sale or "even break this album in frustration."
Shkreli's listing reads:
This is the one and only Wu-Tang album.
I decided to purchase this album as a gift to the Wu-Tang Clan for their tremendous musical output. Instead I received scorn from at least one of their (least-intelligent) members, and the world at large failed to see my purpose of putting a serious value behind music. I will be curious to see if the world values music nearly as much as I have. I have donated to many rock bands and rappers over the years to ensure they can continue to produce their art when few others would.
At any time I may cancel this sale and I may even break this album in frustration. I will donate half of the sale proceeds to medical research. I am not selling to raise cash--my companies and I have record amounts of cash on hand. I hope someone with a bigger heart for music can be found for this one-of-a-kind piece and makes it available for the world to hear.
Upon sale, I will represent & warranty any copies of the music I have will be destroyed. I have not carefully listened to the album, which is a double CD. There is also a finely crafted booklet which you can read about elsewhere. I will pay legal expenses for the buyer up to $25,000 to ensure the final purchase details are mutually agreeable.
Shkreli's auction is due to end in nine days time on September 16. The former hedge fund manager's treatment of Wu-Tang Clan was among the many reasons potential jurors gave for their lack of impartiality during his recent trial.