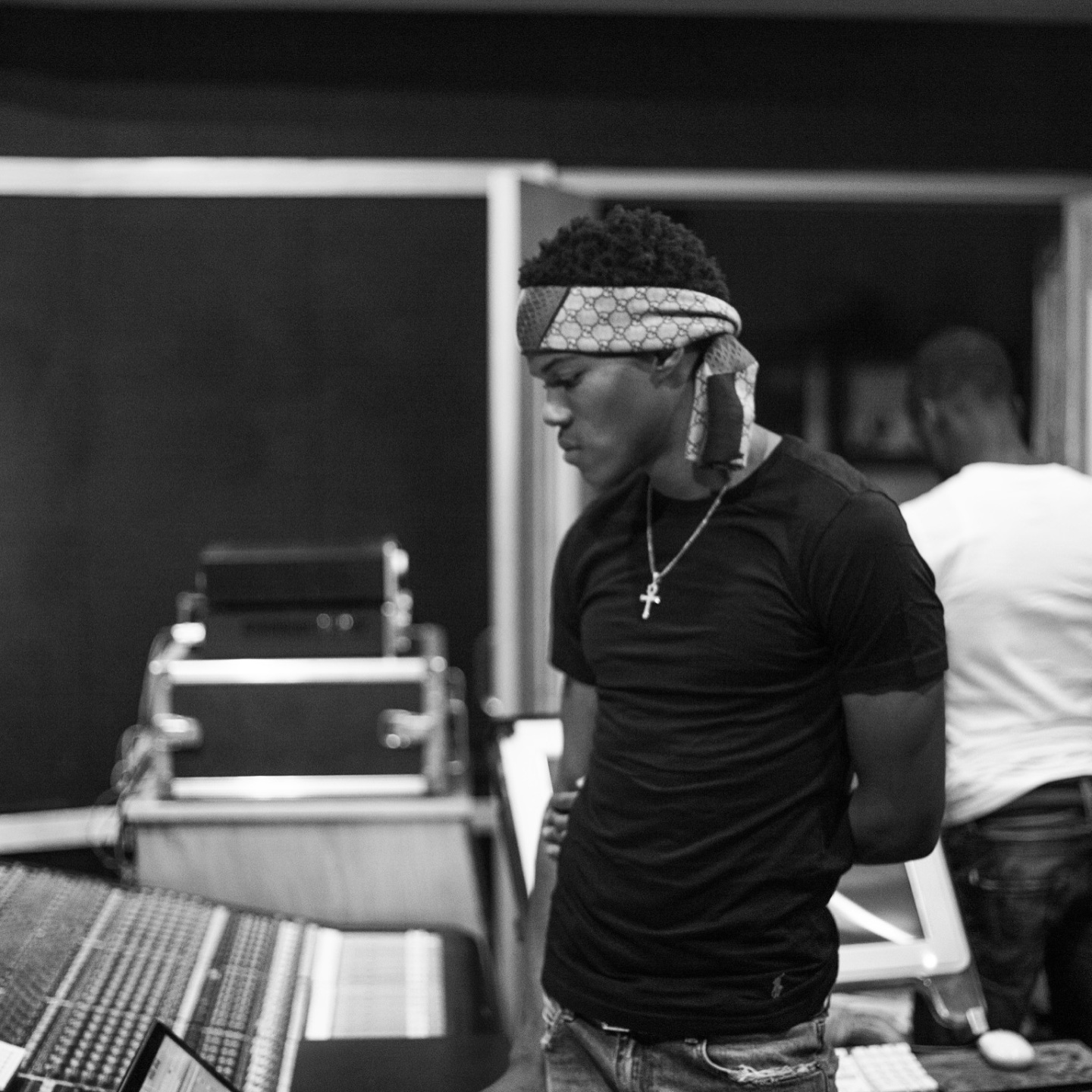 There's a comment on one of Maaly Raw's early Instagrams that reads: "one cannot hear 'that be Maaly Raw' and retain full composure." If you've ever heard, or better yet, experienced a Maaly Raw-produced track at a party or a show, you know exactly what that eloquent IG user is talking about. Best known for his work with fellow Philadelphia rap rockstar Lil Uzi Vert, Maaly Raw's catchy-as-hell tag is like a spark to set off a giant rocket: his production hurls songs forward, their momentum deftly guided by his wickedly weird and winding melodies, and drums that at once skitter across and barrel down your insides. Take, for example, his work across Uzi's debut album Luv Is Rage 2, on fan-favorite tracks like the brain-rattling "444+222" and the very emotional "Dark Queen," especially. And if you dive a little deeper into his catalog, you'll find his drum-heavy, topsy-turvy sound backing songs from today's biggest acts out of Philly, including Meek Mill, PnB Rock, and the current rising star of the city's underground, Kur.
Over the phone from a studio in West Philly, and just a few days after the release of LIR 2, the 22-year-old producer, born Jamaal Henry, told The FADER about working on Uzi's debut, creating sounds for his city, and how he turned his secret passion into the career of his dreams.
---
Where did you grow up? What was your upbringing like?
I was born and raised in Philly. My whole family's from here. Growing up, I spent a lot of time in West Philly, Southwest, and Delaware County. I'm going to definitely move around, grab a couple spots in Atlanta, Los Angeles, in the future, but Philly is where where I work out of the most. That's where I'm the most comfortable. That's where my best work is done.
It was a little rough growing up, but we managed to get through everything. Family of five in one house. I got one sister, two brothers — I'm the youngest. I grew up with my mom, my dad. My family is truly blessed. We always stuck together. That's probably one of the main reasons why I'm still in Philly right now. I'm so close to my family. I graduated from Upper Darby High School. You can put that down. I played ball my freshman year. That's what I was doing before producing — playing ball in high school, and all my life.
I come from a working family. They see my brother working, they see my sister working. They see everybody working. They see me working but I'm staying in the house — they didn't really understand that. I was locking myself in my room, making beats. They explained to me a couple times like, "Listen. You going to have to do something. You can't just sit in the house." I didn't really listen. They wanted me to apply for jobs. That probably changed in the last year and a half — just now I'm starting to see [my vision] for real. I wouldn't say they wasn't believing in me, but they raised me not put all my eggs into one basket — but I was one of the types that's like, I am going to put all my eggs in one basket. I'm not working for nobody. That's what I had to tell them. I didn't want to, but that's what it was. It took a while for them to understand that. Now they really understand, I got 100% support from all my family. I don't have no problem with it because maybe they needed to see a [Russell] Westbrook commercial with my beat on there, or see me on TV in [Lil Uzi Vert] videos. I just kept doing me because I knew where I was going. I pray every night, I keep God close.
Is your family musical at all? What did you grow up listening to?
I always had an ear for sound, I guess it came from my dad. He played trumpet in a jazz band. He graduated from West Philly High. I forget what the band is called, but they had a lot of tapes. They had a name out here. My mom, she loves music. I grew up listening to a lot of Michael Jackson, Stevie Wonder, all the oldies. Later on, listening to Jay-Z. That's my favorite rapper. Then I got introduced to trap music, that's what I love the most right now. My brother introduced me to Gucci Mane. My first Gucci project I heard was probably Writing on the Wall. When I first heard him, I didn't really like it — it grew on me a lot. That whole mixtape crazy. All his mixtapes after that... a lot of them I could listen to straight through. My favorite Gucci mixtape was probably Trap God — the first one — and Trap Back.
What about trap music, or even Gucci in particular, really stuck out to you?
The beats. A producer that really caught my eye with the trap music is Lex Luger. He's probably part of the reason I'm producing now. He's so much of an influence to me. His bass — how it hits. His melodies. His hi-hats. His 808s. I think he came with a different approach with the trap sound. That's what really caught my attention. And then with Gucci Mane, you got to really sit down and listen to what he's saying. He really tells stories. That's my favorite trap rapper.
How and when did you start making beats?
One side [of my family is] from West Philly, one side is from Southwest. I was always in Southwest, over at my cousin's house. He's been making beats all his life. I used to always be over there hearing the beats and seeing what he was doing. I used to always play around, like, "Teach me how to do it." But I was never really serious. One day, I don't know what it was, but I was serious. I told him, "Teach me how to do something." He showed me this one step that took 20 seconds. After that, I went home. FruityLoops was already on my computer, and after that moment I just never stopped. I was about 17, 11th grade. I just kept working every day. After school, I would just go on home. Crazy thing is, my whole time in high school, nobody really knew I made beats.
When was the first time people were made aware of your secret skill?
I would say it probably was when I was working with a guy from Philly named Quilly. He was real popular at the time, and I had got a placement on his popular mixtape. It was called Haines Street Hustler 5. This was probably was 2014. I was still a teenager. That went crazy. I got a lot of love from that. Then, I started working with Kur. Our run is still going on with the Philly scene. We've had a lot of songs [together], and the city going crazy. [Lil Uzi Vert] and Kur are probably my most frequent collaborators.
What were your earlier beats like? What was it like finding your sound?
I liked them. We all liked them when they was first made, but if you play them today, they're really trash, nobody going to rap off of that. Back then, when I first started, that was hot because nobody was doing it. Everybody was playing ball, doing regular stuff. Nobody really thought about [making beats]. In that whole process, I did catch a couple people like, "Oh, he doing that? He's a weirdo," because I'm from Philly, and nobody really was making beats and stuff like that around my age. They didn't really know that I could go far with it, I could take care of my family with it. I definitely got to prove them wrong. I always knew I was going to take it far. I told you, my cousin, he just showed me how to put down a clap and a kick, that's it. After that, I taught myself everything, and I'm still learning every day.
You always believed in yourself, but was there a song or something that kind of marked the moment you knew you were onto something big?
Lil Uzi Vert's "Dumber," on his mixtape The Real Uzi. I thought that song was going to be out of here. I feel like there's still a lot of people that didn't really hear that song. I was like, "Yeah. This the one. I'm going to go far with this."
"A lot of people don't like weird sounds. That's why I like working with Lil Uzi Vert, because he likes the weird sounds just like me."
What kind of equipment or programs do you use day-to-day?
I just use FruityLoops. That's all I need: FruityLoops and some speakers. The crazy thing is, a lot of people don't know, a lot of my old stuff, I was making it all with my little computer speakers. I was so comfortable with them. That's what I was using. I just stopped using my computer speakers, for real. I'm like, "If this sound good on here, it's going to sound good on the mix table, or when it drop or whatever." A lot of producers, they got to have all this crazy equipment. If your talent's there, all you really need is some speakers and FruityLoops. Another thing, I didn't even have Beats headphones. I was using my Apple earphones, the ones that come with the phone, that's what I was using. Of course, now, I got some Beats. I just got a mini keyboard and I'm starting to use that a little more. I definitely want to mess around with the piano more. Before it was just all off the top of my head, what melodies I hear in my head, there wasn't no keyboard. As far as equipment, that's all I have.
How do you describe your sound?
I don't really have set sound. I got all different kinds of sounds. I'm big on melodies. I'm in the trap lane, but I'm not really in the trap lane. I bring a trap beat, but I got weird shit, like very weird sounds that nobody would really put on they beats. I got some EDM sounds or something. I just feel like I brought a different type of trap vibe to the industry. Maybe I just pulled up in a UFO.
That's the feeling I get when listening, like I'm in a rocket that's blasting off. Have you always been into odd, not-so-conventional sounds? Where did that come from?
It came from producers like Lex Luger. He had a lot of different crazy sounds. The way he layered his melodies, I get a lot of that from him. He uses a lot of weird sounds. And with the plugins I use, they come with weird sounds, and I got comfortable with them. My beat patterns, I like to be kind of offbeat a little bit. A lot of my beats got an awkward beat pattern to it. "Hi Roller," that's kind of a weird vibe. A lot of people don't like weird sounds. That's why I like working with Uzi, because he likes the weird sounds just like me. I'm not going to front, he takes me to my full potential.
How and when did you first meet Uzi and start working with him?
I met Uzi right before The Real Uzi mixtape. I heard him on the radio in Philly. This is like 2014. I thought he was from down south when I first heard him, like, Damn. Who's this? He's hot. I didn't know he was from Philly. Then I heard him again, around the time Kur was starting off, and he had a big name in Philly. He put Uzi on a song, this is back before anybody knew who Uzi was. It was called "I Don't Give A Fuck," and it was on my beat. Uzi's verse was crazy. They made a video to it. I seen that, heard that, and I'm like, "Yeah. I want to work with him."
My former manager, he happened to already know Uzi. They from the same hood. Linking with Uzi was nothing. After that, we just never stopped. We just made music. I feel as though we got the craziest chemistry. If I'm not with him, I'm sending beats. If I'm with him, I'm making beats in front of him, sending them right over. Whatever one he like, he just go right in the booth. He doesn't write. He just goes in there and goes off the top. He works fast, too. It's crazy. If he like the beat, he just go right in there. When he done that, he go right on to the next. That's how he work. That's Uzi all day. He work hard. He really work hard.
We got a connection when we link up. We got a connection, period. He's so used to my sound, I'm so used to his sound. At the same time he elevate me, I'm elevating him too. Whatever songs we make, we elevating each other. He was just like, "Maaly's craziness is my craziness. We just both crazy together, musically."
What was different about working with Uzi on Luv Is Rage 2 versus previous projects?
With this album, he was more picky with the beats. A lot of beats I would send him, he wasn't feeling. That only made me go hard, made me find different sounds, and come a different way next time. It was way harder trying to get one [that worked]. It was crazy because this is probably the most [beats] I've had on an Uzi project. I had six before, on The Real Uzi. After that, I only had like three at the most. With this one, I got four. It's crazy because this probably was the hardest. I understood that because it's his debut album. Some of his stuff on his album, it sounds like stuff I never even made before or people haven't even heard. Stuff that they wasn't expecting from me.
What are your favorites from the album? Why?
My first one is "444+222" — the energy we brought on that song. I love "Early 20 Rager," then "Dark Queen," that's another one that mean a lot to me. I told Uzi when he was making it — I try to pitch him little tips and stuff like, "This going to really hit people in their head because a lot of new rappers in his lane, or rappers that came up in his class, they're not really getting all into detail about their lives and stuff like that." On "Dark Queen," he got in detail. I told him, "A lot of people not doing that. That's definitely one for the album." He was talking about his mom, how he grew up, all that. I know a lot of people love that. A lot of the fans, they been telling me that's their favorite. I love "UnFazed," too, that and "444" are the ones I play the most from the album.
Did you know that you were going to be making "Unfazed" for The Weeknd when you were producing it?
He actually texted Uzi. He said, "Maaly Raw would sound good on this." I had just left Atlanta. When I was on the plane, [Uzi] had text me like, "Why you leave? Come back. The Weeknd wants you to hop on his song." A couple days later, I went back down [to Atlanta] and worked on the song. Uzi and The Weeknd already had they verses, it was already done. They was just waiting on me to come throw the drums on it. The melody and all that, that was already there. I just put my drums on there and add a couple extra sounds and a couple extra melodies to it.
What's in store for you now for the future?
You can definitely expect a Maaly Raw debut mixtape, with people's favorite rappers on there. Hopefully, at the end of this year, there will be me and Kur's [collaborative] mixtape.