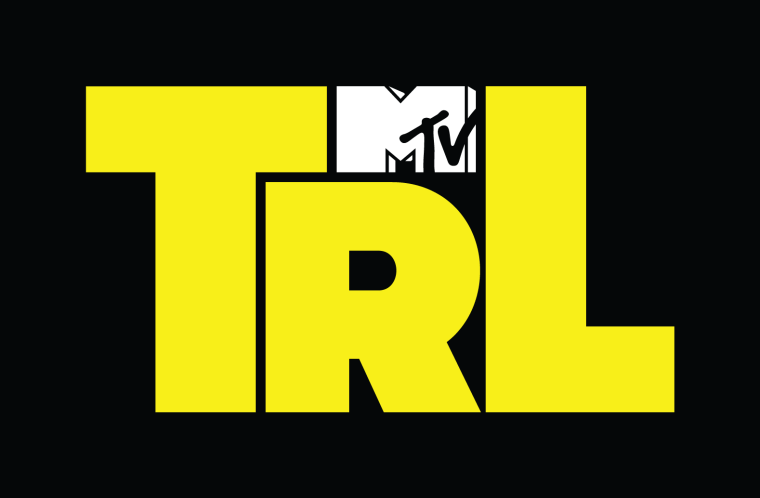 In my mind, there isn't a more iconic image that represents music industry success than that of an artist waving to throngs of crazed fans outside of MTV's TRL studio in Times Square. You can almost hear the teens screaming in your mind. MTV is hoping to replicate the success of its '90s after-school powerhouse with a relaunched version of the series on Tuesday, complete with a shiny new studio in the same space with those familiar windows.
The show's exact format won't be revealed until Tuesday but promises to be faithful to the original with modern tweaks. There will still be heavy audience involvement, but it's unclear whether or not there will be a countdown. Instead of a singular Carson Daly, there will five hosts, including rapper/actor DC Young Fly and Vine stars the Dolan Twins. There will be a daily pre-show and post-show on Facebook, and a presence on all the apps you can think of.
In an interview with TRL showrunner Albert Lewitinn, a CBS News veteran producer, we spoke about what the new show will be like, whether it's prepared to face new challenges, and what the show needs to do to succeed.
I was wondering if there was anything from the old TRL that you decided to keep or throw out?
I was a fan of the old show. The only thing I would say we had to include from the old was that "live" was the most important thing. It was those moments, like, Holy shit is that Beyoncé and JAY-Z driving up to the studio? Is that Mariah Carey driving up to the studio? Those moments, we have to replicate that. I charged my creative staff by saying, "Guys, those were iconic moments. We should be doing that now because they're the moments that drive pop culture and this is a pop culture show." MTV is a youth culture brand and we need to be the youth culture show that fits right into it. Being in this studio was the other thing we really needed. The fact that we're doing an interview like this [in two red leather loveseats across from one another] should be no different that [the hosts] doing an interview with a celebrity. Or you, as a fan here, being able to touch the knee of Taylor Swift, or some other celebrity.
Speaking of Taylor Swift, is there a dream guest in your mind for the show right now?
I have two — Beyoncé because she walks on water. It's amazing. Kanye West to me is also a dream guest. There's something about him that is always an oh my god, that's an amazing moment. That's what we want here, be it musical performances, celebrities, social media influencers doing some crazy-ass stunt in here, our fans, some sort of engagement. Those two create moments, holy crap moments.
The VMAs this year did away with gendered categories, there were trans military service people there, and a speech from Heather Heyer's mom. For lack of a better phrase, is the new TRL going to be similarly as woke or politically conscious?
It goes back to the idea of us being a youth culture show. Youth culture envelopes a lot of things. The idea of woke is about culture and what's happening right and that's the intent of the show, to be on the pulse. I know everyone says that but MTV has always been on the forefront of that kind of thing, TRL was always on the forefront. It's our responsibility to see what's happening and what's on the mind of people who are watching.
Do you have anything in that area planned out?
Nothing I can tell you about.

People have been having a conversation about whether or not to support musicians who are incredibly popular like Kodak Black and XXXTentacion. Have you given any thoughts on how you will cover and promote artists who are known abusers of women? They're very popular, presumably, fans would request their videos and want them to be played on air. Are you open to doing that?
I'm not sure I want to answer that question. We want to be on what pop culture wants. When it comes to something like that, it's something that we would have to look into. It's a tough question to ask, I can't answer that question until something like that happens.
I ask it because it was announced that Noah Cyrus is going to be on your show on Tuesday and she just released a song with [XXXTentacion], so I was wondering if they were going to be on the show together.
Can't tell you that part. Surprise, surprise.
I thought it was notable also that one of the first guests is a boyband [Simon Cowell's PRETTYMUCH] and that's so core TRL in my mind. Are you hoping for a repeat of the wave?
One of the best moments was always when *NSYNC was here. I totally remember that. That created a moment and that was my intent. If it's Ed Sheeran or Migos on the first day, that's the idea.
A lot of the artists announced seem to be up-and-comers. Is it a goal for the show to be a musical tastemaker?
Tastemaker is not the right word for it. We want to have our eye and our ears on everyone. So when there's a pretty cool band or we're hearing it on the streets, we should have them on. The whole idea of having up-and-coming artists is so exciting for us. MTV is always at the front of youth culture so the idea of having new music is so important to us.
To pose a somewhat insane scenario — our president is an avid TV watcher. Are you prepared for him to watch the show and would you have him on the show?
I would love both. He's welcome to hashtag us and @ TRL. He's the president of the United States. Of course we would welcome him on. He's the president of the United States.