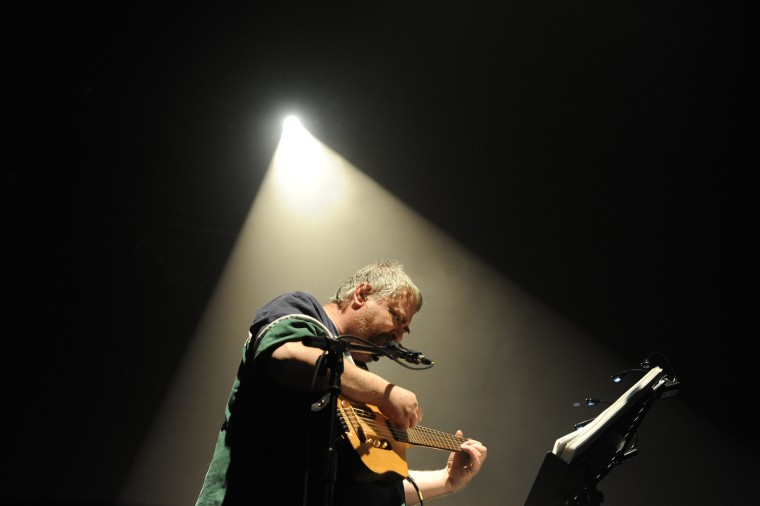 "Hello, I am the ghost of Daniel Johnston."
The house lights dimmed in the Town Hall Theatre and a shaky image appeared on the stage screen. I was seated in the historic venue located right off of Broadway, known for its acoustics and for hosting classical composers since its opening in 1921. On this particular night, I joined about a thousand others to see one of Daniel Johnston's last ever performances. Announced in July, the tour marks Johnston's retirement from performing. But before he took the stage, there was a screening of the critically acclaimed 2005 documentary, The Devil and Daniel Johnston.
I first came across the documentary when I was 12 years old after seeing a photo of Kurt Cobain wearing Johnston's iconic "Hi, how are you?" shirt. I saw a lot of myself in this wonderfully weird portrait of Johnston, and it became a starting point for what grew into an intense admiration. I wrote fan letters, bought merchandise, and tried to write Daniel Johnston-esque songs of my own, but was never able to replicate the distinct lonesome sound his music possesses.
Watching the documentary this time around, however, in such a public setting, was at times very uncomfortable. Recovered tape recordings of Johnston's mother verbally harassing him and recollections of Johnston's schizophrenic breakdowns prompted raucous laughter from much of the audience. I found myself much more emotional than during previous viewings. Part of that came from feeling proud of Johnston, who is shown in the film as a man constantly seeking an audience for his art despite his struggles with his mental health, but I also felt a sense of betrayal: Who was this audience to laugh at a man's pain? I wondered if Johnston was even aware of the documentary being shown, and if he could hear the giggles from his dressing room.
The film ended with a resounding wish from his friends, voiced by musician Kathy McCarty:
"We need Dan to do well because he needs to."
The near sold-out crowd burst into a standing ovation as the band — made of up of members of Cibo Matto, Beirut, Pere Ubu, Joan as Police Woman, and Invisible Familiars — took to the stage. Dick Johnston, Daniel's brother, positioned a music stand ready for him.
Johnston emerged from the side of the stage, clutching his lyric notebook and a water bottle. He grasped the microphone with two hands and shook as he opened with "Like a Monkey in a Zoo." There was no engagement with the crowd aside from a wave, and no mention of the film. The band faced a challenge due to the unpredictability of Johnston's live presence — he often changed pace, leaving them on the backfoot. When the band was unable to match Johnston's constant tempo and lyric changes, "Funeral Home" was cut short.
Johnston's performance was full of the quirks that made me fall in love with his music. I found myself dancing, something I've never done while listening to his music when I was alone.
While the show often felt like watching a band perform for the first time without a rehearsal, it also highlighted the raw emotion that draws Johnston's fans to his music. In "Life in Vain," a violinist joined the band as Johnston sang, "It's so tough just to be alive / When I feel like the living dead." Later, during "My Life is Starting Over," he exclaimed "My fame is spreading across the land / Now I got me a band" to more applause. For a second, he stopped shaking and smiled.
Johnston's performance was full of the quirks that made me fall in love with his music: the cracks in his voice, the unhurried simplicity of his lyrics, the resolutely untheatrical nature of his presentation. Despite his visible nervousness, his presence was that of absolute joy. I found myself dancing, something I've never done while listening to his music when I was alone.
He ended the 45 minute-long set with "True Love Will Find You In The End," his signature child-like croon accompanied only by the band's guitarist. It evoked early performances in his career where he was onstage with nothing but his acoustic slung around his body.
Then as simply as he entered the stage, he left, and the audience filed out of the cramped theatre after they were done clapping. The mix of grown men in suits and teenage girls in jeans showed the diversity of his fanbase and the universality of his messages. As I walked out into the street with my Metrocard in my hand, I wondered how much my feelings had been guided by the showing of the documentary. Would my experience of the show been different if his joyful performance hadn't come sandwiched with the screening? How does Johnston feel about being so publicly tied to this narrative about his personal life?
I boarded my train and thought about what his friends in the film said. I need Johnston to do well, not only because he needs to, but because he deserves to.