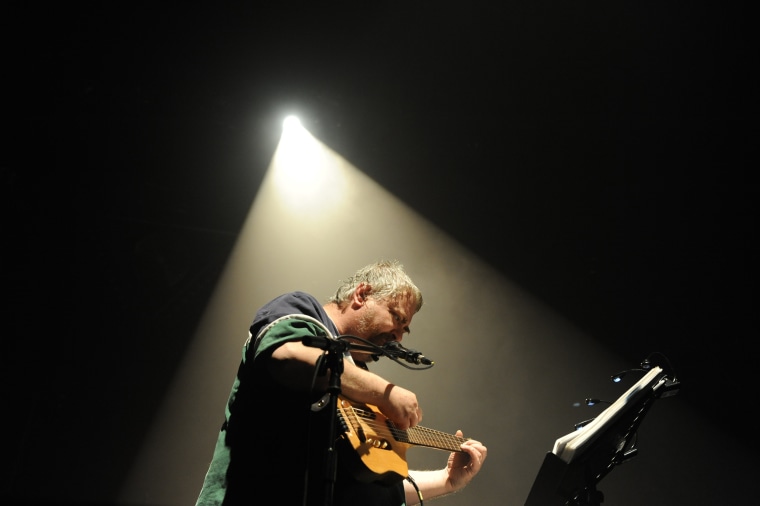 The idea that mental illness and creativity are naturally linked is as common as it is offensive. Positioning a troubled person as an "outsider artist" can obscure the pain the individual suffers, and is itself a form of condescension. Still, the link between madness and creativity has been widely acknowledged throughout history. In Plato's Phaedrus, Socrates asserts that poets must be infected with a "divine madness" in order to create. Centuries later, in A Midsummer Night's Dream, Shakespeare compared the playwright's work to lunacy: "The lunatic, the lover and the poet / Are of imagination all compact." It's been suggested that the creative process offers artists an elevated mood shift, a respite from the disturbance that bubbles beneath the surface of their everyday lives.
Late on Wednesday, just shy of 40 years since his first recordings, we learned that Daniel Johnston — the troubled songwriter and artist who is perhaps the defining outsider artist of the pop music idiom — passed away. He died Tuesday night of a heart attack, at his home in Waller, Texas. It was the end of a lifelong battle with schizophrenia, bi-polar disorder, and manic depression. It was September 11, 2019, and he was 58 years old.
The shock of sadness left an outpouring of public emotion in its wake. It was immediately clear that we had just lost one of the most beautiful souls American culture has yet produced.
Johnston's impact on the art, culture, and the late-20th century zeitgeist are well documented, as is his influence on modern music. Over the years, an immense bibliography of magazine articles and interviews have accrued, from Everett True's The Story of an Artist to Jeff Feuerzeig's excellent portrait documentary The Devil and Daniel Johnston. Successive generations of music fans have discovered and treasured his albums. Beck, Tom Waits, and Death Cab for Cutie are just a few acts who have paid tribute to him.
The weight of his achievement doesn't make his loss any less bearable. For many who have struggled with mental illness, depression, or feeling left out, Johnston offered a generation of oddballs a deep salve of comfort. He taught us that as we peer into the depths of despair, beauty and art are everywhere — that we can find joy and laugh, even in the abyss.
He was a martyr in that way. The pain he went through — and caused his family — to give us this gift can't be discounted. He dealt with this pain throughout his entire career. On Don't Be Scared, his second cassette, a song tells the story of losing his brain through a fissure in his skull: "You see I had this tiny crack in my head / That slowly split open and my brains oozed out / they were lying on the sidewalk, and I didn't even know it."
Like many of Johnston's fans, I discovered him in the '90s, through Kurt Cobain, who famously wore a ratty Hi, How Are You? shirt to the 1992 MTV Music Awards. In interviews, Cobain frequently referred to Johnston as his favorite songwriter, but it was the shirt, given to Cobain by music journalist Everett True, that shot Johnston towards the big time. In the words of Jeff Tartakov, Johnston's former manager, the Cobain endorsement was a coup. "Suddenly," he relates in Feuerzeig's film, "everybody knew who Daniel was. It was just incredible that a T-shirt could fuel this kind of frenzy. The T-shirt had many, many thousands of fans that wanted to know more about the T-shirt and wanted to hear the T-shirt, and see the T-shirt, and get to know the T-shirt."
But the night of the awards show, at the height of his popularity, Johnston was committed at the Austin State Hospital. Not long before, his father, a trained pilot, was flying Daniel home after a concert in Austin. Daniel became confused, wrested the controls from his father, pulled the keys out of the plane's ignition, and threw them out the window. Luckily, his father had been trained to ditch planes over trees. He brought the plane down in central Texas and neither Daniel, or his father, was hurt.
That's just one of a hundred stories that have enshrined the myth of Daniel Johnston into the spirit of our age. When you learn for the first time what this man and his family suffered to ensure the world heard his music, it forces you to question, however briefly, whether his contribution was worth the pain.
His life was hard. He grew up amidst the web of mixed signals that writers like R.D. Laing find regularly in the family nexus of schizophrenics: a forceful assurance that all is being done for the best, coupled with pronouncements of disapproval or even hatred. The battered, wretched characters of Daniel's world seem made in the image of his conservative religious upbringing. His parents, Methodists at a West Virginia Church of Christ, doubted Johnston's artistic ambitions from a young age, despite obvious signs of interest and budding talent. He had learned to play the piano by watching his sister, and had taken an interest in visual art through an obsession with comic books. Later, as a young man, he would record hundreds of hours of cassette tapes, many of which document his mother chastising him for wasting time doodling around with art.
His parents' concern at the time of his early recordings was understandable. Since high school, Johnston had been visibly withdrawn. Photographs of him at this age show a slight, squinting boy, gawky and bony in front of his family home, perched on a hill in New Cumberland, West Virginia. Soon after he entered Kent State University in 1979 to study art, it became clear he was not equipped to be on his own. When he began demonstrating clear manic-depressive tendencies, his parents decided it would be best for him to live with family. First, he moved into his brother Dick's house in Houston, Texas, where he managed to hold a job at Astroworld, a local amusement park, at a ride called "The River of No Return." But tension between Johnston and brother's family continued to grow, and in September 1983 he was moved again, this time into his sister Margy's house.
It was here that Johnston recorded his early albums. Over the years he'd acquired a few microphones, a guitar, a toy chord organ, and a 59 dollar Sanyo cassette recorder with Radio Shack tape stock. He crafted the songs late at night, often in one take. He believed his music to be a message writ large, not only a cure for a disease that had gripped his mind since adolescence, but the pronouncement of the next major pop star who would, like the Beatles before him, change the world.
On albums like Hi, How Are You? a hidden world of anxiety, one that most choose not to confront, unfurls like a sick flower as the songs move forward. Various personalities walk on and off stage, and a knot of songs about "Joe" documents Daniel's conflicts with his family directly, falling just short of naming names. More than anything, the songs capture a slipping grip on reality and an inability to commit to a singular vision of the world. Tellingly, Daniel's last words on the album are a sad admission of defeat: "I take it all back, I take it all back, I take it all back, I take it all back."
In the mid '80s, he ran off with the circus and drifted into Austin, Texas, where he settled, and immediately became a local legend in the burgeoning indie rock scene. From his base at a local McDonald's he passed out tapes and flyers all over town, making a name for himself through quirky, offbeat performances and handmade albums of pleading, melancholy lo-fi pop.
It's those early albums many like the best. They take the form of direct dispatches from an isolated borderline between sanity and mental disorder, intriguing in their openness and terrifying in their honesty. Many of the songs feature his quivering voice alone, sometimes accompanied by clapping or stomping. Two tracks were recorded by simply singing over existing recordings by forgotten English jazz saxophonist Johnny Dankworth. What remains striking about the work 20 years on is his extreme gift of melody, even as the boundaries of his established world began to melt away. The snaky vocal lines, delivered in a lisping falsetto, perfectly carry the lyrics, pitiful paeans of rejection and isolation. Dreams feature prominently and, like the albums themselves, reflect the real world into which Daniel seemed so unable to be absorbed.
Through the '90s, as his career developed, his illness worsened. He was committed multiple times. There were stories of Johnston getting lost in New York after a recording session with Sonic Youth. He scored a major label deal with Atlantic, and was dropped two years later. By the 2000s, he was living in Waller, Texas, in a small home near his father. He was unable to get by without the constant support of his parents and his brother Dick.
Anyone who saw him on his farewell tour in 2017 knew he was unwell. I shudder at the thought of my behavior at that time, pulling my phone out to show friends a video I recorded of the performance. "Look at how he shakes!" I'd say to them, and it was true. He held the microphone tight with both hands and wriggled it like a salt shaker. He'd been through a rough patch in the years that followed, subjected to shifting medications, falls, and hospitalizations. But he was still onstage, and his illness felt public, as if it were a part of the act. It wasn't.
Johnston's music gives listeners the opportunity to make sense of a world that doesn't. He translated his inner world into a symbolic order, and like the best artists, he left us a set of tools, a library of simple and sometimes contradictory mantras, that will last a long time:
True love will find you in the end. I live my broken dreams. I hate myself. I feel so high.
The world is different without Daniel Johnston in it.