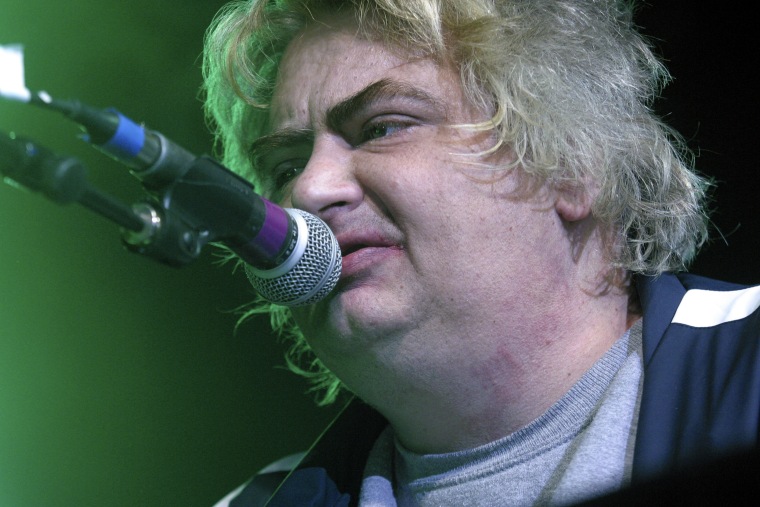 Daniel Johnston, the revered cult singer-songwriter who made an indelible mark on indie music with often harrowingly beautiful songs, has died after suffering a heart attack, the Austin Chronicle reports. He was 58.
In an email to Spin, the artist's brother, Dick Johnston, said that the news was "something of a surprise" after his health had seemingly improved of late. "We've been struggling for several years with Daniel's health, and his frequent and lengthy stays in hospitals dampened his creative efforts, but throughout he continued to draw and write songs," he wrote. "We had hoped to get back to a point where he was stable and could enjoy things like touring. He had just returned from a recent hospital stay and seemed (and looked) better than I'd seen him in a good while."
Born in Sacramento and raised in West Virginia, Johnston took art classes at Kent State — where he recorded his 1981 debut Songs of Pain — dropped out two years later, and spent time traveling with a carnival before moving to Austin, Texas. There he found an audience for his work, passing out cassettes to anyone who would take them and eventually landing an appearance on the MTV show Cutting Edge and performing songs from his 1983 LP, Hi, How Are You?
He dealt with bipolar disorder, manic depression, and what would later be diagnosed as schizophrenia even in his early years, and those issues would become pronounced as his career progressed. He was already a draw in the Austin scene when he travelled to New York in 1988 to record an album called 1990 with producer Mark Kramer alongside Sonic Youth's Lee Ranaldo and Steve Shelley. But the trip was marred by an arrest for reportedly vandalizing the Statue of Liberty. He was institutionalized in 1990 and, despite signing to Atlantic after Kurt Cobain wore a Hi, How Are You? shirt on stage, Johnston spent much of the next decade in and out of institutions.
Johnston continued to write and record, however, and his profile rose again after the release of Jeff Feuerzeig's 1995 documentary The Devil and Daniel Johnston. His last LP, Space Ducks, inspired by Johnston's own comic book of the same name, was released in 2012. He announced that he was retiring from live performance in 2017, closing his career with a five-date farewell tour that included sets from Jeff Tweedy, Modern Baseball, and Built to Spill.