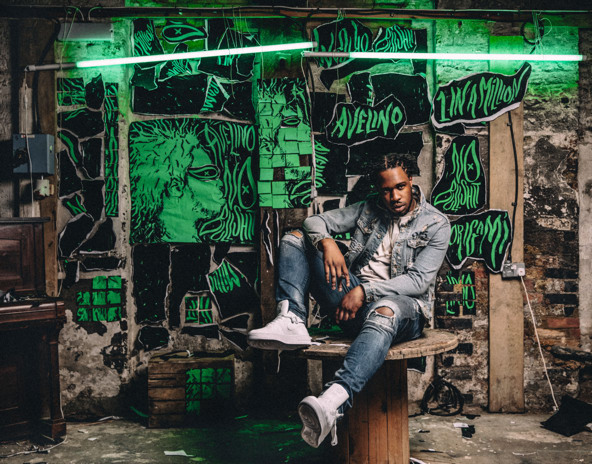 The power and influence of the playlist in 2017 is well documented. However, it is a world dominated by curators and streaming platforms, leaving artists at the mercy of selectors. North London rapper Avelino wants to change that narrative though. This Friday, October 27, he will share No Bullshit; an 12-track playlist comprising all new material including the jazzy and melodic lead single "Origami."
Avelino says that No Bullshit will fluidly evolve over time. The collection of unreleased music also includes hard-edged street tale "It's A Moovie" as well as party starters "1 In A Million" and "Sweet Luv." The latter track shows off the rapper's wordplay over a beat sampling U.K. garage innovator MJ Cole's 2000 classic "Sincere."
Driving through his local neighborhood on the way to be interviewed by Beats 1's Julie Adenuga on a warm night in October, Avelino opened up about the project, his desire to innovate and move with the times, as well as a collaboration with fellow Londoner Dave that he is excited for fans to hear.
---
Why did you choose to release a playlist?
Doing a playlist comes from my appreciation of how things work today. Things live and breathe on streaming platforms. There is life after what we might have thought was the end now. I wanted to put out a collection of songs that embodied who I am as an artist today and can grow.
So this is going to evolve over time?
That's the idea. I remember back in the day being on Windows Media Player and making playlists. In this case I'm picking songs from the studio to create a new body of work. A song is just a brush stroke in the context of a whole picture.
Creatively that must open you up to making different decisions compared to making an album or mixtape?
Totally. It takes a lot of pressure off that you might feel making an album. This is me making my mark. I knew this wasn't my debut album. I know what I want to say with my debut album and this isn't it. That said, this is me looking at where we are today and offering up the best of my ability right now.
What can fans expect to hear on the playlist?
Lyrics, content, excitement, melody. It is me stamping my character and skill set everywhere and laying down how I feel. I've got Dave on there too. That song ("U Can Stand Up") is exciting. We've been speaking for ages now, that's my mate. It's just vibes.

No Bullshit will be on all major streaming platforms via More Music Records from October 27.