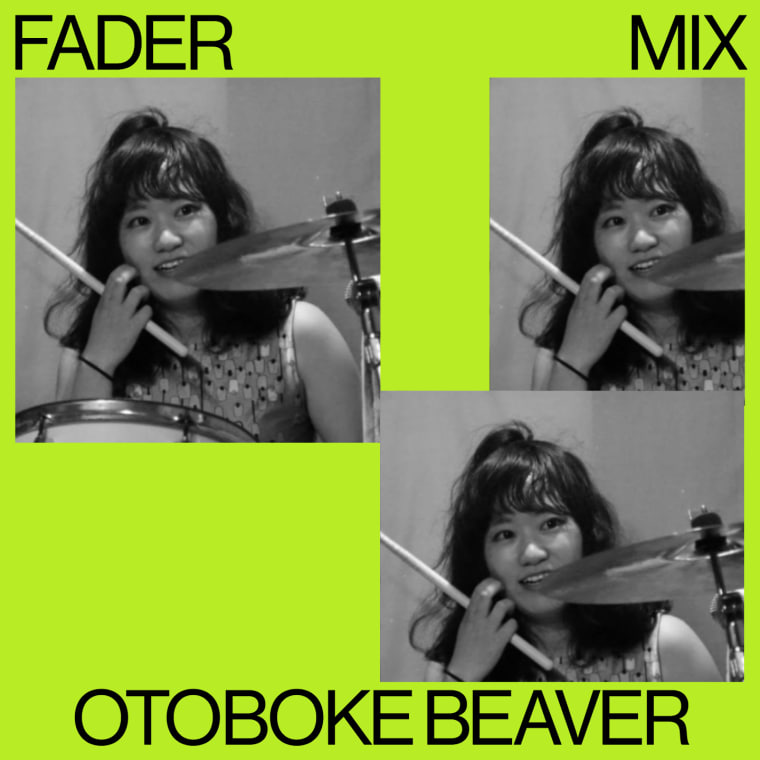 What do Glasgow pop-punk band PAWS, Swedish pop singer Sakert!, and Japanese '80s punk/funk outfit Jagatara have in common? Not much, except that Pop (ぽっぷ), the drummer of the world's coolest punk group, Otoboke Beaver, loves them all.
Throughout these 36 minutes, Pop seamlessly weaves together an incredible range of artists from around the world that you've probably never heard of. Like, how would I know about Taiwanese screamo group Touming Magazine or Tokyo producer MU-STARS, if not for Pop?! Anyway, enough from me. Please enjoy this sick mix, and Pop's autumn thoughts.
Where are you right now? Please describe your surroundings.
I'm in my home in Kyoto. Until recently the temperature has exceeded 30 degrees Celsius every day, but finally the days fell as soon as it became chilly. I pulled out my favorite sweater from the back of the wardrobe.
The Osmanthus flowers bloom in the neighborhood, it is sweet and smells good. Chestnuts and mushrooms of autumn taste, Japanese pears and new rice are very delicious. In Japan, people often visit sights to see the autumn leaves. In Kyoto, the place called Arashiyama is famous for autumn leaves.
We took a picture of the cover of our album Okoshiyasu!! Otoboke Beaver in Arashiyama in the autumn two years ago. And there are places to bring a shrine at a festival from ancient customs. In the neighborhood of my house, when Sunday comes, old people and children gather in the public hall nearby and various events are put out. I do not participate, but I am very excited just to see it.
Tell us a bit about this mix.
The effect from the SNS [social networking site] was too huge. For example, I knew I Am Robot and Proud by Last.fm, and my best music maker in the world is him. His song in my mix is especially strange and made by only an old synthesizer named CASIOTONE — the title of song is the model number. The first song in my mix by fumu fumu is also made by only a CASIOTONE.
I listened to free music released from net labels like Maltine Records, Vol.4 Records and so on. It was a revolution for us to know many creators without making money, just enjoying. And I could find so many good music. "Ryoka" remixed by charlot is so.
"Celebrate" by JJ Company is special because I have known from I was child and playing Dance Dance Revolution. I love this song for a long time without knowing the detail. A few years ago, I suddenly searched about that and I found Larry Dann, the keyboardist from Earth, Wind and Fire joined JJ Company!! I was so surprised.
What is your favorite part of the music scene in Kyoto? Do you have a favorite venue?
I like Taku-taku, Metro, and UrBanguild in Kyoto. Taku-taku was made by wood and founded a hundred years ago as garage of sake liquor. Metro is a club and surround system is so good. The recommend in UrBanguild is original apple ginger ale. So yummy!
What is the best dream you've ever had? The worst?
Just keeping on have gigs and making music as Otoboke Beaver. It's an indie gal's dream come true to form a band at University with friends, then release records and tour the world and have fans in many different places who know your songs! It is incredible and hard to believe.
Simple is the best and most difficult as our work and Japanese working culture means we often work weekends and cannot get holiday time as westerners have, so it's very difficult to try and fit in all we want to do as a band, and hard for fans to understand we don't have time to reach their cities/countries.
Worst nightmare is that suddenly I can't hear anything. To lose auditory is more terrible than any other feeling for a music lover and musician.
What is your earliest musical memory?
Learning playing the piano when I was 4 years old. I stopped when I was 11 years old because I don't like my teacher and practicing piano because of my laziness. So I can't play the piano so much, but got perfect pitch somehow.
What's your favorite dish to cook and how do you make it?
Potato gratin by using soy milk, asparagus, bacon, cheese, and some spices. Mixing rice with chestnuts make taste by soy sauce, sweet sake, and kelp soup. These are the taste of autumn.
Tracklist
EG-5, MT-65, VA-10, RAP-10 / fumu fumu
So Much Going For Us / Girlsareshort
Dansa Fastan / Sakert!
Kuninamashe / JAGATARA
Sometimes I Want To Hit Your Face / Touming Magazine
Ohayo / MOST
Narcissist / PAWS
QUEST / group_inou
S.F. / Skirt
Tsuru Manzoku / OBAKEJAA
Hot Fire / Powder Blue
Insider / PETROLZ
Ryoka (charlot remix) / Saburo Kitajima
Cream Soda Breakin' / MU-STARs
celebrate / JJ COMPANY
RZ-1 / I Am Robot and Proud