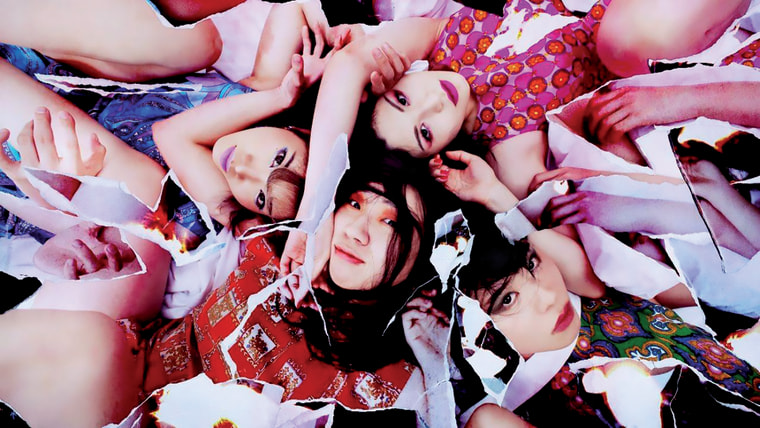 Otoboke Beaver are punk band with a chip on their collective shoulder. Whether they're taking on gender essentialists, stinky perverts, or bad communicators, the Kyoto quartet's members — Accorinrin (lead vocals), Yoyoyoshie (guitar), Hiro-Chan (bass), and Kahokiss (drums) — always seem to be boiling with a righteous anger that bubbles over into their hyper-kinetic music. Today, they're premiering a fresh pet peeve with The FADER in the form of their forthcoming album Super Champon's fifth single, "Yakitori."
Drawing its title from the skewered chicken dish westerners know and love, the new track is a violent, nonsensical thrill ride only Otoboke could pull off. Its extremely hammered-home refrain (an Accorinrin specialty) is a meaningless string of words hurled at anyone who dares question the band's integrity, or at the nadir of the yawning abyss that is human existence — whoever hears it first.
Watch the technicolor "Yakitori" lyric video and read Accorinrin's interview with The FADER below.

The FADER: It's really impressive how you're able to capture the wild energy of your live performance on your recorded songs. How do you amp yourselves up in the studio?
Accorinrin: I do not know how… When we are making a sound, we switch on by ourselves, we are putting ourselves into the sound. But we certainly imagine playing in front of you at a live show.
I know the concept of this next album is a "champon" or jumble of songs, but if you had to pick out something that holds them together as a single body of work, what would it be?
What our songs have in common: they are fast and strong and complex. This time, we focused on the chorus. But we can only say that they are "Otoboke Beaver." There is no song that sums up the whole album. The songs are just what is on our mind at the time of making them.
One of the fun things about this track, and a lot of your songs, is how quickly it jumps around in tempo and in tone. Do these sort of moments come organically when you're all jamming together, or are they planned out when you're writing the songs?
Depending on the song, there are times when everything is worked out, and there are times when I have an initial image when I write a song, and then I elaborate on it line by line with members, through studio practice and live performances. Trying it different ways. I spend hours searching for the best way, even for a development part of only one second, by trial and error, until I find the point where I feel good about it.
The vocals are really fun too, although I can't say I'm 100 percent sure what the lyrics mean. Is the song from the point of view a piece of chicken?
We are not popular in Japan, but we have been told by some Japanese people that we are flirting with foreigners. I was so pissed off by this that I decided to write songs with "like Japanese" and "foreign flirtatious" titles, such as "SUSHI" and "YAKITORI."
It's a meaningless song: "I'm the one who threw yakitori in your mailbox". Not so flirtatious, right? I often use Katakana English and Showa-style English in our lyrics for wordplay and rhythm, when it's not possible to just use Japanese. So because of this, the use of English is more functional, not for correctness or deep meaning. I don't think you can hear what we're saying a lot of the time and I think it doesn't make sense in English most of the time. But it is not meant to. If you want to hear such correct English, there are many other bands that are good at English, so please listen to them.