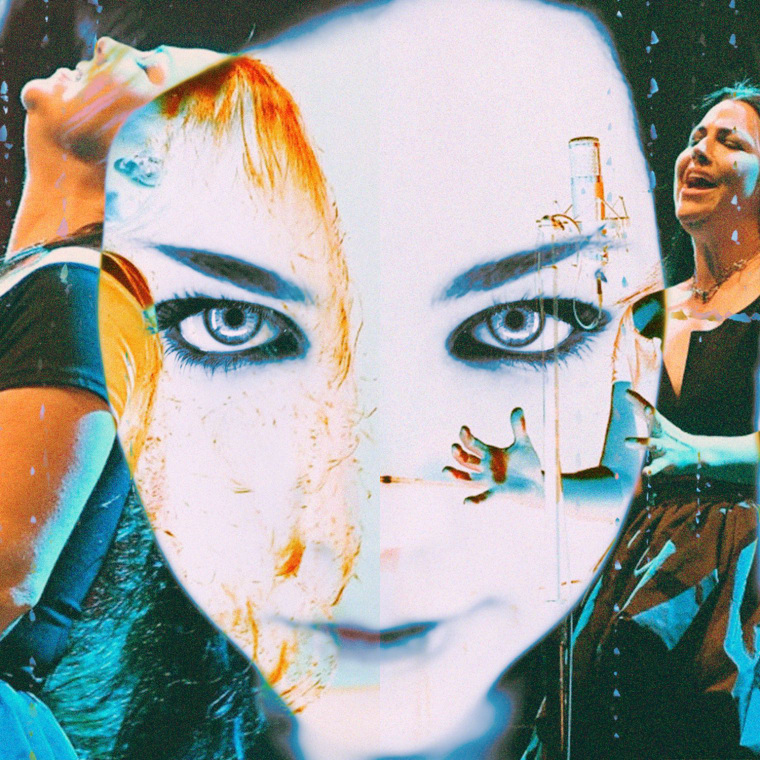 Evanescence's new album Synthesis, out November 10, reworks some of their most famous songs into orchestral epics. This includes the Arkansas nu-metal band's break-out single "Bring Me To Life," which hit the Top 10 in over 15 countries in 2003. You'll likely know the song's unforgettable chorus: Amy Lee's vocal soars alongside shouted interjections from Christian rocker Paul McCoy, who was featured on the song. But the 2017 version of "Bring Me To Life" features no trace of McCoy's part — which is just the way Lee always wanted it to be.
In a recent interview with News.com.au, Lee explained why she is "so glad" to finally shed the song's throaty masculine vocal: "The rap [is] part of what got us on the radio I guess. At least, according to all the rules of radio that I don't agree with or understand. The rap...was a compromise in many ways." In an older interview that's archived on YouTube, she explained further. "I remember having many talks with the suits...the powers that were, about [my femininity] being a negative thing." She recounts music industry professionals telling her, "There's nothing like this on the radio right now — how are we going to break you in?" In fact, Evanescence's label, Wind-Up Records, threatened to not release their debut album Fallen at all, if the band didn't add a male voice to the lead single to make it more palatable for radio.
Amy Lee's defiance and outspokenness made Fallen a hit, and made her into a role model for young women the world over.
Fallen was so special precisely because there was nothing else like it on the radio at the time. It wouldn't have been what it is without Lee's melodic, piercing vocal, nor without her disarmingly frank lyricism about living through an abusive relationship, and rejecting society's obsession with beauty. But as well as the battle over "Bring Me To Life," Lee also faced outside pressures, unfairly placed on her as a woman in the largely masculine rock genre, by press, radio bosses, and the public. She's recalled having to deal with rumors that her success was based on sleeping with various men, while Wind-Up Records boss Ed Vetri has described being rejected by radio stations for pitching "a chick and a piano."
In a 2016 interview with Team Rock, Lee elaborated on the kind of bullshit she contested with behind the scenes of her runaway '00s success. "The hard part is earning people's respect as a writer, musician, and businesswoman. That's the part where people are like, 'Yeah, yeah. We'll get some dude to do that part and you just stand there and look pretty'...It takes constant proving that there's more to you and constantly having to put your foot down and fight for your rights." Lee's defiance and outspokenness made Fallen a hit, and made her into a role model for young women the world over.
It couldn't be clearer that the "suits" got it wrong about Amy Lee's ability to reach a fanbase. 14 years later, the band contains none of its original members other than her, and yet is still touring the world to sold-out crowds. Shifting more than 17 million copies around the world, Fallen — and by extension, Lee — made a lot of dudes behind the scenes very rich. Today, she's calling the shots, by reassembling the band in a way she wants it, and re-recording her songs in the way she prefers them. Synthesis is a new chapter for Lee, and is Evanescence's most intimate and melodically rich release to date. But it's also a poignant epilogue to a beloved moment in rock history. Back then, Amy Lee was forced to compromise for her fame. Now, she's finally doing it her own way.
Sony will release Synthesis on November 10. Listen to the new version of "Bring Me To Life":