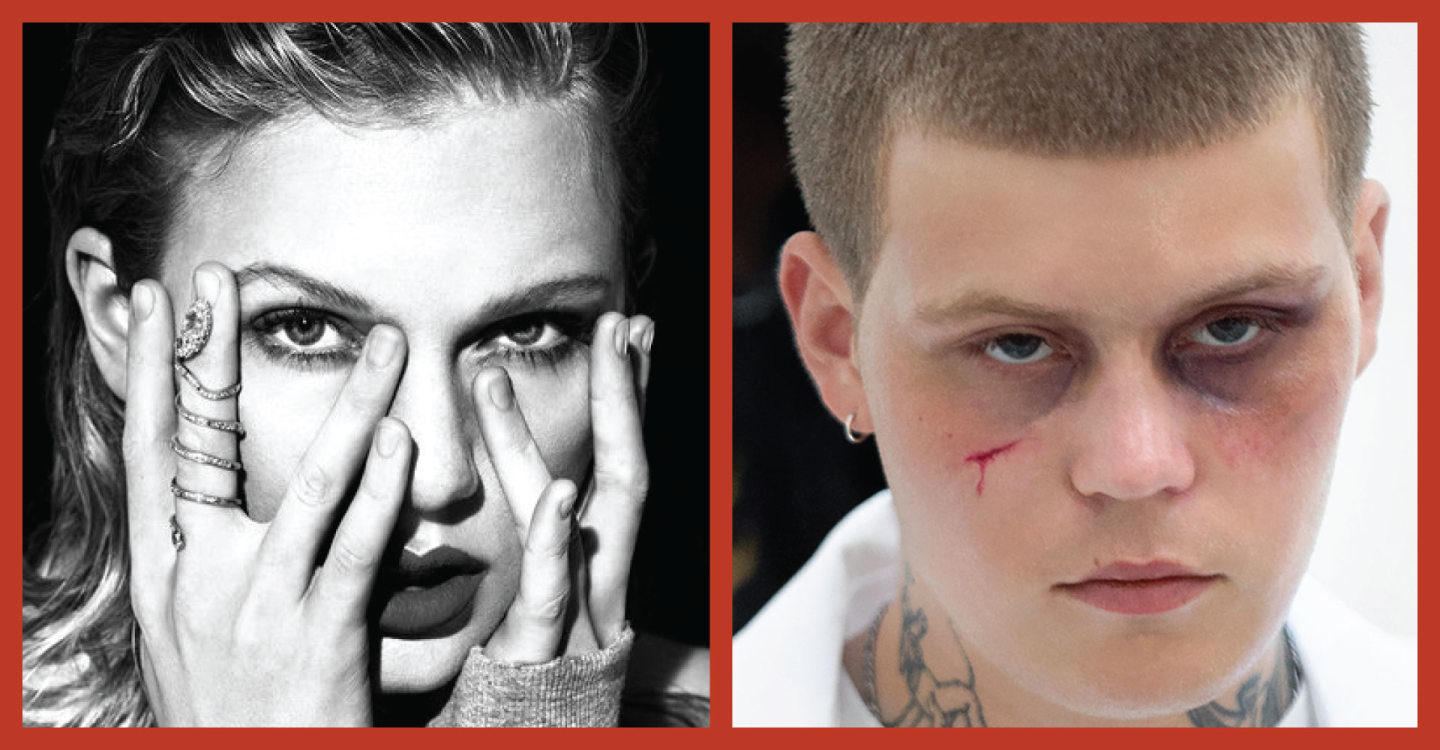 In a 2016 interview, one of Yung Lean's longtime producers, Gud, described the unique position of making rap music as an outsider. "[Most Swedish rappers] never tried to make their own thing," he said. "They just took what they liked and they did another copy of that, they just made more of it. We don't need more of that anymore. We need new things."
Today, on the release of new albums heavily indebted to hip-hop from Yung Lean (Stranger, his third) and Taylor Swift (Reputation, her sixth), I'm reminded of Gud's quote. Because making new things is what Taylor Swift once did, in country music. Despite the increasingly synthetic creep to her sound, she was country's biggest star for nearly a decade and its foremost millennial; she is still such a powerful force that, as a co-writer on Little Big Town's "Better Man," she won a Country Music Award this week, four years since releasing a country single of her own.
But the primary innovations of her past few albums of unabashed pop have been to her own sound and image, generating little outside impact on her genre-of-the-moment. Red's lead single "I Knew You Were Trouble," the transformational and dubstep-fueled dismantling of the pop/country tension she'd long been exploring, spawned no noteworthy imitator; the retro 1989 followed similar and superior albums by Tegan and Sara, HAIM, and Carly Rae Jepsen. (Interestingly, the same cannot be said of Taylor's megastar peers, both in music and in their work surrounding it: Beyoncé's surprise release and documentaries about herself; Kanye's consistently trailblazing sonic and fashion aesthetic; Drake and Rihanna's trend-forecasting and knack for collaborations; Justin Bieber's reworking of a softer EDM.)
Unsurprisingly, on Reputation she is dramatically behind the curve. The gothic aesthetic is boiled down Yeezus, ironically, minus the Arca and Hudson Mohawke; the production, which is often for some reason still dubsteppy, feels like leftovers from Max Martin; and Taylor made not one but two magazines after Frank Ocean made not one but two, fifteen months before. In an insightful, largely positive review on NPR, Ann Powers cites a 2012 Taylor quote about how much she loves rap music: "Maybe I'll just start rapping or DJing." Five years later, Taylor has created an approximation of that idea by pulling from references that feel five years old. Like Powers says: "It's no Bangerz."
Some commentators have described Taylor's appropriation of cadences, drum sequencing, and other markers of hip-hop as safer from criticism than, say, Miley Cyrus's, or Taylor's bizarre rap parody as "T-Swizzle" from 2009. That's partially because Taylor's version of hip-hop is itself safe, and probably partially, it bears mentioning, because unlike Miley she worked with pretty much no black people on the album. Even if she claims the old Taylor is dead, the Taylor she is singing about is instantly recognizable: reserved yet vengeful, she is fond of domestic comforts, obsessed with notions "good" and "bad", and always seeking a fairytale man.
By and large, the lyrics on Yung Lean's Stranger are familiar, with a few achingly personal touches. Given his own history with addiction, as detailed in his 2016 FADER feature, one hopes the multiple references to taking hard drugs are merely fictional, but either way, it's the sort of glorification that initially brought controversy to the 21-year-old rapper. As is often the case with Lean, it is the production, or, more accurately, the symbiosis between Lean's delivery and his team of beatmakers' sounds, that make his music important, and consistently ahead of the curve.
While Reputation contents itself with a rudimentary version of hip-hop — kicks, hats, and snares; more talking than singing; a general sense of aggression — Stranger understands the genre's essentials, then takes significant steps to rework them. The songs employ an uncommon minimalism, reminiscent of pop music's actual best song of the year, Selena Gomez's "Bad Liar," with its Talking Heads-sampling bass line. In fact, the art-pop icons' "This Must Be The Place (Naive Melody)" is a great reference point for Lean's new aesthetic, where identical riffs course through multiple instruments at once and great attention is paid to blank space. Though artfully done, Lean's use of Auto-Tune isn't prophetic on Stranger, but other subtle vocal manipulations are, like the increasingly tinny effect on "Metallic Intuition."

Interestingly, on both albums, the most effective songs are the ones that sound least like the others. For Lean, it's the Daniel Johnston-like "Agony," with mere piano accompaniment; "Take a pill and go to sleep / I'm chasing witches in the street / I'm the last page in your book / Can't write a song only do hooks" is, funnily enough, probably the best lyric he's ever written. For Taylor, the highwater mark is far and away "New Year's Day," the emotional and spare closer that features many of the little lyrical details (cleaning up bottles after a party, squeezing hands in a taxi) that have made her best songs timeless.
Arguably, the things working most against Taylor Swift at this point in her career are the massive dissimilarities between her everyday life and the lives of her fans. There's no sound of a slamming screen door on Reputation because her home is probably equipped with fingerprint scanners now. That gulf is inevitable for a celebrity of her stature, and in some ways Reputation feels like Taylor's earnest attempt to connect with her fans in one of the only ways available to her: through the common reference points of the zeitgeist, and pop music itself. Like Yung Lean has done so excellently on Stranger, though, she'd be better off retreating into something more singular. It's in that thing that nobody else is doing, that thing that nobody else really gets, that artists like Lean create a new thing to feel.