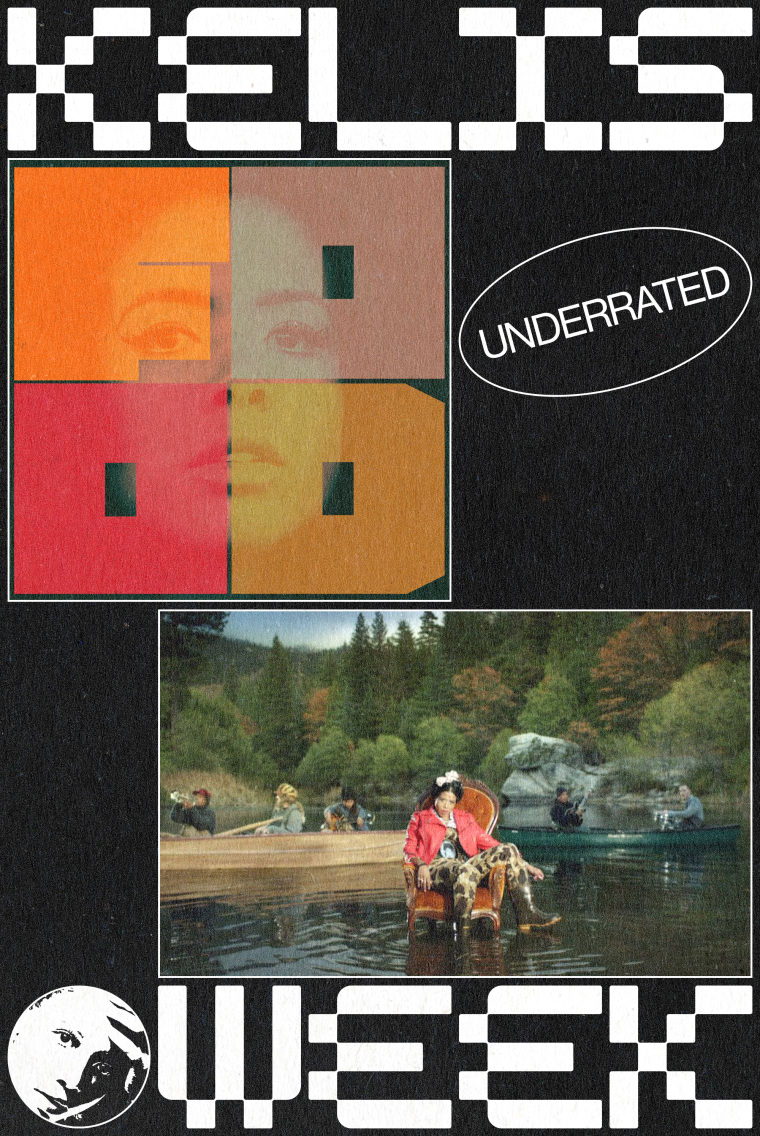 Around 2011, Kelis went on what she described as a "mental hiatus" from the music industry. During that period, she raised her son Knight, and finished training as a saucier at the elite culinary institute Le Cordon Bleu. Perhaps unsurprisingly, when she came out the other side, she was a different person. The stage was set for the most emotionally forthcoming work of Kelis's career: 2013's Food was inspired both by her life changes and all the meals she made while on her break. The album is a gorgeous collection of Afrobeat and funk-inspired songs that Kelis told The FADER is her favorite album she's ever made.
Almost every song is guided by woozy horns that feel specially made for falling in and out of love — some sound like they're part of the best wedding band ever, and others could even be funereal. On the slow-burning "Floyd," she's the boldest, and loneliest woman in the world, calling out for someone interesting to come her way. Then there's the soaring "Forever Be," where Kelis sings about the end of the world in a way that feels super concrete: "We are here, you and I / Just in time, to set a fire / To a secret, here's mine, here's mine." There's a timeless quality to the album because of its '60s and '70s influence, yet it never feels trite because of Kelis's unique songwriting perspective.
To help her construct every song on the album, Kelis hired accomplished arranger Todd Simon and TV On The Radio's Dave Sitek. Together, they made a throwback record that still feels ahead of its time, and yet remains woefully underappreciated.
Simon, who has worked with everyone from Solange to Kamasi Washington, spoke to The FADER over the phone from Los Angeles about the album's very organic roots in Sitek's relaxed home. He revealed what was actually being served during the album's sessions, the special story behind "Floyd," and what he thinks of Kelis's legacy.
How did you get involved in the project?
I actually met Kelis a long time ago. The year that she broke out. I was on the road with Macy Gray and [Kelis and our band were] both there at the same festival in Norway. Because it was in the summer, you know the sun stays out forever. We were all getting delirious. We actually had a jam session at the hotel between her musicians and our musicians. Just kind of hanging out. Super cool interaction. She's an awesome gal. Then we saw each other a couple more festivals after that.
That sounds insanely fun.
Then fast forward over a decade when I got a call from Dave Sitek who's writing, producing with K. He's like, "What are you doing tonight?" I'm like, "I don't know. I'm here at my daughter's gymnastics class." He was like, "When you're done, come over here." I looked like a nerd. He lives all the way up in the hills. I get up there, knock on the door and Kelis answered it.
I was like, "No way!" We weren't super tight but we knew each other. So it's already kind of familiarity. Right off the bat, K and I just really connected musically. At that time, I was kind of into big, but soft soul vibes — the Delfonics and Barry White — and bigger sounding arrangements over soul stuff, and she was really feeling it. We were vibing on Minnie Ripperton and that type of stuff as well.
So it just all kind of fell into place with what she was trying to do, which was trying to express how musical she was. She was singing ways that I never heard her sing before. Hitting crazy high notes. Crazy low notes with really a lot of control, which I'm sure you can hear on the record. For me, my role is being an arranger and horn player and providing musicians and stuff. It was really fun to kind of provide an instrumental pallet for her to do her thing.
What was she like in the studio versus when you met her on tour?
Oh, she's completely different person. When I first met her, she was pretty fresh on the scene. She was real sassy. But then, when we met up with her again, she had basically gone through the whole machine of the entertainment biz. She had already had Knight, her son. She went through some stuff in life. Just a really down to earth, awesome person. She was always super smart, intellectual and very with it. Very observant and knows what's going on around her.
Please could you talk about the horn work that you did on the album, which is such a strong selling point on it.
[The album has] a really '70s, almost psychedelic soul with a Minnie Ripperton and Delfonics sound. That was kind of the starting point. It's definitely in there on certain songs like "Running" and "Forever Be." It's very lush in that way. But then, once we heard "Jerk Ribs," it's like this super Afrobeat, Afro-funk banger. I was in the original Antibalas so I'm very well versed in Afrobeats. So you know, that called for super Afrobeat horns. But at the same time, the chorus is almost on some Quincy Jones vibes. Other stuff is real majestic. I kind of just supplied what the song calls for and how it fits the vocal and stuff. But because her vocal ability is so strong, it really pushed myself and the other horn players to really put a lot into it.
"She is what it means to be fierce, and to really be unique."
Her cooking obviously was a major inspiration for this record. I was wondering if there was any of it around when you were recording? Or did she cook for everyone?
All the time. All the time. I kid you not. She made jerk ribs for us when we were working on that song. We didn't have a name for it when she did. We had a Friday night fish fry, which was the night all the guys recorded all the funny background vocals on that song. There was cobbler all the time. It was no joke. It was kind of a friendly battle between Dave and K because Dave's a pretty good chef as well. So he'd get some stuff going in the kitchen and then she would. A lot of food was being made and being eaten on those sessions and it was awesome.
It was a laid-back situation. Most of the times we were doing it at Dave's house. He has a great home studio. We weren't shacked up in this super sterile recording studio. We were hanging out. Eating food. Smoking weed. Getting creative. Whatever musicians were there recording, she was always hanging out with them. I think those interactions obviously probably instilled something in those musicians to transmit the energy back into the tracks as well.
Could you give me the backstory on a track that was particularly meaningful to create?
"Floyd" is...lyrically alone...those lyrics are the shit.
It's such a beautiful song.
It's a woman standing up, making a point of what she wants in life. It's so direct, but at the same time, the music is in this whole other world. I was writing the arrangements in a hospital room. My mom was in surgery and so I was kind of in a dark depressed place. But at the same time, I'm working on this insane song and it helped me out so much.
But when I came in with it, we had a bunch of musicians on it. There was some weird instrumentation and stuff. Sometimes she'll give you this look, like she's not sure. Kind raising her eyes up at you. I can tell she's like, What's the dude's writing on this? But when it really started to pan out, everyone was like, "Fuck, this is some serious shit." She was like, "Are you OK?" I was like, "I wrote this in the hospital." She was like, "Oh my god. That's intense." That was the mom in her I think.
When the record was released, fans really responded it, but it got mixed critical reviews. Were you surprised to see that? Or is that something that you didn't pay attention to?
You know, deep down inside I was pretty surprised. But over the years, you just kind of learn to not pay attention to the media and what they say about the records you work on. I imagined it was something that nobody expected but they were going to get. She had totally different periods in her career before Food came out, including some EDM vibes. So, I think they were maybe expecting that or maybe they were wanted "Milkshake" again. The mainstream media just wants the same old stuff. At the same time, there was some real awesome things being said. But as a whole, I felt the album kind of was slept-on.
What do you think she means to other musicians and artists?
Aww man. She is what it means to be fierce, and to really be unique. To me, looking up to her, she really inspired me. I know other people that really try and work hard to do what you want to do. I don't think she's ever really tried to do something to cater to the mainstream or to the media. She does what she feels is right.