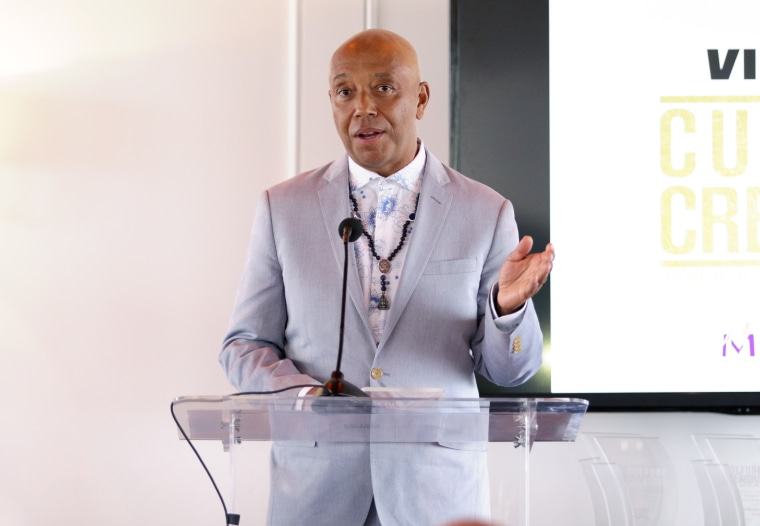 RUSH Communications CEO and Def Jam Recordings co-founder Russell Simmons has been accused of sexually assaulting Keri Claussen Khalighi when she was 17 years old. The model told the Los Angeles Times that after a dinner in 1991, Simmons forced her to perform oral sex on him at his apartment and then proceeded to penetrate her without consent in the shower.
Apparently, film director Brett Ratner was present for the alleged assault, as he was Simmons' protege at the time, but refused to help Khalighi despite her pleas. Variety reports that this is not the first incident where Ratner acted as Simmons' partner to create opportunities for sexual misconduct to take place. According to The Hollywood Reporter, Ratner was named by six women for sexual assault and harassment this month.
Simmons has denied Khalighi's accusation in an official statement that is posted on the home page of his website:
"As a long-time social activist, I have applauded the strength of the brave men and women who have spoken out over the past month and made their voices heard regarding sexual assault and harassment. I am a supporter of the #MeToo campaign and the victims who were previously terrified to stand up and speak out against sexual misconduct. I completely and unequivocally deny the horrendous allegations of non-consensual sex against me with every fiber of my being.
I know Keri Claussen Khalighi and remember the weekend in 1991 that she has referenced. Everything that happened between us 26 years ago was completely consensual and with Keri's full participation. We spent time in my apartment over a period of two days and one night, as well as at some public places including Nell's Nightclub. Much of the time we were in the presence of other acquaintances. I'm deeply saddened and truly shocked to learn of Keri's assertions as to what happened over the course of that weekend.
Let me be crystal clear and very direct. Abusing women in any way shape or form violates the very core of my being. I have always spoken out regarding my life experiences, women's issues and the need to bring a faster and more decisive shift in the collective consciousness that will help bring about true women's equality. More than anything, I want my daughters to live in a more equal world and a world where they will not become victims of sexual harassment.
The LA Times article also references an allegation by Ms. Tanya Reid. I mean no disrespect to her at all when I say I honestly do not recall my telephone conversation with a hotel front desk clerk from over a quarter-century ago."
Apparently, Simmons recently got involved with Terry Crews after the actor came forward about allegedly being sexually assaulted by WME agent Adam Venit. Crews tweeted a screenshot of an email from Simmons that shows him trying to convince the actor to help Venit get his job back despite what transpired. Evidently, Crews did not oblige to the request.