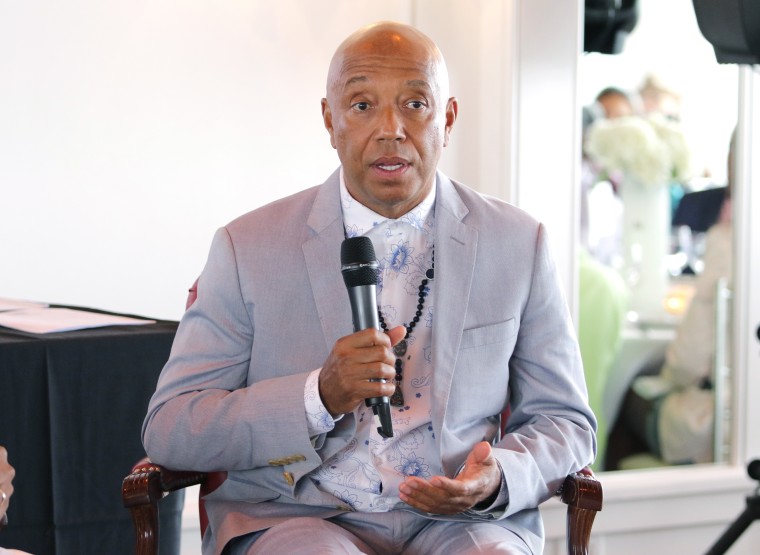 Five more women have come forward with stories of sexual misconduct by Russell Simmons. This story, from the LA Times, comes just two weeks after Jenny Lumet wrote about being violated by the mogul for the Hollywood Reporter. Earlier today, The New York Times reported that four more women had similar experiences, with three saying Russell Simmons raped them.
Now, five women have shared stories that show a pattern of abuse of power by Simmons. Additionally, at least two employees of his yoga studio, Tantric, say the atmosphere at Simmons's yoga studio was "sexually charged" and "tense," from Simmons, causing one, Karen Russell, to leave her job there.
During a massage in Seattle's Alexis Hotel in 2005, Erin Beattie says Simmons exposed himself to her. Natashia Williams-Blach says Simmons attempted to physically force her to perform oral sex on him, while she was starring in 1996's How to Be a Player, which Simmons produced. She was 18 at the time. Sherri Hines, of Mercedes Ladies, says that Simmons raped her in his office in 1983, after she ran into him at nightclub when she was 17 or 18. She later told her sister and a friend about the rape, and based a scene in her 2008 novel, Mercedes Ladies, on the incident.
Finally, Lisa Kirk says Simmons assaulted her in a night club bathroom in 1988, smashing her into a wall and taking his penis out of his pants, before, according to Lisa, she was able to make him stop.
On Thursday, Simmons issued an additional statement on Instagram and deleted his Twitter account. The post features a picture with the hashtag "#NotMe."
This post was updated at 2:15 p.m. on December 13 to show a new statement from Russell Simmons.