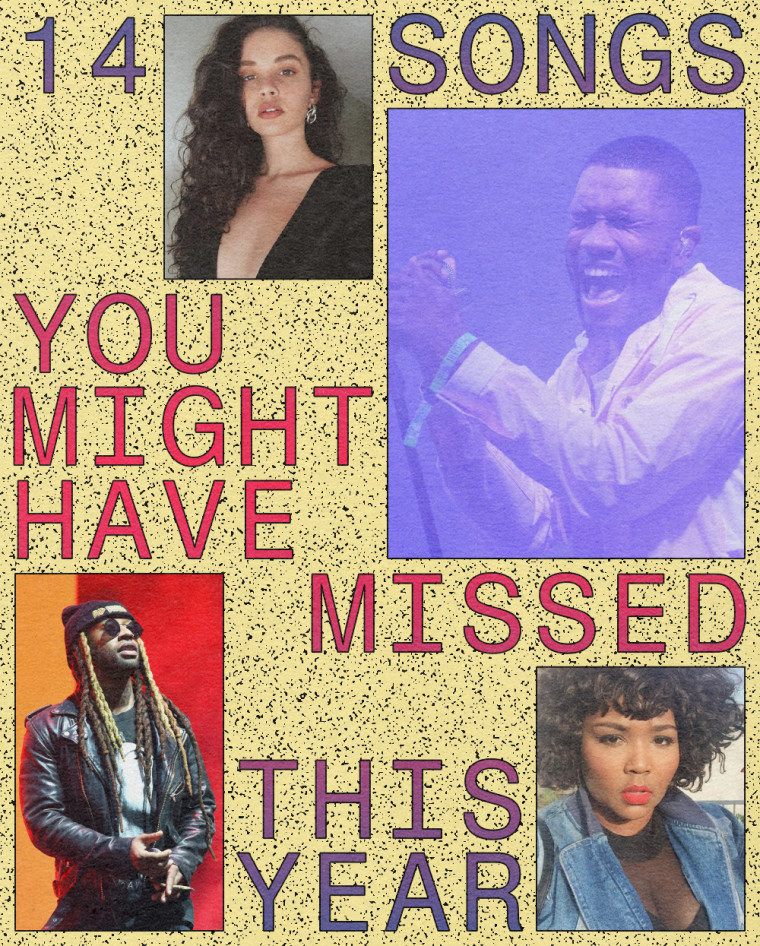 Frank Ocean f. Young Thug, "Slide On Me (Remix)"
If you thought the original "Slide On Me" was perfect (and it was), consider the addition of Young Thug. In a verse that charms alongside Frank's lucid storytelling, Thug offers up a scream — well, more of a yelp, actually — about, among other things, Janet Jackson's breasteses. It's kind of nuts that, in 2017, we got a remix of one of 2016's best songs and, to feed two birds with one seed, we finally got to hear Frank Ocean and Young Thug on a track together. Good luck finding a CDQ. — Rawiya Kameir
Call Super & Beatrice Dillon,"Inkjet"
Two London-based techno faves, both known for creating warm, enveloping textures, came together for the release of Inkjet/Fluo earlier this year. Made up of two mind-cushioning, eight-minute tracks, the EP is a meandering joy. The bouncy opener "Inkjet" in particular — with its handclaps and skittering, glitchy surface — taps into a happy place. — Aimee Cliff
Ramriddlz, "Summer Bummer"
I listened to Ramriddlz's Sweeter Dreams about a billion times this year. It's a project about what happens when you break a boy toy's heart. Towards the end of the album is "Summer Bummer," where Ram says he's "blue like Sonic," feeling abandoned and wistful that his short-term lover never got to meet his mom. But he's is still the same lovable sex-obsessed weirdo, using the song's climax to interpolate Gotye and sing the very iconic line "Now I'm just somebody that you used to blow." It's stunning. — Myles Tanzer
Miley Cyrus, "Miss You So Much"
This year Miley Cyrus made a back-to-basics country-pop record, and it wasn't great. But it did have great songs, my favorite of which is called "Miss You So Much." An earnest guitar ballad with a big wave-crash for a chorus, it's about the kind of romantic feelings that make you feel crazy. The titular sentiment — "how can I miss you so much when you're right here?" — is a legitimately tear-jerking reminder that being in a loving relationship is straight-up terrifying, because it means you have something to lose. — Patrick D. McDermott

Emily Yacina, "Clue"
Emily Yacina writes my favorite kind of songs, ones that seem to effortlessly capture a feeling or a mood that the English language can't. Heart Sky, her out-of-nowhere 2017 full-length, is full of gorgeous, drowsy dream-rock that does exactly that. The songs are definitely best experienced all together, but "Clue," a music-box-paced breakup lullaby, is something of a standout. It's hinged on a sing-song melody and some unassumingly devastating poetry: "In the neighbor's yard / sink into the mud / can't be what it was." Yeesh. — Patrick