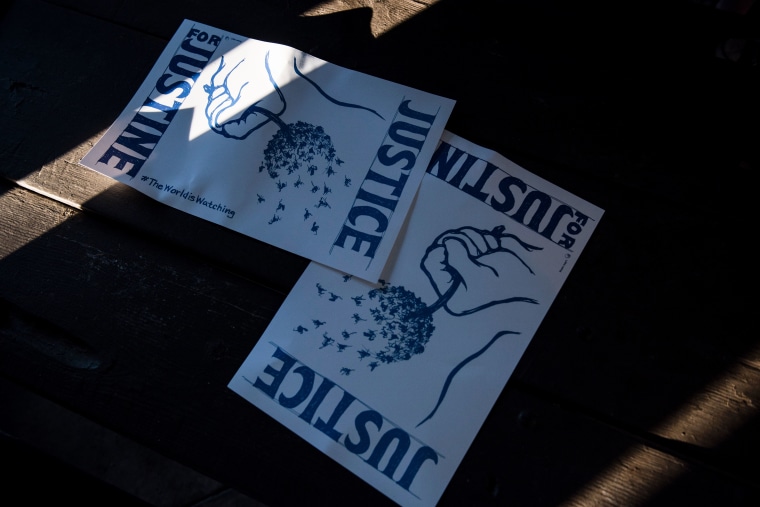 White nationalists erected a memorial over the weekend that has been removed by Minneapolis police. The white nationalist group Identity Evropa created the "shrine" to memorialize Justine Damond, a woman shot by a police officer in July. The unarmed, Australian-American woman called 911 to report a possible rape before being fatally shot by Officer Mohamed Noor.
Photos posted on Twitter show that the memorial included photos of Damond as well as flowers, candles, and signs. The tweet also explicitly calls out Officer Noor's identity as a Somali-American. As Complex points out, Identity Evropa is one of the groups that helped organize the white supremacist/white nationalist rallies in Charlottesville, Virginia back in August. They are allegedly responsible for the "you will not replace us" chant.
The Minneapolis police removed the memorial, and officials denounced it publicly. "Identity Evropa and those who share their values have no place in our city," Minneapolis Mayor-elect Jacob Frey said on Minneapolis Public Radio. "Hate has no place in Minneapolis. Period."

One family will be having an incomplete Christmas this year.

On Friday, Identity Evropa activists created a shrine for Justine Damond at the 5th Precinct in Minneapolis, MN, where her Somali-born killer – whom a judge recently decided not to charge – was assigned. pic.twitter.com/bzPntJq0aO

— IDENTITY EVROPA (@IdentityEvropa) December 23, 2017