On his upcoming project, There Will Be Rain, 20-year-old Bronx-based rapper and multi-instrumentalist Caleb Giles explores what it feels like when fate takes hold, and there's nothing you can do to stop it. "So many things in my life were changing personally, spiritually, relationships were shifting, and globally," he shared over email. "It just seemed like the world was coming to an end. The project plays on the trope of a flood or an impending, inescapable fate from which nobody can hide."
Premiering today on The FADER is his video for "Wondering," the first song from his follow-up to 2016's Tower. Featuring Standing On The Corner, and produced by Slauson Malone, it's a dreamy, sample-centered track that feels well-suited for those quiet moments alone, when you're just trying to figure shit out. On the track, Giles is thinking aloud, parsing through the tough path he's taken to get to this moment, ultimately zooming out a bit to find peace and clarity. "It's not what you know / I put it all into faith," he raps gently. "Been too long, I'm alone / But I know I got through the day."
The video, shot by frequent collaborator Devlin Claro Resetar, portrays Giles sinking down into a beautifully painted blue body of water, ultimately being overtaken by it and "sinking" out of sight. Watch the video above, and read on for an interview with Giles, in which he discusses his own start in music, how the "Wondering" video came to be, and what we can expect from his new project, out tomorrow.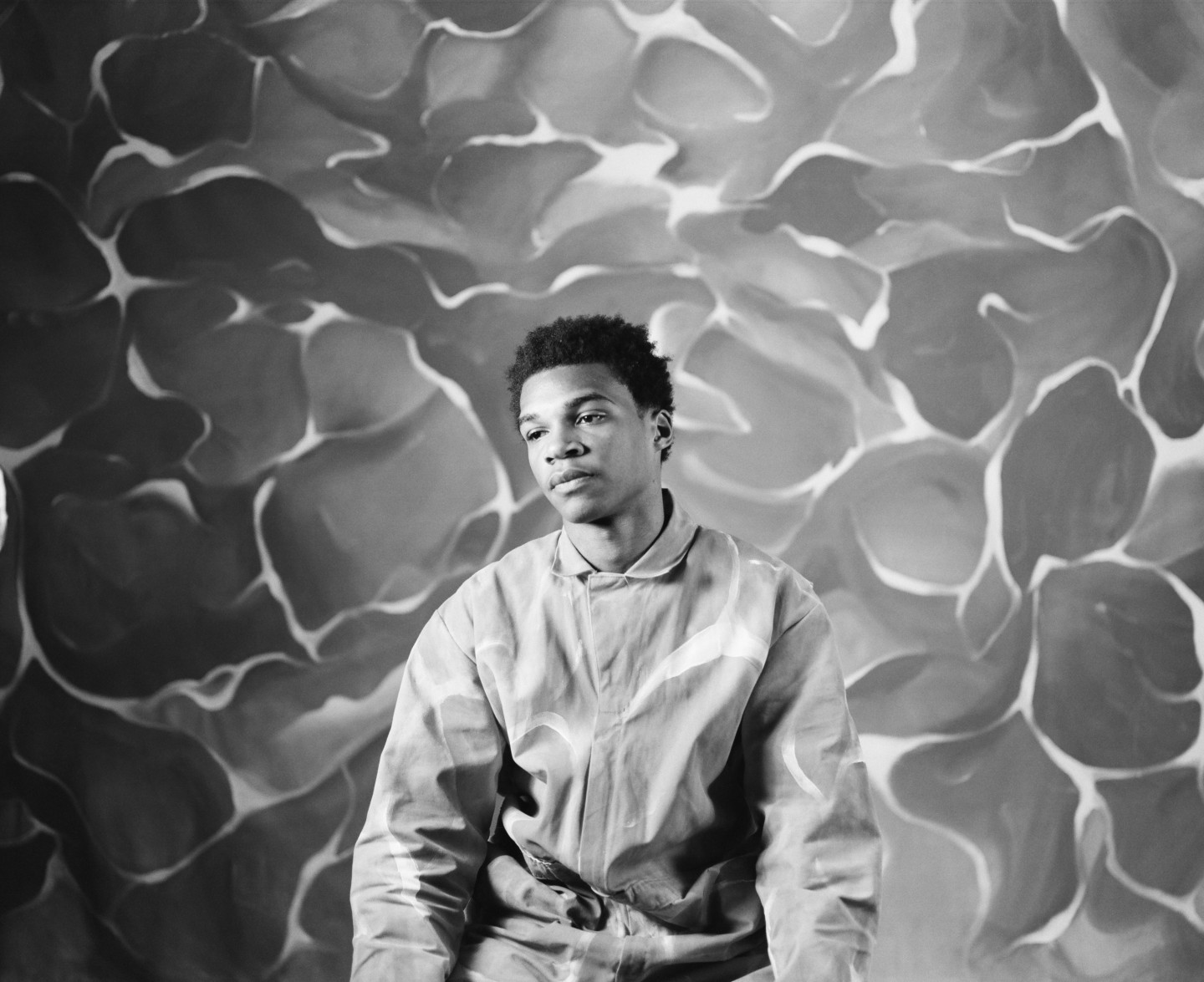 What was your upbringing like? What did you listen to growing up?
I was born in Kalamazoo, Michigan. My father is a musician so we moved around a lot. We were in Detroit for a while, then Knoxville, Tennessee, then we ended up in Cincinnati, Ohio. When my parents split up, my pops moved to Albany, New York and my sisters, mother, and I stayed in Ohio for a few years, until 2008 when we moved to Crown Heights, Brooklyn. Even when we moved to New York, my sisters and I continued to move around a lot. In fact it's only been during these past three years that I've been able to stay in one place for an extended amount of time, which is nice.
Growing up my mom listened to a lot of gospel, soul, and blues music. So I came up on Sam Cooke, Nat King Cole, Bibi & Cece, Yolanda Adams — the list could go on.
You play sax and a few other instruments — which ones? What got you into playing?
I've been playing instruments for as long as I can remember. I play the alto saxophone, piano, and I'm learning the bass right now. What got me into playing was my father. He plays the bass trombone, and graduated from Juilliard in the late '80s or early '90s. When I was super little, he would be practicing all day, and, as his son, I just wanted to mimic him, so he put me in violin lessons when I was three or four. I played up until I was seven or eight, and then picked up the sax when I was ten, when I moved to New York.
How and when did you make the transition into rap? What sparked that?
I began rapping in the 8th grade, when I was 14. I was involved with a poetry club at school and I always loved writing, so I think it was being a part of that club and having that natural itch to write, plus my love for music, that drove me to make my own songs. I was in the jazz band throughout middle school and one of the bass players in the band had a bunch of recording equipment at his house. So I would go to his house everyday after school and on the weekends, and record little songs and ideas. I also played in a church band in for a few years while I was in high school, and one of the sound engineers in the church gave me this little Casio synth. I would also record ideas on my mom's computer until I was able to afford my own.
You're releasing your newest project There Will Be Rain tomorrow. Tell me a little about it. How was working on this project different than your experiences with your debut, Tower?
I started recording this project right after Tower dropped last March. So many things in my life were changing personally, spiritually, relationships were shifting, and globally it just seemed like the world was coming to an end. The project plays on the trope of a flood or an impending, inescapable fate from which nobody can hide. It also touches on the idea of fire and how both fire and water are the same things in essence, although entirely different in makeup. They both function as agents of change and destruction but they also can give life. In addition, they both have very significant biblical roles which I found interesting and fitting. Throughout the summer, I was able to record with other writers and producers who understood what I was trying to articulate and helped me take my ideas to the next level.
The video for "Wondering" is beautiful. How did the concept for this video come about? Who was involved with it?
The video was done by my good mans Devlin Claro-Resetar, who did my last video, as well as the most recent Medhane video. Devlin and I had written out this super elaborate treatment for the video that had a bunch of shots and it was super theatrical. There was this one shot in the treatment that I really wanted of me falling into a body of water, but Devlin realized that we didn't really need any other shots besides that one, so we set it up. We had another artist and good friend, Aniza Iniguez, paint the backdrop, and the homie Terell Drayton to act and get inside of that body suit. Shout out Godfred Sedano, too, he came through with the lights and his expertise and helped make the process go way smoother than it could have. Shouts out to all the homies who helped make that video what it is.
The song features Standing On The Corner, with whom you also toured recently. What's your involvement in that project?
I specifically play the sax in Standing On The Corner but I also have written and performed songs on the last two SOTC records. I met Gio [Escobar, of Standing On The Corner] many moons ago. I remember seeing him for the first time at a new years party going into 2015. This was when Standing On The Corner was still Children Of The Corner, and, that night, Gio and his band were playing at that party in some apartment in Brooklyn. From there Gio knew I was friends with Medhane (whom he has known forever) and knew I played piano and asked me to play keys in COTC, but I declined. Yet eventually I ended up going over to Gio's crib with Jasper (Marsalis) one night and played keys on some recording during a little jam session. And since then Gio and I have been great friends.
This song, and several others on There Will Be Rain are produced by Slauson Malone. How did you guys first start working together?
I met Jasper for the first time on my 17th birthday. This was when him and Medhane had begun recording their first project, Greys In Yellow. Initially we weren't working on music together because he was so focused on Greys In Yellow, so I would just send him shit and he'd give me notes and whatnot, but beyond that we became friends and we'd (Grand Closing) all just kick it together. He started sending me beats after Greys came out, but Jasper has an interesting way of working so he didn't send me much. I think he wanted to see if he really even wanted to work with me, and at first I don't think he did. But from that first batch of beats I got from him, we made "Feet On The Ground," a song from my first record.
As we got to know each other better, we started making more music together. We really only make music together when we're locked in, in the same space at the same time. I'd say 90% of the music that Jasper and I have ever recorded together has been the product of intense musical synergy. He had a big hand in this record beyond the beats he produced for it. He damn near mixed every song, and gave me great insight and notes when I was recording.
Why is creating art with your friends so important to you?
I think it's just imperative to trust the folks you work with in general, beyond the art. If you work with people who only know you as an artist or some entity and not a person or a friend first, I find that that attitude will permeate whatever you create together. Whereas working with someone you know well allows the intimacy of that relationship to spill into the recordings (speaking on music, specifically). All of the people I choose to work with, musically or otherwise, I trust completely inside and outside of the art.
What do you hope people get from this project?
I hope people understand that you cannot stop what has already happened. That's all.