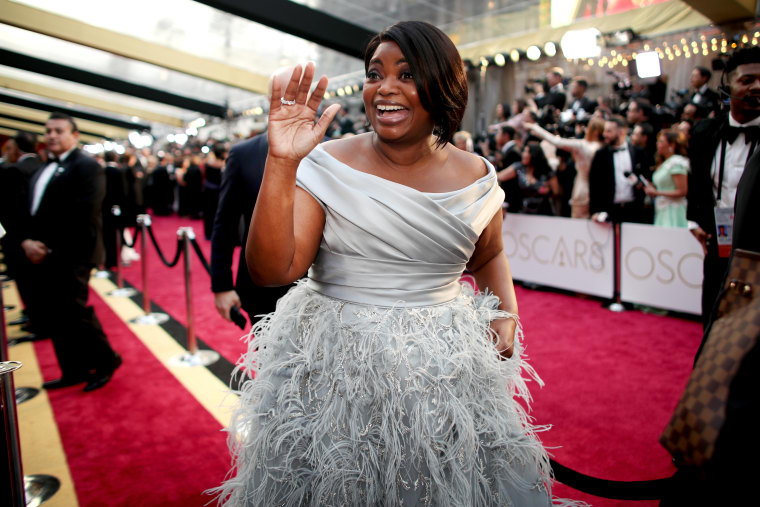 Octavia Spencer announced Wednesday that she plans to buy out a theater in "an underserved community" for the Black Panther premiere, "to ensure that all our brown children can see themselves as a superhero." The Academy Award-winning actress will be in Mississippi for the February 16 premiere, and said she'll announce the exact location and time soon.
Spencer did the same thing for her movie Hidden Figures last June, treating a low-income community in Los Angeles to film about three black women whose work at mathematicians was vital to NASA. Several of her costars joined in with their own donated screenings.
Several other organizations are gearing up to provide similar screenings. In New York, marketing professional Frederick Joseph started a GoFundMe to send the children of the Boys & Girls Club of Harlem to the movie for free, beginning the #BlackPantherChallenge on Twitter. The challenge reached Ellen Degeneres, whose show volunteered to cover the entire event; the GoFundMe's profits, which have now surpassed its $10,000 goal by nearly $35,000, will instead be donated directly to the Club. Joseph has since collaborated with Areté Education in the Bronx to send their middle schoolers to the movie as well.
In Michigan, Mari Copeny, otherwise known as Little Miss Flint, has organized a GoFundMe to send the children of Flint to a screening of the movie as well; her hope is that each child attending will also leave with a new comic book in hand. The Detroit Free Press also reports that organizations throughout Detroit "from sorority alumni to high school reunions to church groups" are planning to host screenings for the already iconic film. And in Southeast Michigan, a YouCaring page set up by the free comic book convention Hero Nation-Ypsilani to send Ypsilanti High School students to the the movie has raised nearly $7000 over its original goal. Jermaine Dickerson, the founder of Hero-Nation Ypsilanti, told the paper the movie stood out for a reason.
"If the movie only inspires one youth to feel empowered, to feel emboldened, that matters."