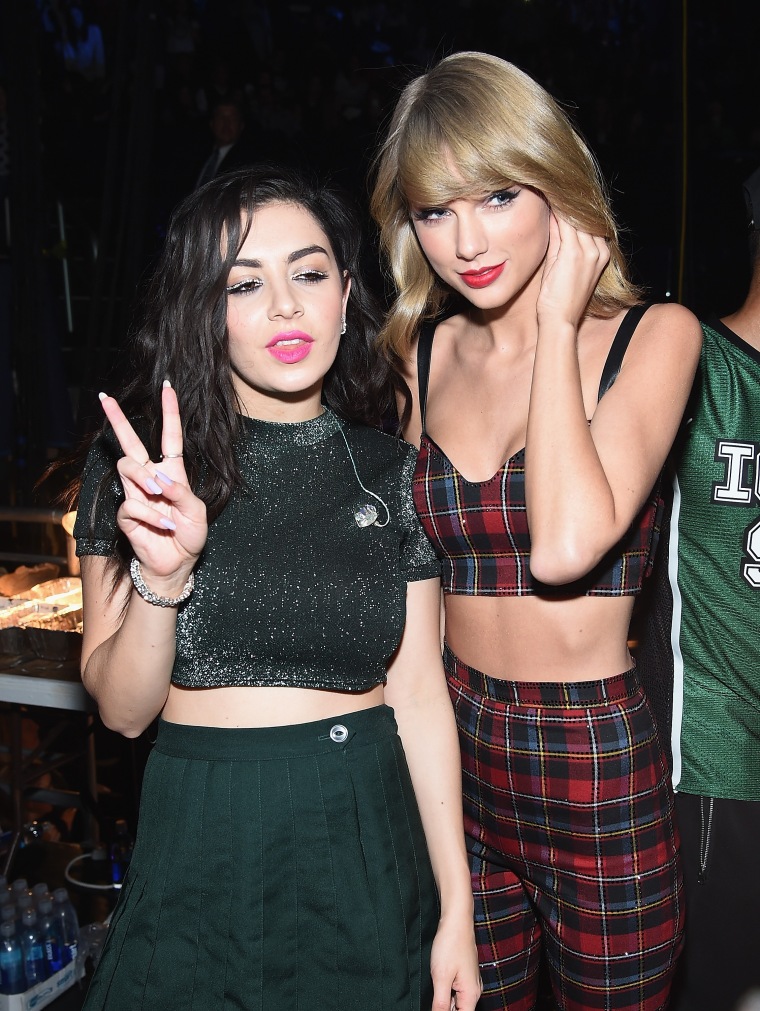 Yesterday, Taylor Swift announced that Charli XCX would join her on the Reputation Stadium Tour. Comparing Reputation to Charli's recent mixtape Pop 2 is a fun little exercise — it's the difference between performative experimentation and actual creative risk. I look forward to hearing their songs in the same building, though. It will benefit both of their careers.
Most of all, though, the tour announcement makes me happy because it reminds me of this anecdote from the Charli XCX cover story I wrote for FADER in 2016:
When Charli first moved [into her Hollywood Hills home], in early 2015, weird things kept happening. Once, after she went away for a few weeks, she returned to find all the windows open, though the security system hadn't been triggered. And people kept calling in the middle of the night, at one point threatening to send a cake with "Kill Yourself" written on top. Charli now admits there's a certain charm in that image, so campy and odd, but she was nevertheless startled the day a big box showed up at her doorstep, unexpected.
But the delivery, upon inspection, wasn't a menacing dessert — it was a bunch of Taylor Swift merch. Charli had recently appeared onstage at one of Taylor's concerts, where they duetted to "Boom Clap," and the surprise was a thank you sent by the artist herself, a pop giant reaching out to someone figuring out how she might be one.
God I love that image lol.
Like I said, this was in 2016, and Charli and I talked at length about an album that I no longer think will be released. Before interviewing her I'd heard 8 songs, co-produced by SOPHIE and Stargate, and Charli assured me the record was finished: "I want to make the best pop album of 2017," she said at the time. After our story, she released the lead single, "After the Afterparty," which failed to chart in the U.S. and was hardly as successful or interesting as her 2017 single "Boys," which had not been part of the album as I heard it, nor did it featured SOPHIE and Stargate.
Instead of the best pop album of 2017, last year Charli released two probably-better mixtapes executive produced by PC Music's A.G. Cook, who had served as her creative director at the time of our cover story. Similar to her 2016 SOPHIE-produced Vroom Vroom tape, these releases and their rosters of producers and featured artists rightfully positioned Charli as one of the music industry's most adept A&R's. She's not just an incredible songwriter but a key tastemaker, with a keen understanding of the global pop landscape and the unsung artists who are shifting it: Noonie Bao, Carly Rae Jepsen, Cupcakke, Kim Petras, Tove Lo, and Pabllo Vittar.
Like Vroom Vroom, the 2017 tapes were far freer than the album I'd heard, particularly in their lyrical content. "Vroom was not us trying to appease anyone," Charli said in our 2016 interview. "I think my label got afraid, and I think a lot of people were confused. But I just felt that I wanted to — I just wanted to do that. That's the scene I came from when I was younger, that club scene. That's originally what I saw in SOPHIE, and I'd never actually made music that was representative of that."
"I think my label got afraid, and I think a lot of people were confused." —Charli XCX
By and large, the 2016 album seemed written for a younger audience — "Got my good grades, now I wanna go dumb," went one memorable line, contrasted with "Track 10" from Pop 2, where she sings "I just wanna spend the night / Fuckin' in your bed tonight," or on "Delicious," where she talks about masturbating while high. Even though the 8 as-yet unreleased tracks I heard were incredible — and their production really did succeed as Charli had intended, redirecting SOPHIE's aesthetic circa 2016 toward a broader audience — it's hard to imagine them coming out today simply because Charli, now 25, has spent the past two years pushing what's possible in pop music even further.
This past December, she told Owen Myers, "I don't know if I'll even put out an album, or if it'll be an album in a traditional format … Is the album even valid for me as an artist any more?" I'd still say yeah, but I won't be upset if she never puts out those songs because she's come so far since.