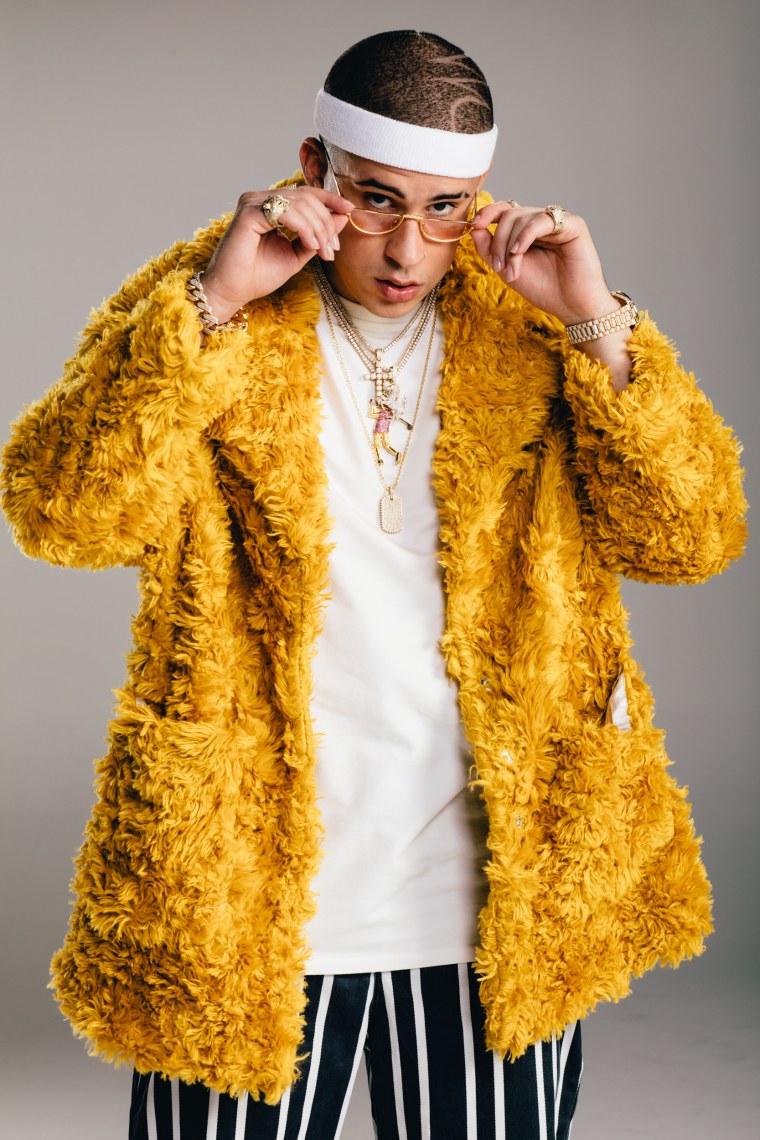 Despite his name, there is nothing especially small or cutesy about Bad Bunny. With his pounding baritone roaring through the music charts, el conejo malo is the biggest artist in Latin trap. The Puerto Rican rapper-singer has appeared on Billboard's Hot 100 list three times this year alone, with features on songs by Enrique Iglesias, Becky G, and Farruko.
His rise to Latin music royalty began in 2016, when Puerto Rican producer and indie label owner DJ Luían heard "Diles," an unhurried track about Bad Bunny's carnal ability that was blowing up on Soundcloud, and signed the eclectic young artist to his record label, Hear This Music. The deal helped him score collaborations with reggaeton veterans Daddy Yankee and Wisin as well as the genre's current poppy chart-toppers Ozuna and J Balvin. In two years, the 23-year-old, born Benito Antonio Martínez Ocasio, went from selling groceries on the Caribbean island to selling out three back-to-back concerts at the 3,300-seat United Palace theater in Washington Heights, New York.
It's been a bustling couple of years for the sought-after Boricua rapper. Bad Bunny's husky flow can be heard on bilingual collabs with hitmakers Nicki Minaj, 21 Savage, and Travis Scott, and the rising trapero has been spotted in the studio with Drake and worked with Future.
When we spoke on the phone recently, he had just wrapped up a seven-hour shoot for the Telemundo variety show, Don Francisco Te Invita. Tired, and more timid than I expected, he tells me how he went from the small beach town of Vega Baja to making international waves.
You blasted into the music scene in late 2016 and have already been called the biggest thing in Latin trap. How do you think you got to where you're at so quickly?
I think it's because all of the hard work I've put in, by maintaining real, by making music and not listening to the critics. I think that by staying true to myself and making music from my heart, the blessings come.
It feels like you never stop. There's always a new song, collaboration or project.
Exactly. And that's why I think I've gotten here.
Where do you think you get your hustle from?
It comes from the desire to continue to grow, to grow in music, to grow as an artist, to keep feeding the hunger of my fans with new music. That's what always keeps me pushing.
For those who don't know what Latin trap is, what would you say are some of the similarities and differences to trap en español versus the Atlanta-born genre?
The biggest difference is the language and maybe theme. We are doing more themes of love and also mixing in some R&B. I feel like U.S. trap is more street. I mean, I also do street. I do everything, you know? I don't think the biggest difference is musical but language. And we do have our own style. But, musically, it's the same.
But you're really blurring these lines. You have collaborations with Quavo, Nicki Minaj, 21 Savage, Travis Scott, Future, and more. Do you think Latin trap has crossed over into the English market more than reggaeton did in the early 2000s?
I think so. I think it's a more similar and familiar sound. And because the music is more alike, the language barrier is easier to break. It's huge that artists like them collaborate with us and there are even more who want to collaborate with us.
I know you have a new song with Drake coming out. Mad exciting! What can you tell us about that?
We are working on this. We still don't have anything with credit. But we are working on something that I'm certain is going to be a great hit. All I can say is we are already working on this project.
How is it to work with him?
Really, it's an honor. He's one of my favorite artists, and an artist I respect a lot. We have a great chemistry working together. He's a tremendous person, very humble. It was really a great experience to work with him in the studio.
As a young boy growing up in Vega Baja, a small town, would you have ever imagined that your love for music would take you around the globe and working with so many major artists?
Honestly, I always believed in myself. For real, for real. It was like, I would tell myself, If I get this, I won't want anything else. It was the only thing that interested me and the only thing I thought about. Now I didn't think I would get here so fast. I didn't think I would do so many great things in such a short time, but I always believed in myself. For real. And I think that's what helped me, that I never lost confidence in myself, my talent or what I was capable of.
I went to Veja Baja a few months ago, reporting on the crisis in Puerto Rico post-Hurricane Maria. I remember it being pretty bad there. How are things now?
Thank God my family is well, but in my barrio, where their house is, there is still no light or electricity. Just like so many other towns around Puerto Rico. But specifically in Vega Baja, yeah, we still need a lot of help. I've helped in the ways I can — bringing food, bringing water, in the rebuilding of places around the town, but little by little, we're lifting ourselves up and making it possible to come back from this.
When the storm hit, you were out on tour and didn't hear from your mother. What was that like for you?
It was extremely hard. Imagine going somewhere and back home, in your country, something horrible happens and you can't reach your family. I was very worried and desperate to hear something. It's just a very negative feeling — extremely. I just felt really bad.
I want to talk about fashion, because you have a style that blends high fashion and streetwear. Where do you think this comes from?
I don't even know. It's something I liked since I was a child. I always liked different things, rare things. My style has always been my own, just like my flow and style. I always liked name-brand things, but I couldn't afford it, but I can now, so I don't know where it comes from but I've been like this since I was a kid.
Who or what are your biggest fashion inspirations?
There's no one I can tell you like, "Wow, look at this person." I've just always respected other people's vision. I always say, to dress is like an art, like the music. You are the artist. You dress in the manner that you want and you demonstrate who you are or what you're like in your way of dressing. I tell everyone to just dress how they want.
You mentioned last year that you would be releasing a clothing line. Is that still in the works?
Yes. We're working on this. I'm obsessed with working on this every single day, and it's gonna come.
Readers are going to be hearing a lot more of Bad Bunny as you continue to make bangers with U.S. rappers and inundate the charts. What's one thing you need them to know about el conejo malo?
They should know who I am. From me, you're gonna hear a lot of good music. I'm always trying to give the best of myself and make people feel good. It's an incredible time to make music. I like to produce my music or be there while it's being produced. I'm very involved in the creation of everything I do, in my music and in the direction of its videos.
And your fans, those who have been bumping to you since "Diles," what can they expect from you?
Honestly, a lot of good music. I have major projects coming up that I know they're going to like. It's gonna be very interesting and very different. Wait, because what's to come is going to be the best you've seen and heard from me.