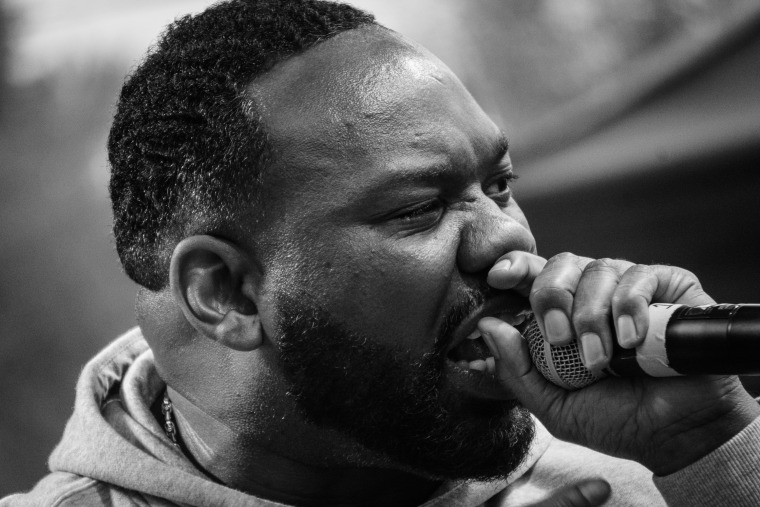 In the deluge of music apps that appear every day, it's rare to find something that actually feels innovative, but Stationhead is a rare exception. It's an app where anyone from fans to popular artists can be the DJ of their own 24/7 radio station and connect with their listeners. An added bonus is that the platform is run through music streaming sites, so artists get paid for their work for every spin. Station hosts can also call up their listeners or fans through the app and host interviews.
Hip-hop legend Raekwon is an investor in the app and, speaking to The FADER after a night in the studio last week, he was really excited about what the app has to offer. The app has its fans but in talking to the rapper on the phone, it was clear that he's probably its biggest. Below, Raekwon explains in full why this app might just be the future of music and why it's just so damn cool.
Raekwon: Once I heard about it I was like Wow, I need to have a meeting. I had a meeting with the owners of the technology and then I needed to master what they were talking about. I just think that at the end of the day, this is some stuff that is going to change the culture of music in the most illest way. I told them, "This is the illest shit since sliced bread in my eyes."
To be able to have a social media radio platform is amazing because when I sit here and look at what's going on in music, there's a lot of animosity between different generations based on what's being played now [versus] back then. What we're all missing is that we're all musicians, we're all artists — who gives a fuck? As a business, we all signed up to this because we love music. What makes this technology so dope is that it gives a platform to people who just love music. If you love music, you get to have your own station. That was what was intriguing to me.
When you look at an instagram it's everything but the music attached — there's nothing where the artist can confront or talk about the music. When I'm getting all of the energy from [Station Head] — it's just the illest gator. Social media radio is the shit. Let's just say you listen to the radio — do you know how many people are sick of listening to the same 13 or 14 records all day? Now you have the power to create your own station to listen to what you want to, and you're also giving back to the artist from a streaming perspective.
Now I know that I can connect with my fans and say thank you. Not only can you have me and my station, I can have you and your station. Now we're connected even more. We can have dialogue, we can have a podcast going on — this is authentic. This is going to shift the culture to where people are saying music is where it needs to be now. We're not relying on two or three different artists to carry the culture, now it's to the point where the young generation can evolve to what they want to listen to. The OGs too — the Al Greens, the Gladys Knights. Now we get to mix all that up in our own station as people not as programmers.
You think I don't want to see what 50 Cent is listening to at 10 in the morning or 4 in the morning because he's working? Now I can tap into his show and develop a personality with him. Not only does it work for artist chemistry, but it also works for the world. This is a universal piece of technology that's going to change the world. When I finally digested that, I knew I had to be a part of it.