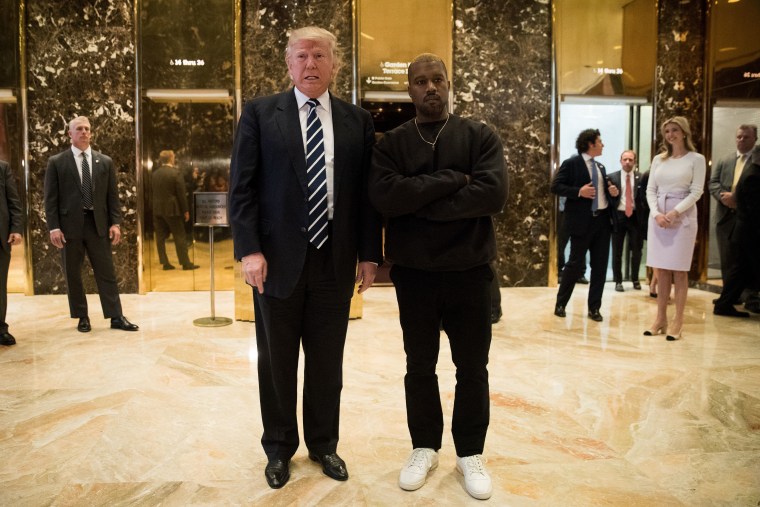 Kanye West supports Donald Trump. He's been open about this since at least November 2016, and it's still happening, and it hasn't changed. Recently, he's been tweeting about that support. Since West is a fave of many who don't like Trump at all, these tweets have been met with a lot of shock and heartbreak. After some media outlets and Twitter users suggested that maybe West's apparent deeply conservative leanings were the result of the manic episodes that fans and critics alike tend to prescribe the rapper, West's wife, Kim Kardashian West, wrote some tweets in support of her husband.
"He's free thinker, is that not allowed in America?" Kardashian West wrote. "Because some of his ideas differ from yours you have to throw in the mental health card? That's just not fair. He's actually out of the sunken place when he's being himself which is very expressive....Now when he spoke out about Trump... Most people (including myself) have very different feelings & opinions about this. But this is HIS opinion. I believe in people being able to have their own opinions,even if really different from mine. He never said he agrees with his politics."
Almost simultaneously, however, West tweeted a photo of himself wearing a Make America Great Again hat, posing next Universal Music Group CEO Lucian Grainge and YouTube executive Lyor Cohen. A few minutes later, Donald Trump himself quoted a tweet West wrote calling them "brothers," adding "Thank you Kanye, very cool!"
After that, West revealed his MAGA hat is actually also signed by Donald Trump.