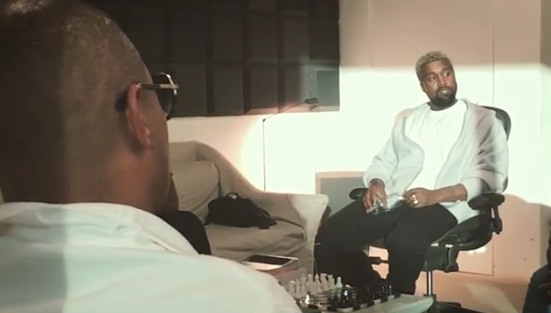 On Saturday Kanye West dropped "Ye vs. The People," a collaboration with T.I. in which he defends his stance as a "free thinker" with an alarming tolerance of Alt-right figures. Guest star Tip tries to reason with West on the track but the pair ultimately agree to disagree.
Now West has let fans into the studio session that led to the track. The video, hosted on his website, is an interesting peek behind the curtain as well as offering further insight into the rapper's current thought process. "Me putting the hat on, forces an evolution," says Kanye, referring to wearing a red MAGA hat. "Because there's…even for me, I know so much more in the past three days. Because I'm getting this energy, positive or negative, agreeing with me, disagreeing with me. When I wear that hat, it's a fight for equality."
Making of ye vs the people https://t.co/1xvft3175J

— KANYE WEST (@kanyewest) May 1, 2018
The fast-moving train of Kanye West news has moved on since "Ye vs. The People" dropped. On Monday he shared multiple screenshots of the texts his friends are sending him about politics. John Legend is the only person in his world who appears to speak sense. Meanwhile, plastic surgeon Jan Adams has responded to West's plan to use his image on the cover of his new album, due on June 1. Spoiler alert: he's not happy about it.