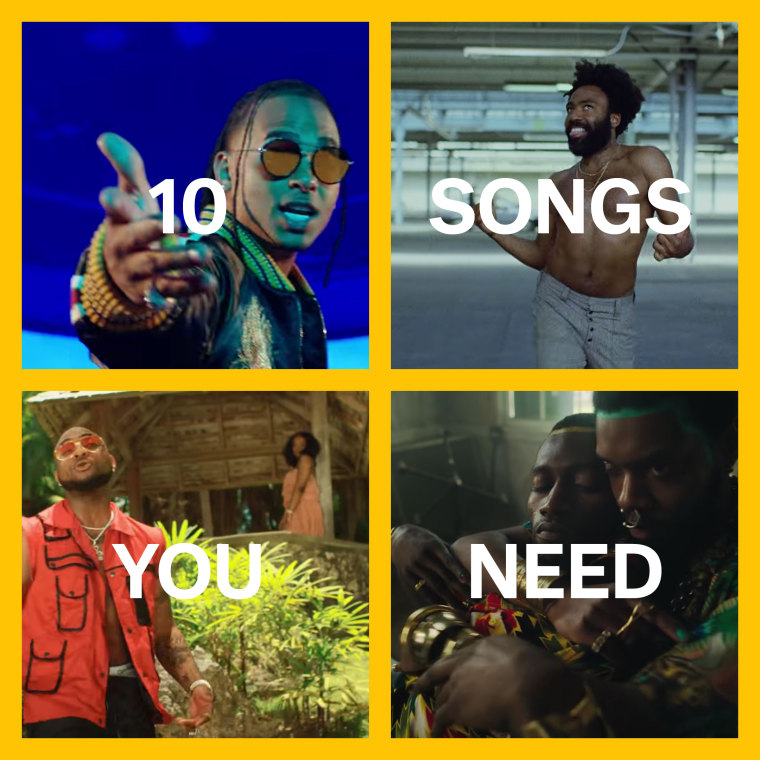 Each week The FADER staff rounds up the songs we can't stop playing. Here they are, in no particular order.

Subscribe to Songs You Need In Your Life on Apple Music and Spotify

Childish Gambino, "This Is America"
Childish Gambino returns with the jarring and incredible "This Is America," a whiplash of a song that jolts from celebratory to terrifying, repeatedly — a lot like the news, I guess.
serpentwithfeet, "cherubim"
Serpentwithfeet's latest is a hauntingly majestic display of a love border-lining on worship. The vocal phrase "I get to devote my life to him" is multi-tracked to the point that it sounds like it's being chanted by a choir of gothic angels.
Davido, "Assurance"
"Assurance," Davido's latest, is a gentle and breezy bop with enough juice to make you significantly less self-conscious about being the only one throwing down at the backyard BBQ.
Ozuna, "Única"
I'm making the very safe prediction that Ozuna's highly addictive latest will be everywhere this summer. There is literally no wrong place to dance to this, whether you're on a picturesque beach or alone, in front of a pedestal fan.
Beach House, "Black Car"
Beach House's spellbinding "Black Car" sounds like the trippy music that plays in your dreams, except 100 times better because when it's over you won't forget it.
Rico Nasty ft. CupcakKe, "Smack A Bitch Remix"
In the biggest power move of all time, Rico Nasty and CupcakKe joined forces to slaughter us with this "Smack A Bitch" remix. I don't know what else to say besides "oh my fucking GOD." I get out of breath listening to it.
Tirzah, "Gladly"
Essex's Tirzah made a sweet little love song that feels like laying down on a soft patch of sunlit grass; your heart can't help but warm when she softly sings: "I love you, gladly, gladly, gladly."